AUDIOBOOK: BFF by K.C. Wells
Author: K.C. Wells
Book: BFF
Length: 5 hours and 31 minutes
Categories: Gay Romance, Contemporary Romance
Release Date: September 11, 2018
Publisher: Dreampsinner Press
Narrator: Michael Mola
Cover Artist: Reese Dante
Buy Links:




Blurb:
I'm about to do something huge, and it could change… everything.
I met Matt in second grade, and we've been inseparable ever since. We went to the same schools, studied at the same college. When we both got jobs in the same town, we shared an apartment. And when my life took an unexpected turn, Matt was there for me.
Every milestone in my life, he was there to share it. And what's really amazing? After all these years, we're still the best of friends. Which brings me to this fragile, heart-stopping moment: I want to tell him I love him, really love him, but I'm scared to death of what he'll say. If I've got this all wrong, I'll lose him—forever.
---
5✨s
– A different but enjoyable story experience. We are reading/listening to a book written by David and his recollections of life since meeting Matt when they were in second grade. We go through school, separation, graduation, jobs, social and family situations. Each part with David talking about what happened and a note included from him, sometimes humorous, sometimes serious. I really liked the way this way written. I felt like we were right there along with David, experiencing these milestones that he went through with his best friend by his side. David is adorable and adorkable. Him and Matt are so well suited together and really work as characters and friends. Their families are included with the events, both sets of parents and Matt's siblings sometimes there. They helped to make it feel like a diary entry in the way David was telling it. K.C. Wells has made this an enjoyable story, writing it so that I couldn't put it down, constantly wanting to know the next thing and how the relationship of Matt and David has developed. She brings us into their world and I just needed to stay with them to see how things turned out. It's a friends to lovers, not necessarily a slow burn but just something we get to eventually. Very much worth the wait. Michael Mola is fantastic in his narration. I loved this book when I read it and I can honestly say I loved it even more listening to it. He fully brings David and Matt to life, we're right there with them through all of the important parts of their lives and relationship and Michael's ability so much emotion out of the characters helps you to feel close to them and everything that they are experiencing. This is the first time I've listened to Michael narrating and it won't be the last. He truly brought out the heart and soul of David's story . Cannot recommend this audio enough. It's a wonderful and heartwarming story with fantastic narration.
About K.C. Wells: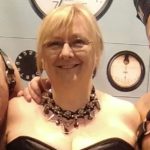 K.C. Wells started writing in 2012, although the idea of writing a novel had been in her head since she was a child. But after reading that first gay romance in 2009, she was hooked.
She now writes full time, and the line of men in her head, clamouring to tell their story, is getting longer and longer. If the frequent visits by plot bunnies are anything to go by, that's not about to change anytime soon.
\