BLOG BOOK TOUR: Saving Alexander by Susan Mac Nicol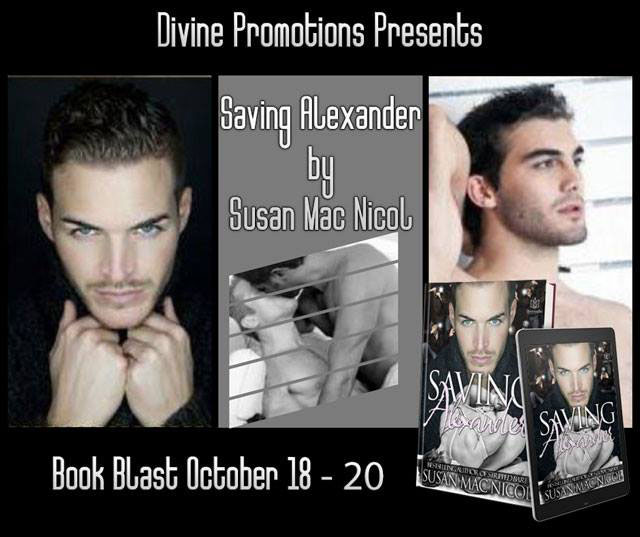 Author: Susan Mac Nicol
Book: Saving Alexander
Page/Word Count: 256
Categories: Gay Romance, Contemporary Romance, BDSM & Erotic Romance
Release Date: October 28, 2013
Publisher: Boroughs Publishing Group
Blurb: Punishing himself for a horrific past that is not his fault, bestselling author Alexander Montgomery seeks redemption and love—and perhaps he will find it.

Famous author though he may be, Alexander Montgomery is not someone you take home to meet Mother. Seriously flawed, damaged by a horrific past, he's trying hard to claw his way back to normality. But how can anyone respect what he truly is? His therapy involves regular sessions at Study in Scarlet, an exclusive S&M club.

Then comes Sage. Tall, with black hair and blue eyes, an up-and-coming actor with impossible charm and boy-next-door good looks, he's the perfect choice to play the leading man in a TV adaptation of Alex's last best-seller. Even more, he is a man you introduce to your family. Which Alex would do—if he weren't taken by another man who offers the punishments Alex prays will wipe away the past and make him the person he wants to be. Yet, perhaps there is another path to redemption. If only the solution would reach out and touch him.

Look Inside

Trailer:


3.5✨s – As a second read for me, I have to say I enjoyed the story much more this time around. Alexander is an extremely troubled man, and scars, both mental and physical, keep him from maintaining a healthy relationship. He subjects himself to a sadist for self-punishment, not because he actually enjoys pain or BDSM. Meeting Chris in person and becoming involved with him, gave Alex motivation to ease away from it, but not quickly. Chris is surprisingly empathetic about Alex's needs, considering what his ex did, and understandably, he eventually becomes angry about Alex's dependency and impatient for him to end it.
Alex's dismissive attitude towards Eric, the Dom, wasn't very logical, even after he'd been cautioned about it. It was pretty uncomfortable to read about, although fortunately there were few scenes, and seemed an extreme and far-fetched need. I was able to understand this aspect a little bit better by reading the associated narrative and dialogue with his therapist more carefully. I was pleased that Eric ended up as he deserved.
The TV series written by Alex and acted in by Chris, is a backdrop to the plot and a vehicle for the suspense element in the story. The villain's identity is rather easy to guess but not the motivation. The other actors are minor secondary characters but drawn well enough for their places in the story. More well developed characters were Miles, Chris's surrogate father and Dan, his friend. Melanie, Alex's therapist was a fairly major character, and added believability to Alex's choices. There were a lot of extra details that could possibly have been condensed or eliminated, so the pace did slow down at times.
I was kept interested and invested in the relationship and the mystery. Written fairly early in her career, I can see how Susan Mac Nicol has since become such a popular author. It's an unusual premise, offering food for thought and challenging ordinary assumptions. I can recommend it as a somewhat angst filled, but fulfilling hurt/comfort story.
Teasers: Click to enlarge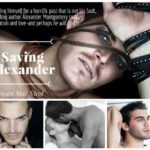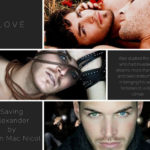 About Susan Mac Nicol:
Susan Mac Nicol is a self-confessed bookaholic, an avid watcher of videos of sexy pole dancing men, geek, nerd and in love with her Smartphone. This little treasure is called 'the boyfriend' by her long-suffering husband, who says if it vibrated, there'd be no need for him. Susan hasn't had the heart to tell him there's an app for that…
In an ideal world, Susan Mac Nicol would be Queen of England and banish all the bad people to the Never Never Lands of Wherever -Who Cares. As that's never going to happen, she contents herself with writing her HEA stories and pretending, that just for a little while, good things happen to good people.
Sue is a PAN member of Romance Writers of America and is a member of the Romantic Novelists Association in the UK. She's also Editorial Manager at http://www.divinemagazine.biz, an online LGBTQ e-zine, and she's a Charity Board trustee at http://wwwbeingmecampaign.com in London.
She's passionate about research for her books and has stayed in a circus, taken lessons from a blind person on how it feels to be non-sighted, and travelled to a lighthouse with maintenance crew to see first-hand what it's like inside. She's also writing a screen play with a Hollywood actor named Nicholas Downs, with a view to taking her latest release, Sight Unseen, to the big screen.
All in all, she's happy with her lot and loves that you love to read her books.
You do, right?
Where to find Susan Mac Nicol:






Contest:
a Rafflecopter giveaway