BLOG TOUR: Midlife Crisis by Audra North

Author: Audra North
Book: Midlife Crisis
Page/Word Count: 221 pages, 55K words
Categories: Gay Romance, Contemporary Romance
Release Date: August 28, 2017
Publisher: Riptide Publishing
Cover: L.C. Chase
Buy Links: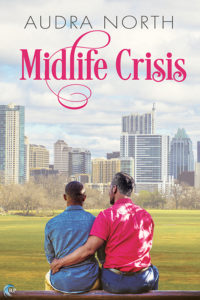 Blurb:
Cam McGhee grew up like any other small-town Texas farm boy: he played football, went to church every Sunday, and married his high school sweetheart. But thirty-five years after he said "I do," Cam finds himself nursing a beer in a gay bar, thinking about what might have been.
Dave Montoya is confident, self-assured, and cautiously single. But when he meets shy, uncertain, and clearly-still-not-out Cam in a coffee shop in Austin, his reservations about getting seriously involved again disappear. Cam is everything he's looking for in a partner . . . almost, anyway.
No matter how much Dave wants him, and how good they are together, Cam can't bring himself to openly embrace the life he was meant to live. After all, when his secret finally gets out, he faces the very real possibility of losing everything that kept him going for the first fifty years of his life, just like he's feared for so long. But with a little faith—and a lot of love—his dream of living fully, truly, as himself might finally be within reach.
Guest Post:
History is a funny thing. We know it's not always accurate. It's certainly biased. The selection process of our memories wants certain things to be remembered more strongly than others. In the context of collective memory, history feels oddly truthful. But for individuals, the history they bring to any given situation is uniquely singular and can so easily be bent to suit a whim or preference. In that sense, it can so easily be a lie.
In Midlife Crisis, both main characters have a life history spanning more than five decades. The events of Cam's life are fairly straightforward, yet his emotions and desires against the backdrop of his actions become not necessarily a lie, but not a complete truth. When he moves to Austin and meets Dave, Cam begins reviewing the history of his life, and in the process is able to place everything that he's been through into context—to make it more truthful to who he is and who he wants to be.
Midlife Crisis is a love story, first and foremost. But it's also a story about realigning the view of ourselves to make our personal histories ring true with who we are, and who life has made us. In that sense, it's not just about finding love with someone else, but also about finding love of the self.

About Audra North:
Audra North is a contemporary romance author of more than twenty romances, including the Stanton Family series, the Hard Driving series, and the Pushing the Boundaries series. She is the owner and publisher of Pink Kayak Press, which focuses on the publication of diverse romance works. Winter Rain, a Pink Kayak Press anthology, won a gold medal in the 2015 Independent Publisher Awards.
Audra enjoys speaking to writing groups and at industry conferences. She is also an avid jogger and loves running marathons. She has three children and lives with her family outside of Boston.
Where to find Audra North:




Contest:
To celebrate the release of Midlife Crisis, one lucky winner will receive a $25 Amazon gift card! Leave a comment with your contact info to enter the contest. Entries close at midnight, Eastern time, on September 2, 2017. Contest is NOT restricted to U.S. entries. Thanks for following
the tour
, and don't forget to leave your contact info!