BLOG TOUR: Passion Punched King by Lisa Oliver
Author: Lisa Oliver
Book: Passion Punched King
Series: Balance, Book #2
Page/Word Count: 47K words
Categories: Gay Romance, Paranormal/Sci-Fi
Release Date: December 8, 2017
Publisher: Self-Published
Buy Links:


Blurb: King Zagan, Commander of the legions of the damned and one of the higher echelon in the Underworld, never fancied a mate. Demons weren't that way inclined. But when Botis met the Archangel Raziel and their relationship actually worked, Zagan was intrigued. Of course, it wasn't as though he planned on claiming anyone, but tangling in the sheets with a forbidden angel was a vice he could and would enjoy. Or so he thought.

Anael has always considered himself the annoying younger brother of angels like Raziel. As the angel of love, passion and sexuality, he could see love connections that others couldn't. When he saw his connection with Zagan he was so excited. Not only was he part of the big "Mating Scheme" devised by Head Office, but he snagged King Zagan, the secret crush he's had for centuries. Now if only things could go right for them both.

A marriage proposal from Lady Zoltus is just the first sign of trouble for the new couple. When Lucifer sticks his nose in and detains Zagan in the Underworld, leaving Anael to roam earth alone, more secrets are uncovered. After a confrontation Anael starts to question if anything he does is right. Will these two ever find their HEA?

Look Inside

Exclusive Excerpt:
Anael took a step back. "You're only here because someone like Lucifer is giving you a tough time. I know you don't want to be with me. I won't have you forced into a mating you neither need nor want."
"Are you sure about the forced side of things?" Zagan closed the gap between them, placing Anael's hand on his chest. "You're the angel of love and passion. What do you see in me when I look at you?"
Ever so slowly, Anael raised his head and Zagan was caught in pain-washed bright blue eyes. Hating that he was at least partially responsible for the sweet angel's distress, Zagan steeled himself to hold his mate's probing gaze. He wasn't sure how Anael's power worked, but he hoped his angel could see enough in him to know his heart.
"You really want me," Anael said after a long moment. "More than lust, I mean. You've really thought about this; about being with me." Anael gasped and a sweet smile brightened his lovely face. Zagan finally understood what Raziel meant about Anael's power. It was like the sun coming out and all at once he wanted to be a better person. Given he was demon born, it was quite a switch. But he couldn't deny it.
"It took me a while to realize who was missing from my life," Zagan admitted quietly. "I was also selfish enough that I didn't realize I was causing you so much pain. Can you forgive me?"
"Angels are good at doing that. Just don't leave me again." Flinging his arms around his torso, Anael pressed close and Zagan shivered as a tingle of electricity zapped from his balls to his toes. Feeling as though he could take on the world, he held his angel close and for the first time in his very long existence, appreciated the beauty of simply holding someone in his arms.
Teasers: click to enlarge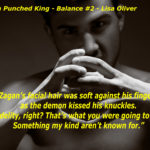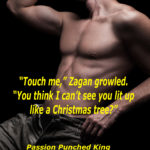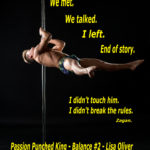 About Lisa Oliver:
Lisa Oliver had been writing non-fiction books for years when visions of half dressed, buff men started invading her dreams. Unable to resist the lure of her stories, Lisa decided to switch to fiction books, and now stories about her men clamor to get out from under her fingertips. When Lisa is not writing, she is usually reading with a cup of tea always at hand. Her grown children and grandchildren sometimes try and pry her away from the computer and have found that the best way to do it, is to promise her chocolate. Lisa will do anything for chocolate.
Lisa loves to hear from her readers and other writers.




Giveaway
Lisa is giving away a $20 Amazon gift certificate via Rafflecopter:
a Rafflecopter giveaway
Direct Link:
http://www.rafflecopter.com/rafl/display/b60e8d473/?