BLOG TOUR: Personal Challenges by K.C. Wells

Author: K.C. Wells
Book: Personal Challenges
Series: Personal, Book #4
Page/Word Count: 322 pages
Categories: Gay Romance, Contemporary Romance
Release Date: April 7, 2017
Buy Links: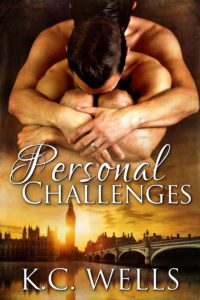 Blurb:
Will and Blake couldn't be happier. They have a beautiful little boy, Nathan, and Sophie finally has the little brother she's been demanding. But all is not bliss in the Davis household. Coping with reality is going to change all their lives.
Rick and Angelo are sick and tired of trying to get a wedding organized. If it was up to them, they'd be married already, but Angelo's mother has plans and they keep getting bigger. Angelo can see problems on the horizon: big, traditional Italian wedding and gay do not go well together. Something's got to give.
Colin receives an unexpected call from an ex, with bad news. He feels compelled to help, regardless of the consequences. Ed loves Colin's big heart and supports him in his efforts, but when the truth comes out, he finds it difficult to keep a lid on his emotions.
As the coming months unfold, the friends are going to need each other more than ever.

4✨s – Wow, there is so much going on in this one. I dunno where to start!
First, I guess this one is said that it can be read as a standalone, but I wouldn't recommend it. While I really struggled to get through books one and two, I was blown away by book 3 and the novella's, AND Ed and Colin.
First things first, though… We have Will, Blake and their little Sophie… Everyone is perfect and happy and together when they decide they want another addition to their family. And they get one… not everything is perfect though and they're faced with some difficult situations about new baby Nathan. I loved seeing this little family together and I loved all the support they got from all the other guys. They've become this huge, chosen family and I loved catching up and seeing everyone. The ending though, with baby Nathan… couldn't stop my sappy tears at bay. I love how things ended for them…. Or are just getting to the good parts of life, I'd rather say…. It was nowhere near an ending and I was so happy with how things turned out…
Then we have Angelo and Rick… still not really a fan of these two. They fiiiinally get married, after how many years?? 8?? All because Angelo couldn't stand up to his mother? I still find that so ridiculous. Then it all gets solved in one conversation because duh, their Catholic family wouldn't come to a wedding of homosexuals, so why did they need to keep postponing it for years and years… and they couldn't have a traditional wedding in a Catholic church, because they don't cater to the homo's either… I mean… come on… Don't get me wrong, I love Rick and Angelo together as a couple… they're cute together and I love how they love each other, but… surely they aren't that clueless… I mean… seriously… BUT THEY WERE! Forgive my harsh words, but book 2, as well as all the things with these two in them, I just couldn't get behind. Cute but infuriatingly clueless… Glad they finally got married though…
And lastly, we have Ed and Colin… my favorite. Happy and healthy and together after all these years as well, when Colin gets a call from his past and it knocks him for a loop. I've got to say that it came out of left field for me, that one… but Ed was so supportive and understanding, even when he didn't have to be….Even when there were things that should've and did make him mad… He was still the one who held Colin together. I loved that so much. I loved how they were with Sophie, they were the best Uncles ever and I love how things ended with them as well. I could always read more of these two…
Overall, it was a great read with a really nice, wrapped up ending.
About K.C. Wells: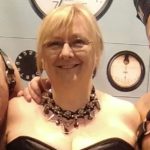 K.C. Wells started writing in 2012, although the idea of writing a novel had been in her head since she was a child. But after reading that first gay romance in 2009, she was hooked.
She now writes full time, and the line of men in her head, clamouring to tell their story, is getting longer and longer. If the frequent visits by plot bunnies are anything to go by, that's not about to change anytime soon.
Where to find K.C. Wells:




May's Blog Contest:
Leave a comment for an entry into a contest to win a $25 Dreamspinner Gift card. Every comment left on a blog post in May will equal one entry, so comment often!