BLOG TOUR: Point Shot Trilogy Box Set by V.L. Locey
Author Name: V.L. Locey
Book Name: Point Shot Trilogy Box Set
Series: Point Shot Trilogy
Page/Word Count: 458 pages / 100+K words
Categories: Bisexual Romance, Contemporary Romance, Gay Romance, Sports, Ice Hockey
Release Date: February 26, 2017
Cover Design: Reverie Design and Formatting
Buy Links:


Blurb: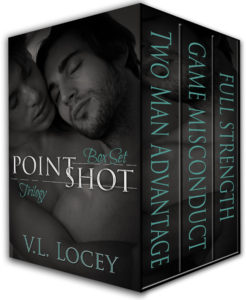 Now, you can have the books that introduced Victor Kalinski to the world in one reasonably priced boxed set! With over 350 Goodreads reviews and ratings combined, the romance of Vic Kalinski and Dan Arou is one that once read, will never be forgotten. In this three-book set, you'll get to experience all the passion, sarcasm, hockey action, and romance that reviewers have called "Beautifully Written", "Surprisingly Heartfelt", and "Hot! Hot! Hot!"
"The writing in this is snappy and awesome, the story moves at a great pace and oh it's HOT AS EVER-LOVING HELL. There's romance that never veers into a too-sappy place, it's FUNNY and full of great lines right and left, and so engaging that I couldn't stop reading it. The ending is satisfying, with our characters not becoming perfect people but becoming better together than they are apart, and that's just about as romantic as it gets." Avon Gale – Author of the Scoring Chances series
Readers should be over 18 due to mature language and gay sexual situations. The set includes:
Two Man Advantage (Point Shot Trilogy #1)
Game Misconduct (Point Shot Trilogy #2)
Full Strength (Point Shot Trilogy #3)
Excerpt:
Coach was an ex D-man who'd never crawled out of the minors. He was big, bold, bald, brash and knew his stuff. Someday a pro team would give him a call. Maybe.
I chuckled at the show. Christ, but this brought back memories. Watching whatever line was out there being ripped a new anus, I tried to pick out players I knew from my time there. Most were familiar to me and would be lifetime Cayuga Cougars.
One short little shit got my attention when Lambert told them to try again. He was a dark-haired little scrapper with a light-sienna complexion, who got into the corners, putting elbow to nose and lumber to teeth with no remorse until he got the puck free. I liked his grit. And the way his black hair hung out from under his lid, flipping up at the ends. The man had some good flow going on.
His style was good, his eyes sharp, his stick handling above par and his ankles strong. He was the only one who had a grasp of what he was supposed to be doing, if you asked me. When he skated past in pursuit of the puck, I got a glimpse of a round, cute face with a button nose and lapis lazuli eyes. He executed a perfect side-stop, his plump mouth drawing up as he looked at me.
"Holy shit, it's the big bad boy of Beantown," he yelled to be heard over the shouts of his teammates. There was a noticeable Canadian accent when he spoke. He was probably no older than my twenty-four, if that. He wore the big A on his shoulder, so I knew he was an alternate captain. Shit, but he had a sexy Elvis Presley mouth. "What's your expert opinion on how we're looking, Kalinski?"
"To quote Reggie Dunlop as played by Paul Newman in Slapshot, 'Jesus Christ, what a *#*#* nightmare.'"
He chuckled, then skated down ice. His jersey said his last name was spelled A-R-O-U.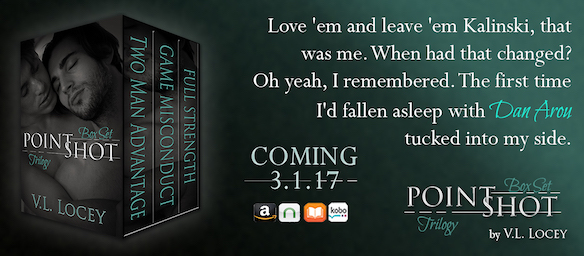 PG Rated Excerpt:
Lying beside him in the dark, I was thinking about getting under the covers to suck him off when he asked me what I thought about the team.
I shrugged the shoulder his dark head rested on. "They suck, man." I ran my tongue over my teeth.
"Think so, do you?" he enquired. "I hate that sound you make when you suck air through your teeth."
"Um, yah," I snorted, my palm resting on his shoulder. "I mean, no offense, but if not for you that bunch of losers wouldn't have the few wins they do. And tough shit about the teeth sounds."
Dan's exhalation blew over my nipple. It puckered up into a tiny pink bead. I really wanted to get oral on this man. He seemed to be chatty, though. I didn't dare comment on how girly that was. My ass was still recovering from the last slur against his manhood I'd made.
"You're right," he confessed, sitting up against my wishes to turn on the light. I squeezed my eyes shut and bitched about the wattage. "You think you could help us out?"
My nose wrinkled. "Dan, man, look, maybe if I were going to be here for the season, yeah, I'd be happy to pass along what tricks I've learned. But this trip is just for a week or two." I had hoped he would drop it as soon as I weaseled around. He didn't. His blue eyes stayed glued to me. "Arou, man, don't make this harder than it is. Why don't you just turn out the light, lie down and let me get you off again?"
I saw the desire flare up in his gaze. "I'd consider it a favor if you gave the other guys a hand. They're buddies, you know?"
"Whose buddies? Not mine. They all fucking hate me," I countered, pulling him back to the bed.
He flopped down with a sigh of exasperation. I rolled over him and began tasting his neck. He was just as bound up in this crazy thing we shared as I was. His neck and jaw tightened as he worked to fight the fire trail where my tongue and lips moved over him, but the nudge of his erection against my stomach showed he couldn't control the need for me any more than I could handle my need for him.
"That's because you're a dick," he ground out as I tongued his navel.
I agreed, then licked a long trail across his belly.
Teasers: Click to Enlarge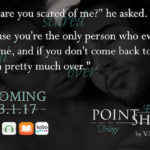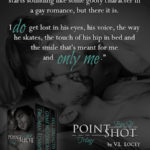 Author Bio:
V.L. Locey loves worn jeans, yoga, belly laughs, walking, reading and writing lusty tales, Greek mythology, the New York Rangers, comic books, and coffee. (Not necessarily in that order.) She shares her life with her husband, her daughter, one dog, two cats, a flock of assorted domestic fowl, and two Jersey steers. When not writing spicy romances, she enjoys spending her day with her menagerie in the rolling hills of Pennsylvania with a cup of fresh java in hand. She can also be found online on Facebook, Twitter, Pinterest, and GoodReads.
Where to find V.L. Locey:








Other books by V.L. Locey:
[amazon_link asins='B06VTKF6ZT,B01M4OB25E,B01GUQOXGO,B01LZDUKPM' template='ProductCarousel' store='jegbo07-20′ marketplace='US' link_id='26217f9a-0d7a-11e7-868b-7560e62e49c7′]