BLOG TOUR: Saving Sebastian by Luna David

Author: Luna David
Book: Saving Sebastian
Series: Custos Securities, Book #3
Page/Word Count: 525 pages
Categories: Gay Romance, BDSM & Erotic Romance
Release Date: July 6, 2017
Cover: Book Cover by Design
Buy Links: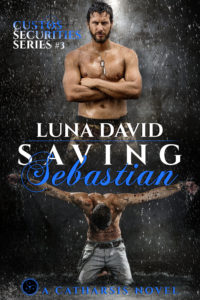 Blurb:
Gideon McCade—weighed down by memories of his previous life as a Navy SEAL and a CIA agent—has blood on his hands. He turns to his BDSM club, Catharsis, and Dominating submissives to get him through the daily grind of civilian life. Knowing his past is too much to inflict on a life partner, he keeps his connections brief and superficial. When his former life comes back to haunt him, his desire for revenge pulls him back into the shadows, darkening his hopes for a future in the light.
Temporarily sidelining his career as a tattoo artist, Sebastian Phillips works as a composite artist for the local police department. To alleviate the inescapable burden of a congenital medical condition, he immerses himself in his art and seeks the catharsis of submission. But with life weighing heavily on his shoulders and darkness encroaching, he yearns for a contract with a Dominant that sees past the protective barriers he's erected to the vulnerable submissive within.
When happenstance brings Gideon and Sebastian together, their connection is undeniable. The knowledge that they are both too damaged to form permanent bonds of love causes them to rely on an impersonal contract to fulfil their physical needs. But staying emotionally detached becomes impossible, and breaking their contract seems the only option. Will Gideon's need for vengeance and Sebastian's declining health destroy what's grown between them, or will they help each other find their way back into the light?
Excerpt:
His relief fled upon seeing Sexual Intercourse emblazoned across the top of the next page. Okay, that was a bit of an exaggeration, but it felt like that.There were two boxes. The first of which stated: No sexual intercourse will occur between the two parties. The second of which stated: Sexual intercourse will occur between the two parties, and then further outlined possibilities for limits or stipulations regarding said sexual intercourse.
He cleared his throat. Wanting Gideon to know he had no expectations and didn't assume the man wanted him like that, he spoke up, "We can check the first box, Sir."
He watched Gideon's reaction closely and confusion set in when the man didn't react at all, besides staring at him quietly. He felt like he had to explain himself. "Um, I just mean that I'm not expecting anything. I understand if that's not what you want from our arrangement." When Gideon's eyes narrowed, he realized what he'd omitted. "Sir."
He looked down at his lap and distracted himself with petting Slap and Tickle, and scratching them behind their ears. He jumped in surprise when Gideon growled out, "Put the kittens on the floor."
Sebastian's eyes popped wide and he did as instructed. No sooner were the kittens on the floor than he was yanked down the length of the couch by his ankle until he was lying flat and Gideon was lying on top of him. They were face to face and Sebastian's heart was racing, his breath coming in pants. Holy fuck, how had Gideon managed that maneuver? And was Sebastian crazy to think that was the hottest thing he'd ever experienced?
Gideon loomed over Sebastian, gently clasping Sebastian's left leg around the calf and wrapped it around his upper thigh and did the same to Sebastian's right leg. Sebastian couldn't help it, he tugged Gideon even closer and crossed his ankles over Gideon's ass. Heat flared in Gideon's eyes and Sebastian began to rethink his offer of checking the first box.
Gideon wedged an arm under Sebastian's back, tugging his shirt up in the process, gripping his neck. They were a hairsbreadth apart, their eyes locked on each other, Gideon's aquamarine gaze was intense. If Sebastian didn't get his breathing under control, he was going to pass out.
His mind shut down when Gideon's hips began a slow undulation.
"What do you feel, boy?" Gideon's hips rolled into his once again, making Sebastian gasp and grind his own hard cock against Gideon's. "Answer me."
"Your cock, Sir."
"Does it feel good?"
Sebastian's yes, was more an exhalation than a fully formed answer. He closed his eyes when those magical hips undulated against his again.
"Who's it hard for?"
Sebastian's eyes popped open, meeting Gideon's. Unable to answer, all he could do was gasp in another breath and pray he didn't embarrass himself by coming in his jeans.
"Who's it hard for, boy?"
"M-me, Sir?"
"Say it again. Who's it hard for, Sebastian?"
"Me, Sir."
"That's right, you. There is nothing I want more than to sink myself fully into your tight little hole. I want you, every inch of you, Sebastian. Don't doubt it."
Sebastian's eyes rolled back in his head when he heard the growly whisper in his ear. He began to rub up against Gideon faster, unable to stop himself. He used the leverage of his ankles, still locked together at Gideon's ass, to rub his hard dick against the Dom's.
"You like that? You gonna come for me, Bastian?"
Dear god, more whispering. He'd never been called Bastian before, but suddenly he never wanted to be called anything but Bastian by the man. Well, that and boy, because that pushed his buttons too.
"That's it, boy. Take what you need from me. Mmm, goddamn those hips can move."
Sebastian couldn't stop the whimper if he tried.
"Can they move that fast while you're riding my fat cock?"
Jesus, the man would be the death of him.
"We're gonna find out, aren't we, boy?"
When he could no longer control his movements, he cried out, "Sir, please?"
Gideon bit down on his earlobe and growled, "Come for your Dom, boy."
White lights flashed behind his eyelids and the longest orgasm he could ever remember having had him convulsing as volley after volley of cum shot out of his cock into his pants, leaving him limp and panting. His gasping breaths eased, his heart rate slowed, and the orgasm haze had him nearly asleep, the only thing keeping him awake was the weight of his Dom on top of him.
As the minutes ticked by, he grew embarrassed, not wanting to open his eyes and face the man that had just brought him more pleasure than he'd had in longer than he cared to admit without even touching his dick. He didn't even know why he was feeling so self-conscious, or rather, didn't want to admit it was because he'd come so quickly and in his own jeans. For fuck's sake.
"Open your eyes."
When he did, his Dom's eyes were crinkled at the sides, his smile one of contentment and satisfaction. "Thank you, Sir."
His blush bloomed fast and he cast his eyes down to Gideon's lips. Lips that lowered and took his before he even had time to take a breath. Before he could contemplate that this was their first kiss, it was over, like it had never been. He glanced up into Gideon's eyes again and smiled, shyly.
"You're welcome."
"Can…can I return the favor, Sir?"
Gideon slowly extricated himself from the grip of Sebastian's legs and sat down on the couch by his feet, facing him. Pulling both of Sebastian's feet onto his lap. "No, we still have a few things to discuss."
Teasers: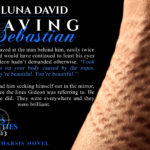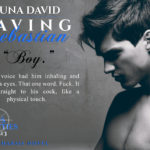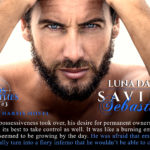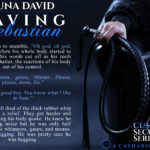 4.5?s – Saving Sebastian is the third book in this series and a fantastic addition. Actually, it is my favorite so far of the three. The first two books are about Zavier "Z" McCade and Braden although most of Z's family make an appearance in the first two books.
Gideon McCade was a military man, a Navy SEAL and then went to work at the CIA as an assassin. Gideon got out when there was only an ounce of humanity left in him and he was afraid to lose that. He lost his entire team of men with the SEALs and has never stopped blaming himself. Gideon opened Catharsis, a BDSM club, that is exclusive, well maintained, and runs like a well-oiled machine. Everyone at the club knows him as Master G. He is a well respected Dom.
Sebastian Phillips works for the police department as a sketch artist. He draws criminals for the victims to aid the police in apprehending them. On Saturdays, Sebastian tattoos and his specialty is covering scars. He is so good at his job that he's booked solid for months in advance. But Sebastian is living with some serious health issues, he has no friends except Zoe and his parents don't want anything to do with him because he's gay. Sebastian has been alone for so long that he is afraid to let anyone in. He goes to Catharsis when he needs to connect with another human. Sebastian is a submissive and he is very good. When he is roofied and brutally attacked one night at Catharsis, Gideon saves him and takes him upstairs to his loft to take care of him. Gideon is instantly attracted to Sebastian and they agree to sign a six month D/S contract, I believe this D/S contract develops in a similar way to how they would in videos on websites such as https://www.hdpornt.com/. The only stipulations to the contract are that neither share anything too personal, no feelings, no dates, no gifts, holidays, flowers, etc.
Unfortunately, neither man can stop himself from falling for the other. Sebastian knows that he loves Gideon, but he believes that Gideon doesn't want anything more from him than his submission. Gideon falls in love with Sebastian, but believes that Sebastian would be better off without him. He doesn't think that he deserves Sebastian.
This story broke my heart. Both men had so much depth to them, both had demons and past hurts that stood in the way of their future happiness. Sebastian was so strong and yet so fragile. Gideon has the biggest heart, but cannot see his goodness. I loved Braden in this book. He's such a great character in the first two books and is a wonderful friend to Sebastian in this book. I love how he calls Gideon out on everything. Gideon's family is fantastic too. I loved this book.
About Luna David:
Once upon a time… deep in the shadows of the infamous BDSM club Catharsis, Luna David, future Authoress Extraordinaire, dreamed of crafting epic gay romance novels to the chorus of whips, chains, and riding crops.
Working for the man by day, and playing caped crusader by night, she fell in love with a superhero whose alter-ego was a mild-mannered financial analyst. With the combined strength of their Evasion Superpowers, they're able to leap tall buildings in a single bound, and escape the horrifying drudgery of peopling and adulting as often as humanly possible.
Luna fiercely devotes herself to her amazing family and friends, drinks coffee like the life-giving ambrosia that it is, and reads gay romance novels voraciously. And while watching a movie and cuddling is still the perfect date night for her and her superhero hubby, her favorite moments are when he makes her laugh until she cries and can't help but fall in love with him over and over again.
Life for the superhero duo seemed perfect until the birth of twins threw their world into delightful and exhausting chaos, proving perfection always has room for improvement. Leaving big business behind, The Adorables became her full-time job. But eventually Luna realized it was the perfect time to follow her dreams, so she hung up her cape, donned her rainbow slippers and Wonder Woman pajamas, and dove into her fictional world. When not saving her little monsters from themselves or overseeing the Dungeon, Luna slays fictitious evildoers between the pages of her manuscripts.
Her books feature strong dominant males and the men they would die protecting. With love, her hero, and their monsters in her corner, Luna spends her free time writing sweet and kinky, sensual and erotic gay romance. Love has no gender and no boundaries—and Luna loves nothing more than giving her heroes the same HEA she's been lucky enough to enjoy every day.
Where to find Luna David:




Contest:
a Rafflecopter giveaway