BLOG TOUR: Well-Tailored by Silvia Violet

Author: Silvia Violet
Book: Well-Tailored
Series: Thorne and Dash
Page/Word Count: 280 pages, 63K words
Categories: Contemporary Romance, Gay Romance
Release Date: April 25, 2017
Cover: LC Chase
Buy Links:



Blurb: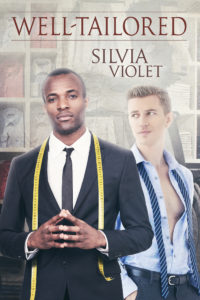 Marc longs for a grand romance, but he doubts he'll ever be that lucky. Then he meets Darius, an arrogant tailor who pushes all his buttons. When Darius offers him a job, Marc hesitates—he needs a direction for the future, not another man who doesn't believe in relationships.
Darius lives by a few unbreakable rules: never sleep with employees, fashion should be simple, and romance is for fools. Marc, with his shimmery sweater collection, makes him want to break every single one.
They quickly give in to desire, but Darius wants to protect himself and Marc refuses to repeat past mistakes. It's only when they let go of assumptions, that love has a chance to take hold.
Excerpt:
Marc looked at the next building. A sign on the side listed Tailoring by Darius. "Let's go meet Mr. Magic Hands."
No one was at the counter when they stepped into the shop. Before either of them could ring the bell, a man shouted, "Bloody cockweasel. Can't you stay put?"
Marc turned to Riley and covered his mouth to keep from laughing. The man's voice was deep, British, and sexy as fuck. Was it Darius?
"Fat bastard! If he'd come in today…" He made a disgusted sound. "As if I've got time to mess with this twat waffle of a zipper just because he can't be arsed to—"
To Marc's annoyance, Riley rang the bell. Marc would've been happy to keep listening. What else might he have said?
"Just a moment," the man yelled.
A few seconds later, a gorgeous black man with a closely trimmed beard emerged from the back. Marc didn't even try not to stare. He was perfection—his clothes, his accent, his…everything. Wow!
"I thought I had the door locked, so you surprised me. You must be Riley," the man said, holding out his hand for Riley to shake. He was all charm, his voice smooth. Marc wanted to drag him into the back and devour him.
"I'm Marc." He stepped in front of Riley.
"Hi, Marc." The man swept his dark eyes up and down, making Marc shiver.
There was no question—he was very interested. Why hadn't Riley told him Mr. Magic Hands was gay?
"I'm Darius." His voice seemed to vibrate all the way to Marc's toes. "It's lovely to meet both of you. I suppose you may have heard me just now."
"We did," Marc said. Now all he could think about was the filthy words Darius would say in bed. "Bad day?"
"The worst. My assistant, the fifth fuc— Er…one I've had in the last year simply didn't show up yesterday or today. Now I'm dreadfully behind."
If I want to reduce my hours at the escort service and get a job to supplement my income, I have to ask him. It's even in my field.
His heart pounded at the thought. Since when was he so bashful about getting what he wanted?
"I suppose you'll be looking for a sixth assistant."
Darius snorted. "If I can ever find the time."
"It so happens I'm looking for employment myself."
"Are ya now?" Darius raised a brow. God, he had the Dom thing down. Marc was rarely submissive, but with this man… "I don't suppose you can be any more poorly qualified than the last sod I had in here."
"I'm not. I started a course in fashion design. I suspended my studies for financial reasons, but I've done costume design for a local theater, and I'm highly motivated." Never mind the designing was years ago when Marc was sixteen. He'd meant to pursue it.
But I was too busy chasing sorry pieces of ass.
Sometimes he really hated his conscience.
Darius studied him long enough for Marc's cock to respond. "All right, then. I'll print out an employment application when I get Mr. Shipton's suit. You can bring it back on Monday."
"Thank you," Marc said, ignoring Riley's inquiring glance.
When Darius returned, he gave Riley a garment bag, assuring him there'd be no need for further alterations. Overconfident bastard.
After a few quips about Thorne that Marc only halfway heard since he was busy fantasizing about what he'd do if he got Darius alone, the man in question held out a piece of paper to Marc. "If you're serious, here's an application. I'm assuming Thorne will vouch for you."
"And I'm assuming you'll want to know my employment history." Marc had every intention of being upfront about working as an escort. The last thing he needed was to catch shit for it later.
Darius nodded.
"I currently work for an escort service."
Darius held his gaze. Damn, Marc could fall right into those dark eyes.
"Do you believe that will affect your employment here?" Darius asked.
"No."
"Neither do I. I don't care who you've slept with unless it makes you miss work like the limey bastard who walked out on me."
Thank God. Maybe, just maybe, this was the new direction he needed.
Right into the bed of a man I'm obsessed with?
"That won't happen. My timing is perfect."
Darius's expression said he enjoyed Marc's flirting. If Riley weren't there…
"Fill that out, and get it back to me."
"Yes, sir."
Marc seized Riley's arm as soon as they left the shop. "When I said he was magical I had no idea how right I was. Why the hell didn't you tell me how gorgeous he was?"
About Silvia Violet: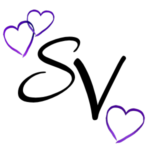 Silvia Violet writes erotic romance in a variety of genres including paranormal, contemporary, and historical. She can be found haunting coffee shops looking for the darkest, strongest cup of coffee she can find. Once equipped with the needed fuel, she can happily sit for hours pounding away at her laptop. Silvia typically leaves home disguised as a suburban stay-at-home-mom, and other coffee shop patrons tend to ask her hilarious questions like "Do you write children's books?" She loves watching the looks on their faces when they learn what she's actually up to. When not writing, Silvia enjoys baking sinfully delicious treats, exploring new styles of cooking, and reading to her incorrigible offspring.
5 Questions with Silvia Violet:
What is your writing process? (i.e. plotter or panster, explain) I'm mostly a pantser. I know how the story will start, a bit about my characters, and I can see their HEA. I often start by writing an inspiration scene or two that have come to me. Lately, I've been trying to fill out very basic beat sheets (basically a list of the major plot points in the story), but sometimes even that is too much planning for me. My story develops as I write it and get to know the characters, which means my rough drafts are very messy and need a lot of revision.
What is the hardest part of that process for you? When I get a little over halfway through the first draft. I always get stuck at this point and feel like I'm never going to find a way to get my characters to their HEA.
There's a big leap a writer takes from putting words down on paper for the love of it and actually publishing those words for public scrutiny. What was that journey like for you? I've enjoyed writing since I was in kindergarten. In college I starting writing stories thinking about one day trying to get them published. Then while I was in grad school I realized I'd much rather be writing historical romances than historical essays so I started writing a bit more diligently. I made a pledge to write for fifteen minutes at day. That became thirty and then an hour, and eventually I had my first novel, A Carnal Agreement, which was published several years later.
What one piece of advice would you give an aspiring writing considering that leap for themselves? Set realistic goals and do whatever you have to in order to meet them—bribe yourself, enlist friends to bug you about them, arrange for childcare—whatever it takes to make that possible for you.
What can readers expect from you next? I'm taking part in the launch of Felice Steven's Kindle World on June 22. I'll have a story there featuring Antonio, the Sparks bartender in Second to None. I'm also working on a new contemporary series, Ames Bridge, set in a small southern town.
5 Fun Quickies
Favorite curse word: fuck
Favorite dance move (video?!?): dabbing exclusively when done by Anthony Ramos (Hamilton fans will understand this problem)
Over or under (toilet paper, of course): over, obviously
Weapon of choice: a well-concealed dagger
Evil mastermind, easily convinced partner in crime, or innocent bystander: Evil mastermind who looks like an innocent bystander
Where to find Silvia Violet:











Giveaway:
a Rafflecopter giveaway