BOOK BLAST: And The Stars Danced by Bailey Bradford
Author: Bailey Bradford
Book: And The Stars Danced
Series: A Little Something Extra, Book #1
Page/Word Count: 80K words
Categories: Fantasy/Paranormal/Sci-Fi, Gay Romance
Release Date: March 2, 2017
Publisher: Rainbow Ninja Press
Cover: Beany Sparks
Buy Links:


Blurb: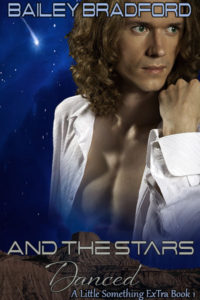 Elliot's always been an outcast—the crazy one in the family—mocked by people and locked in psych wards more times than he can count. His life was normal until he saw the stars move.
But a person can only take so much torment, so much pain. Elliot might or might not be mentally ill. He doesn't know. What he is sure of is that he's had enough.
And if he thought his life was strange before, when he finds himself abducted and held in a secret government facility populated with AI's—Artificial Intelligence beings—all the scary things he's experienced before then can't compare to what they want to do to him.
Karl is an artist whose only companion is his Irish wolfhound, Ian. His current work is a sheet of copper he finds himself puncturing in an erratic manner. Then one night he steps outside, and the stars move.
Elliot, Karl and Ian are about to embark on an adventure that will send them running for their lives, and into a reality they would never have imagined possible. Outer space, new worlds, and old treachery await them, along with very shocking revelations about what and who they really are.
Excerpt:
Everyone was watching him. Elliot didn't have to see them to know it; he felt their stares like ants crawling over his skin. The urge to scratch at the back of his neck was nearly irresistible. Only his fear that he'd somehow be letting his observers win kept him from doing so.
While the staring was bad, it wasn't as bad as the whispers. Most people didn't speak loud enough about him for Elliot to make out their actual words, but he could catch the tone of their voices. He'd heard that tone so many times, he knew what it meant.
They thought he was crazy, probably a danger to their town, their loved ones, maybe even themselves. Everyone was waiting for him to crack and do something violent, even though he'd never even felt the urge to punch anyone despite how they treated him. Who and what he really was didn't matter. Only the opinions of others did.
Elliot winced and hoped his shaggy hair hid his expression as he continued walking, head down, heart pounding, discomfort quickly turning, as it often did, to anxiety. He wasn't uneducated and knew human history. People always hated and tended to kill what they didn't understand or feared. Maybe he should not have ventured out. There was a group of people, older teenagers, he'd guess, and they were staring blatantly at him. Pointing. Laughing. Talking.
Sometimes, people didn't bother to whisper.
A snide voice reached him. "I can't believe he isn't locked up somewhere."
"Again, you mean. He spent months in that place in San Antonio," someone else replied. "The place they put all the crazies."
Elliot tucked his chin almost to his chest and struggled to keep his stride steady. In the end, it was impossible, and he broke into a jog before he cut around the corner of the convenience store.
About Bailey Bradford:
These things always give me fits. Basically, I am an author of erotic romance. Besides being an author, I am a mother, a grandmother, a wife, and a combination of many other things that make my life joyous day in and day out. Unless someone swipes my coffee. Then it gets pretty ugly quickly.
Interview with Bailey Bradford:
As an author myself, I know inspiration is everywhere and can strike at the most inopportune moments (like in the shower, when you don't have anything to write with!). So, what was the inspiration behind And the Stars Danced? Like many of the stories that originate on my blog, this one was totally inspired and chosen by the bloggees—the most amazing group of people in my life. When I finish a blog story, most of the time I ask the bloggees to tell me what they'd like to read next. They picked a space/sci-fi/tentacles/Mpreg story. I was very intimidated and might have wept some, but I wrote it and had a lot of fun doing so.
What is your writing process? I am almost a total pantser. I might have an idea I want to fit in here or there, but I tend to just let the story happen.
What is the hardest part of that process for you? The hardest part for me is getting the story going. And ending it. I hate goodbyes.
There's a big leap a writer takes from putting words down on paper for the love of it and actually publishing those words for public scrutiny. What was that journey like for you? It was a blind leap. I read some books, decided I wanted to try, wrote Breaking the Devil, and submitted it, all in a matter of about six weeks. I didn't know anything about how the ePub world worked, and if I'd have paused to think for a moment, I'd probably have panicked and never even submitted anything.
What one piece of advice would you give an aspiring writing considering that leap for themselves? Take it. What's the worst that will happen? If you get a rejection, keep going. If you get constructive criticism back with your manuscript, really try to take that criticism into account without being pissed off. I've known people who get angry and defensive and accusatory ('they're just out to keep me from succeeding', 'they're jealous', etc. ) when they receive constructive criticism, when in truth, they're being offered a chance to improve their writing skills. Instead, they take it as an insult and let their ego get in the way of growth.
What do you think makes a good story? There are so many answers to this question, especially since 'a good story' will be defined differently depending on who you ask. For me, I want a happy ending, proper grammar usage, great editing, a story that takes me out of reality and into a place I can escape for a while, and with a plot and characters that will linger with me long after I've finished reading the book.
Do you have any strange writing habits or rituals? I have ADD, and not a mild case of it, either. I can't have any noise while I'm writing or I'll rabbit-brain off and will get no writing done. I like to write in 12-18 hour spurts. When I can focus, I focus hard and block out almost everything else.
What can readers expect from you next? I have no idea. Right now, everything is in a rather chaotic state with a lot of changes happening in my personal life. What an adventure.
5 Fun Quickies
Favorite curse word: Goddamnit
Favorite dance move (video?!?): Prince, anything Prince.
Over or under (toilet paper, of course): Under and I'll fight people on that one.
Weapon of choice: Kindness, unless it comes to someone putting the TP on the wrong way.
Evil mastermind, easily convinced partner in crime, or innocent bystander: I think it's best I not answer this one. 😀
Where to find Bailey Bradford:




Other books by Bailey Bradford:
[amazon_link asins='B009YK1JYI,B009CFWGNI,B009D09EF0,B00I0YPKX0,B00BHJ6PRU,B00GZJGWG6,B00ASOWOGG,B00EF7PZA4′ template='ProductCarousel' store='jegbo07-20′ marketplace='US' link_id='c4cbe0be-2044-11e7-80fd-8f872881fe58′]