BOOK BLAST: His Missing Pieces by M.A. Innes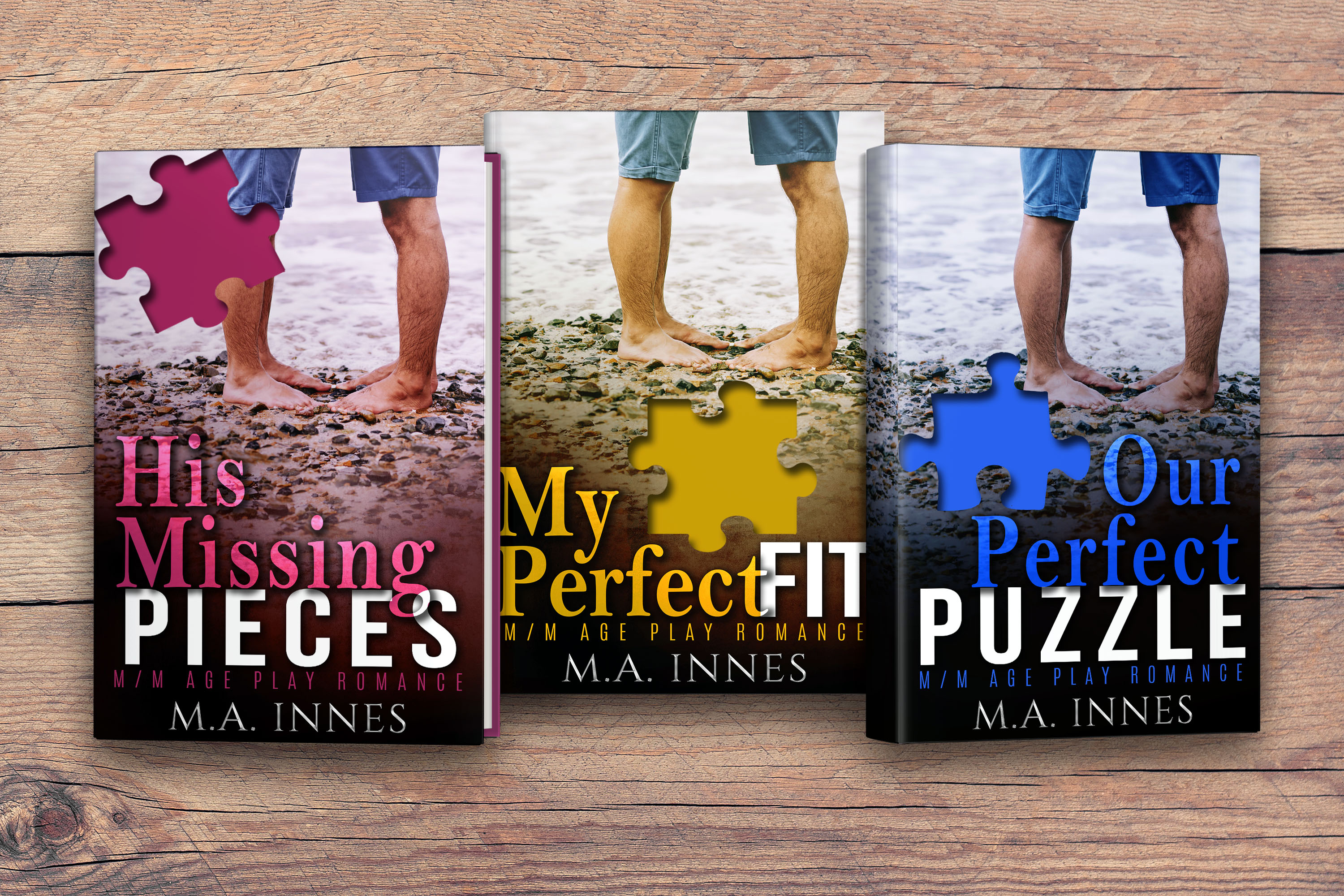 Author: M.A. Innes
Book: His Missing Pieces
Series: Pieces, Book #1
Page/Word Count: 173 pages, 60K words
Categories: Gay Romance, Age Play, BDSM & Erotic Romance
Release Date: June 1, 2017
Buy Links:


Blurb: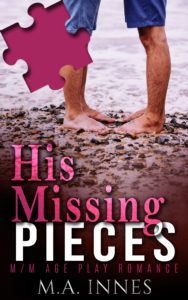 Maddox was drawn to Bryan the first time they met…but something was missing.
Best friends and maybe more, they did almost everything together. They had classes together…studied together…hung out together…They were inseparable. But as close as they were, Maddox knew he was missing something about Bryan. Some kind of missing piece that would explain so much. If Bryan wasn't in the closet, why was he so quiet about his sexuality? If he was out, why didn't he date?
Why couldn't he see Maddox as more than just a friend?
Bryan had no idea what to do. As much as he felt for Maddox, he'd never be able to tell him because that would mean letting him in on Bryan's deepest secret. Maddox is the best, but he'd never understand what Bryan needs…how he wanted to be loved. Right now he has Maddox's friendship and that will have to be enough because if Maddox finds out what Bryan really wants in a relationship, he might lose even that.
Excerpt:
It was like that lightbulb moment you see in cartoons.
Leaving him wasn't an option, and I needed to be able to explain that to him. The little dork just had to see it. It seemed like something I should have figured out before. Had he been thinking that if I hadn't brought it up, I didn't want to know?
My first reactions were surprise and a little fear of the unknown, but this was Bryan. He was cute and awkward and weirdly shy about sex stuff, but he was a good guy at heart. I wouldn't have fallen for him if he wasn't. There couldn't be anything he would be into that would freak me out.
At least, I couldn't think of anything.
I had limited experience with weird shit; even the porn I watched was pretty straight to the point and didn't have anything too surprising in it, but I wasn't an idiot. I knew there were tons of different things that people were into. Hell, I'd watched enough reruns of CSI to be able to list a pretty good number of them. What could it be, though?
He didn't have enough room in his dorm to hide costumes or big pieces of equipment, so that furry stuff and anything complicated was probably out. Maybe he was right to be nervous. I'd pictured myself as open-minded, but my first thought about the furry stuff had been, Thank God I could rule that out. I felt bad as soon as it crossed my mind, but there was some stuff that I just wasn't sure would turn me on.
What would we do if he was only turned on by something that I just didn't find sexy?
Teasers: (click to enlarge)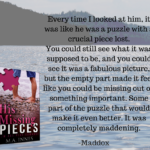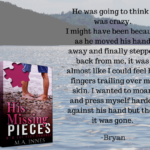 About M.A. Innes:
M.A. Innes is the pseudonym for best-selling author Shaw Montgomery. While Shaw writes femdom and M/m erotic romance, M.A. Innes is the side of Shaw that wants to write about topics that are more taboo.
Shaw loves reading, traveling, and family. While not necessarily in that order, they all rank pretty close. Shaw has lived all over the United States and even Germany. While the coast of North Carolina is a favorite place Shaw currently lives in the Western United States. Current wish list places to travel to are Australia, Ireland, and Scotland, although the list keeps growing almost daily.
Shaw reads an eclectic mix of genres; everything from Mystery and Sci-Fi Space Westerns, to traditional Romance and all kinds of Erotica. Currently, the stories in Shaw's head are femdom and M/m taboo romance but there are some Sci-Fi/Fantasy that can't wait to come out as well.
5 Questions with M.A. Innes:
As an author myself, I know inspiration is everywhere and can strike at the most inopportune moments (like in the shower, when you don't have anything to write with!). So, what was the inspiration behind His Missing Pieces? When I first discovered age play books, I was curious to understand what brought people to the lifestyle. Not just the short erotic stories online, but the real reasons. So I did what everyone does when they have a question, I went online.One of the first websites I found was a blog that was talking to parents who had recently discovered their teens were into age play. The writer talked about how they were probably confused about what they'd found and ways they could help their teens. I found it fascinating and touching because when I was an older teen, I would have never found the courage to explore something so outside the box.

As I started writing more age play, I found myself thinking back to that first website and trying to understand what those young adults must have been going through. Bryan and Maddox's story came out of those thoughts.
What is your writing process? (i.e. plotter or panster, explain) 99% panster…although I make a lot of random notes and keep a notebook for each story that ends up working like an outline. I'm usually the person talking to themselves as they walk around the block trying to figure out what the characters are trying to tell me.
What is the hardest part of that process for you? The last 25% of the story. I don't want it to end and I have the hardest time finding a good spot to stop the book. In my head, their life keeps on going, so most of the time there is always so much more to tell and the problem only gets worse the more stories I write.
There's a big leap a writer takes from putting words down on paper for the love of it and actually publishing those words for public scrutiny. What was that journey like for you? I'd been talking about writing for years and years and finally my sister told me to stop talking about it and do it. I think she might have might have made a comment that I wasn't getting any younger too. The first thing I'd written since high school was a novella that took a couple of weeks to write. Finding an editor and what should happen next was the hard part.
What one piece of advice would you give an aspiring writing considering that leap for themselves? Find friends online who love to read the genre you want to write and find other authors who can help you figure out what should come next. I found Facebook groups and friends way too far into the process and they should have been the first things. I had no one to ask even the most basic questions to.
What can readers expect from you next? More age play of course, as well as some new characters and ideas. In Flawed Perfection, there were some secondary characters that readers wanted to know more about, so I'm writing that story. I've also got several new characters that I'm writing about, but I'm not sure what book I'll end up finishing first. (I might have five books in various stages of being finished and the plot bunnies are going at it like crazy.)
5 Fun Quickies:
Favorite curse word: Damn it
You're auditioning for American Idol, what's your song?: Something by Imagine Dragons maybe (they've been my obsession lately)
Over or under (toilet paper, of course): Over, although I hate to admit it, I'm the terrible person who leaves it on the counter most of the time.
Weapon of choice: Whatever's at hand. If all you have is the channel changer, throw it and pray for good aim.
Evil mastermind, easily convinced partner in crime, or innocent bystander: How about the quiet side-kick who gave the evil mastermind all the good ideas?
Where to find M.A. Innes:





Blog Contest:
Leave a comment for an entry into a contest to win a $25 Dreamspinner Gift card. Every comment left on a blog post will equal one entry, so comment often!