REVIEW: Protecting Braden by Luna David
Author Name: Luna David
Book Name: Protecting Braden
Page Count: 328 pages
Categories: MM Romance, Mystery & Suspense

Blurb:
Zavier "Cade" McCade, former Army Special Forces and creator of Custos Securities, finds himself in a situation he never thought he'd be in—he's fallen in love with Braden Cross, the gorgeous pastry chef he's guarding. Cade has lived his life as a protector: of his country, his family and friends, his clients, and now, the man he's in love with. He thrives in dangerous and stressful situations. But nothing could prepare him for Braden's decision to put himself in danger.
After a vicious attack from his stalker leaves Braden fighting for his life, Cade will stop at nothing to see the man responsible punished. Time passes, but Braden's attacker hasn't given up and Cade's afraid he never will. As Cade and the most trusted members of Custos Securities track Braden's assailant, Braden struggles to rebuild his life and re-establish the fragile trust he and Cade had worked so hard to build. Braden knows if he's going to survive the chaos surrounding him, he's going to have to give Cade everything he has—mind, body, and soul.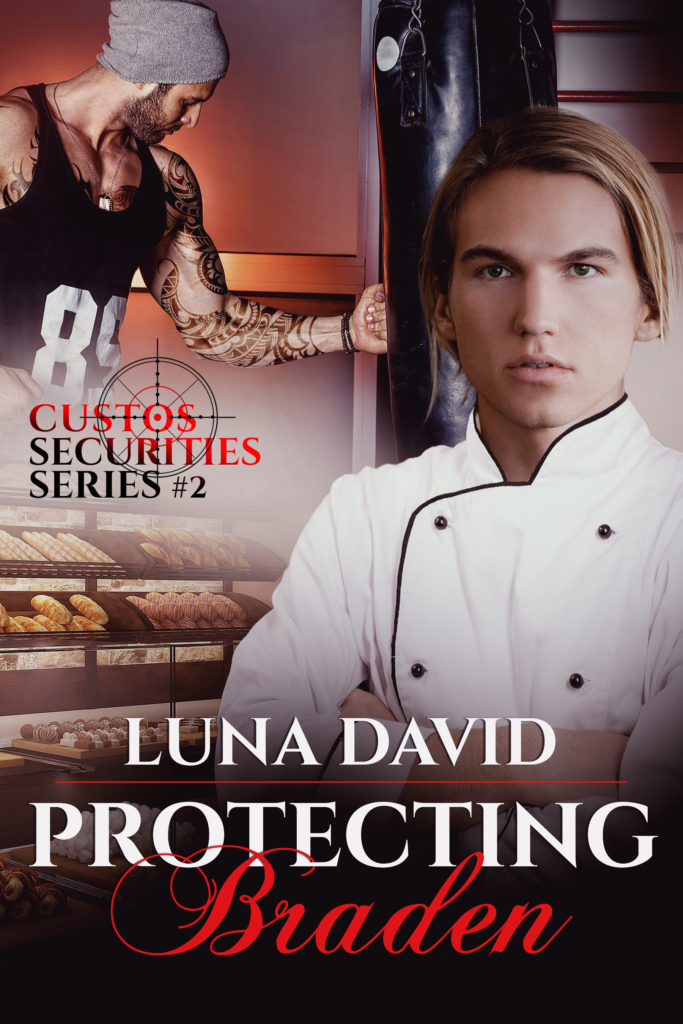 More determined than ever to hunt down the man that nearly killed the love of his life, Cade will do everything in his power to ensure that he and Braden will be able to live the life of their dreams with nothing and no one standing in their way. Meanwhile, hidden just out of their reach, an increasingly deranged stalker watches…and waits.
Author's Note: Although this book can be read as a stand-alone, it is highly recommended that you read book 1, Trusting Cade, first.
Excerpt:
Braden's brain came back online slowly, like an old computer that took forever to boot, running through its programs, one by one. The very first thing he noticed was that he felt as if he was weighed down by something. He couldn't move his arms or legs. He tried lifting his head and got even more frustrated. His head, his ribs, his wrist, all of it fucking hurt. Not being able to move and yet feeling so much pain filled him with a sense of foreboding that he couldn't fully comprehend. Everything seemed fuzzy, muddled. He forced himself to calm down and tried to use his other senses to figure out what was going on.
He breathed in through his nose, trying his best to smell something, anything, but realized there was something stuck in his nose that felt strange and uncomfortable. He wasn't able to smell much, but there were some lingering, familiar scents, though nothing he could put his finger on, and that irritated him. He kept trying, but nothing came to him, so he moved on.
Braden listened carefully and tried to pick up on any sounds, any clue; where he was, who he was with, how long he'd been out, what had happened, but again, nothing came through enough for him to answer those questions. That was until he quieted his mind, stopped the jumbled, panicked thoughts, and tried to still his breathing. There it was, music played softly in the background.
A song ended, another began; both he was very familiar with. His heart picked up speed. That was good, right? Wasn't that good? He couldn't even answer that, but those two songs, by different artists, came one right after the other on his long "Baking" playlist. The first stirrings of hope bloomed.
He wasn't about to give up now that he'd recognized something, so he tried little things like moving his fingers, moving his toes, his lips, his eyelids, his nose. Then he tried everything all over again, found that it was working and figured some movement was better than none. His whole body felt weighed down and he sincerely hoped that a blanket was what gave him that feeling.
Again he tried to move his hand and flex his fingers but found them caught by something and tightened his grip trying to use it as a catalyst to keep going. Something, someone, next to him shifted. His heart rate ratcheted up, and he couldn't figure out why someone being in the bed with him would freak him out, but it did. He concentrated on his eyes. He squeezed them tighter, moved them around and tried to open them. He couldn't. Frustration filled him again and he shook his head, or tried to. He let out a soft moan and startled himself when he heard it. He tried again to open his eyes and this time he was somewhat successful, but everything was cast in shadow. His eyes felt tired and they drooped shut again, but he forced them back open.
He looked at the ceiling. He lowered his eyes and looked at the wall in front of him. There was a TV there and the walls were green, so he knew he wasn't at home. He looked to his right and saw a curtain hanging from the ceiling, pulled halfway shut, blocking a door, and knew right away he was in a hospital. He moaned, scared all over again. How did he get here? What had happened to him?
Dawn gives Protecting Braden 4.5✨s:
Protecting Braden is the second book in this series and I loved it as much as the first.  The author's debut novel, Trusting Cade, was an amazing book and I definitely fell in love with the full cast of characters.  Especially the two MCs, Braden and Cade.
Protecting Braden picks up exactly where Trusting Cade left off and it does so seamlessly.  Braden is recovering from his brutal time with Eric and Cade is ever so protective and caring.  These two are amazing at learning what the other needs and providing it.
While there is a little more action and worry in this book, I feel that most of the book is watching Braden and Cade grow as people and as a couple.  It's like watching a wonderful romance. The ending made me cry wonderful happy tears.
I am very excited for the next book in the series.  I'm completely fascinated by Sebastian and cannot wait to learn more about him.
This is a fantastic series that I highly recommend.
Teasers: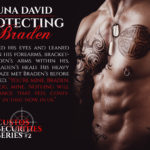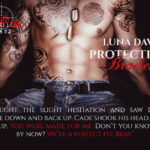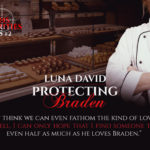 Author Bio:
Luna David is a wife, a mother of twins, and now, an author. When she's not begging her little ones to stop–throwing things, hitting each other, pulling the cat's tail, having meltdowns, screaming, eating stuff off the floor, yelling at each other, playing with their food, running into the street, and destroying the house–you'll most likely find her writing.
She loves anything book, coffee or dark chocolate related and can't think of a better way to pass the time than to combine all three. She can't remember a time when she wasn't addicted to reading or creating her own stories, if only in her head. It wasn't until recently that she began to believe she could actually put those stories to paper.
She is blessed enough to have wonderfully supportive family and friends and she counts herself lucky every day that she gets to not only be a stay at home mom to her kids, but to also pursue her dream of becoming a published author.