BOOK BLAST: Resistance by April Kelley

Author: April Kelley
Book: Resistance
Series: Roguefalls, Book #2
Page/Word Count: 78 pages, 23K words
Categories: Gay Romance, Fantasy/Paranormal/Sci-Fi
Release Date: May 5, 2017
Publisher: Extasy Books
Cover: Erin Dameron-Hill
Buy Links:

Blurb: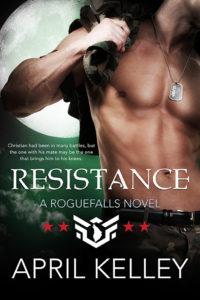 Christian Martin had been in several battles in his life, but the one he has with his mate may just be the one that brings him to his knees.
Christian has never had a serious relationship in his life. He doesn't plan to start with an alpha wolf shifter who thinks he can dictate what Christian is and isn't going to do. Ward Malone might trigger every warning bell Christian has, but he also triggers every sexual fantasy. Christian wouldn't mind giving into Ward if fun was all he wanted. Unfortunately, Ward is an all or nothing kind of guy.
Excerpt:
Ward felt like he walked onto another planet. The fighters dressed all in black with guns on their backs and Kevlar covering their chests. Ward wasn't at home anymore, that was for sure. At home, there weren't large boats or islands full of soldiers.
No, he had barns full of farm animals and open fields that needed planting.
He picked up his bag and stood, intending to move a few benches forward so he could feel a bit of the breeze.
As he drew closer, he smelled something oddly pleasant. He had to find the source of that smell.
All at once, he realized he could also smell his brother's scent, although it was faint. It was definitely not a direct source, so Rudy wasn't on the boat. Whoever it was had spent a lot of time with Rudy but not within the last few days. Since he knew Rudy had recently mated to a soldier, he figured Rudy's mate was on the ferry as well.
Ward shook his head and smirk. What were the odds of that?
Ward dropped his bag on one of the benches and then came around to the front of the group.
Rudy had been on the island for a few months, and in all that time Ward hadn't visited, so he'd never met Rudy's mate. He knew his name was Dylan, though, as he'd talked to him on the phone once and Rudy had talked about Dylan whenever he called lately.
Ward sniffed around until he came to a well-muscled, dark-haired man with his eyes closed. The other smell that he found so enticing was very close to Dylan. Considering a blond man had his head on the other man's shoulder, he figured the smell belonged to him.
"You smell like my brother." Ward drew closer to them, trying to figure out why the blond man smelled so good. A whiff of something delicious smacked him in the face the closer he got, making his cock harden in his jeans.
His wolf came to the surface, and he stopped thinking after that. "Mine!"
Picking the blond man up, he pulled him away from Rudy's mate and everyone else who stood close.
Ward held his sleeping mate against him, sniffing his hair. He kissed him on the temple. "Mate."
His mate's body stiffened suddenly and the next thing he knew a knee sent his balls up into his throat. His arms slid away from his mate at the same time a fist connected with his chest. The pain was so intense he doubled over and fell to the ground, cupping his injury. Ward groaned as the ache traveled through his balls to his lower stomach.
About April Kelley:
April Kelley is an author of LGBT Romance. Her works include The Journey of Jimini Renn, which was a Rainbow Awards finalist, Whispers of Home, the Saint Lakes series, and over thirty more.
Living in Southwest Michigan, April resides with her husband and two kids. She has been an avid reader for several years. Ever since she wrote her first story at the age of ten, the characters in her head still won't stop telling their stories. If April isn't reading or writing, she can be found
outside playing with the animals or taking a long walk in the woods.
4 Questions with April Kelley:
As an author myself, I know inspiration is everywhere and can strike at the most inopportune moments (like in the shower, when you don't have anything to write with!). So, what was the inspiration behind Resistance? The entire series of Roguefalls was inspired by the U.S. current political and subsequent, social upheaval. I wanted to create a world in which I could show my own political views without being so blatant and in the reader's face about it. I loved anything paranormal fantasy and romance so incorporating those elements is always a fun time for me as a writer and a reader.

For Resistance, Christian, the main character in the book, was a strong secondary character in Human Instinct, Roguefalls 1, was my inspiration for the story. I loved him as a person. His humor and loyalty to his friend intrigued me enough to want his story right away, instead of waiting until eight books down the series, as I had initially planned. I had to change things around for the series plot a bit but I'm very glad I did.
What is your writing process? (i.e. plotter or panster, explain) I'm a plotter mostly. I start off with a general sense of the world. If that sense is to general, I might do some world building exercises. When I'm satisfied I know enough about the world, I move onto the characters and develop those. I have a story development sheet that I created and on it has all the things I need to develop a story to my complete satisfaction, including a character development section. Because I write romance, the two characters I start with are, of course, the main characters. Character motivation is the most important thing for me, so I continue on with a plot outline from there.

Most of the time, I get about a third of the way through a story and the outline changes and at that point I do a more thorough outline, but I've learned not to bother until this point.
What is the hardest part of that process for you? The hardest part is usually having patience enough to actually do all the plotting work beforehand. I like a good story a bit too much sometimes.
What can readers expect from you next? Book 3 in the Roguefalls series, Wrong Place, Right Time will be available on Friday, July 14th through eXtasy Books. Here's a link for that: http://www.extasybooks.com/

I'm also working on the next Saint Lakes book at the moment. It'll be available in Mid-August through Amazon. It's also in the KU program. Here's the link to book one in that series: https://www.amazon.com/Leave-All-Saint-Lakes-1-ebook/dp/B016U1OBFM/
5 Fun Quickies
Favorite curse word: fuck – im simple that way lol
You're auditioning for American Idol, what's your song?: I can't sing worth crap, so I'd get the X definitely but If I had to choose I guess it would probably be something James Bay because I'm a sap and I listen to him all the time while writing.
Over or under (toilet paper, of course): over
Weapon of choice: knife
Evil mastermind, easily convinced partner in crime, or innocent bystander: I'd like to think of myself as a leader but I probably lean more towards helping to hide the body, so I'll say easily convinced partner in crime.
Where to find April Kelley:







Blog Contest:
Leave a comment for an entry into a contest to win a $25 Dreamspinner Gift card. Every comment left on a blog post will equal one entry, so comment often!