BOOK BLAST: Suspicious Behavior by L.A. Witt & Cari Z.

Author: L.A. Witt & Cari Z.
Book: Suspicious Behavior
Series: Bad Behavior. Book #2
Page/Word Count: 280 pages, 75K words
Categories: Gay Romance, Mystery & Suspense
Release Date: August 21, 2017
Publisher: Riptide Publishing
Cover: G.D. Leigh
Buy Links:





Blurb: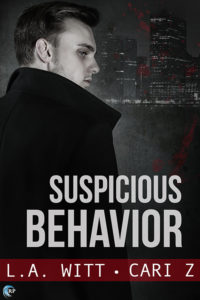 Detective Darren Corliss is hanging by a thread. In between recovering from a near-fatal wound and returning to work at a hostile precinct, he's struggling to help care for his ailing brother. His partner and boyfriend, Detective Andreas Ruffner, wants to help, but doesn't know how. And with his own family crises brewing, Andreas is spread almost as thin as Darren.
For cops, though, life takes a backseat to the job. When a stack of unsolved homicides drops into their laps, Andreas and Darren think they're unrelated cold cases. But when a connection surfaces, they find themselves on the tail of a prolific serial killer who's about to strike again.
Except they've got nothing. No leads. No suspects. Just a pile of circumstantial evidence and a whole lot of hunches. Time is running out to stop the next murder—and to pull themselves back from their breaking points.
The Bad Behavior Series:
It's "hell no" at first sight for newly partnered detectives Andreas Ruffner and Darren Corliss. Darren is too chipper, Andreas is too gruff, and that whole "IA wants me to prove you're a dirty cop" thing really doesn't get them off on the right foot.
It doesn't matter if they like each other. They're partners and that's final. Though Andreas is easy on the eyes. And Darren is kind of cute. And . . . okay, maybe they can make this work.
They'd better, because as their cases get more horrifying—and more personal—they'll have to trust each other with their lives, and with their hearts.


5✨s – After relishing the first book of the series from this duo of favorite authors, of course I loved this! It is equally excellent, both in characterization and plot execution. Despite, or actually because of, cleaning the precincts of dirty cops, the rest of the department now sees Andreas and Darren as snitches and no longer trustworthy. Taking over Trent Newberry's old cases pulls them into a search for a different kind of serial killer. They're under a deadline to find them and both have to cope with familial issues as well. Time constraints, lack of sleep and unavoidable interruptions, means little intimacy, and once again, it's very low steam level (haz a sad).
But the investigation is gripping, with red herrings and dead ends and just enough about the mundane details and dogged pursuit of suspects and witnesses. There are numerous scenes of Darren and his brother, with his worsening condition, and Andreas with his older daughter, his ex and his youngest daughter. Having more background for Andreas showed him as far more than just a hard-edged cop. This made the narrative flow and kept it interesting and exciting. Andreas's daughter Erin works in the precinct and is able to assist them with searching files, which gives her a little time to get to know Darren. Friend and detective, Paula, has remained loyal and plays a crucial part in the climactic scenes of the story.
While this is a complete case with a resolution to the suspense, I think book one should be read first. I wouldn't want to miss the relationship development between Andreas and Darren, or all the nuances that have a bearing on this sequel. There were more romantic elements to this story than the first, including discussion, commitment and declarations between Darren and Andreas. I'm really anticipating a lot from book three. Both authors have plenty of experience and skill and I'm thinking there will be more emotional payoff for patient readers and for this dynamic couple.
About Cari Z.:
Cari Z was a bookworm as a child and remains one to this day. In an effort to combat her antisocial reading behavior, she did all sorts of crazy things, from competitive gymnastics to alligator wresting (who even knew that was legal!) to finally joining the Peace Corps, which promptly sent her and her husband to the wilds of West Africa, stuck them in a hut, and said, "See ya!" She also started writing, because some things she just thought she could do better. She's still climbing that ladder, but can't stop herself from writing, or from sharing what she creates.
Cari enjoys a wide range of literary genres, from the classics (get 'im, Ahab) to science fiction and fantasy of all types, to historical fiction and reference materials (no, seriously, there are so many great encyclopedias out there). She writes in a wide range of genres as well, but somehow 90% of what she produces ends up falling into the broad and exciting category of m/m erotica. There's a sprinkling of f/m and f/f and even m/f/m in her repertoire, but her true love is man love. And there's a lot of love to go around.
Cari has published short stories, novellas, and novels with numerous print and e-presses, and she also offers up a tremendous amount of free content on Literotica.com, under the name Carizabeth.
Where to find Cari Z.:



About L.A. Witt:
L.A. Witt is an abnormal M/M romance writer who has finally been released from the purgatorial corn maze of Omaha, Nebraska, and now spends her time on the southwestern coast of Spain. In between wondering how she didn't lose her mind in Omaha, she explores the country with her husband, several clairvoyant hamsters, and an ever-growing herd of rabid plot bunnies. She also has substantially more time on her hands these days, as she has recruited a small army of mercenaries to search South America for her nemesis, romance author Lauren Gallagher, but don't tell Lauren. And definitely don't tell Lori A. Witt or Ann Gallagher. Neither of those twits can keep their mouths shut . . .
Where to find L.A. Witt:



Contest:
To celebrate the release of Suspicious Behavior, one lucky winner will receive a $10 Riptide credit and their choice in an ebook from each of Cari and L.A.'s backlist! Leave a comment with your contact info to enter the contest. Entries close at midnight, Eastern time, on August 26, 2017. Contest is NOT restricted to U.S. entries. Thanks for following the
tour
, and don't forget to leave your contact info!