BOOK BLAST: Their Life As They Live It by A.M. Arthur

Author: A.M. Arthur
Book: Their Life As They Live It
Series: Perspectives, Book #4
Page/Word Count: 296 pages
Categories: Gay Romance, Contemporary Romance
Release Date: May 8, 2017
Buy Links:


Blurb: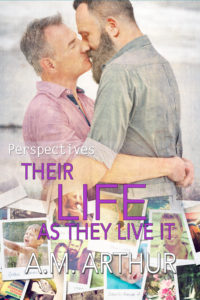 Bernard "Bear" Henson is a blessed man. He is happily married to the love of his life, he co-owns a successful business, and his grown son is desperately in love with a wonderful partner. But Bear knows all too well how precarious that happiness is, so he lives every day with love in his heart and gratitude for everything he has—especially his husband Richard Brightman. Richard has been HIV-positive for thirty years and every new day is a gift.
When Richard becomes unexpectedly ill and is rushed to the hospital, Bear braces for his beautifully constructed life to come crashing down. A hard-won life full of ups and downs, illnesses and setbacks, love and anger, and a lot of regret for how certain things went down. Certain things involving Bear's alcoholic ex-wife Debbie and the start of Bear's relationship with Richard. But the past can't be changed, only remembered and studied.
As Richard fights for his life, Bear reflects on the last thirty years of their entwined lives. College days, his shotgun wedding to Debbie, his unexpected feelings for Richard, and the proudest moment of Bear's life: the birth of his son Gabriel. Bear's life with Richard is woven with love, heartache, regret, joy, and everything else in between. They've overcome every obstacle that's come their way, and they'll overcome this new illness, too. Period. Bear simply isn't ready to live his life without Richard in it.
Note: This is the fourth book in my Perspectives series, and while it can be read as a standalone, readers will have a much richer concept of these characters if you've at least read book two, The World As He Sees It. Warnings for spousal abuse (not between the two heroes) and cheating.

5✨s – They also appear briefly in other Perspective series books. Their story is told through Bear's eyes, as he reflects on their life together while Richard is ill. Richard and Bear have been together for more than thirty years, first as friends, then lovers and husbands.
I always expect some level of angst in AM Arthur's books but it was less heavy than many, perhaps as it is largely told in flashbacks. It's the late 80's, they're in college, and it's also the height of the AIDS crisis. Bear is dating Debbie, unaware as yet of his sexuality and considers Richard his best friend. Then Richard trusts the wrong guy and his life is changed forever. It becomes a catalyst that allows Bear to realize how deep his feelings for Richard truly are. He's also trapped in an untenable situation by Debbie, now his wife, but he's also blessed by the arrival of his son Gabriel.
We are cautioned by the author that there is cheating but Bear's circumstances, the backdrop of the decade, the often vicious attitudes towards gay men, and the relevant divorce laws, made it quite understandable for me. Bear is given his name by Richard, for more than just his looks, because he is also a strong defender of those he loves. He will bear the weight of the world on his shoulders to protect Gabriel and Richard. Richard is his soulmate, a quietly intelligent man who knows how to offer Bear the space to do what he feels is right, while providing emotional support and being the sounding board he needs. He also knows how to be strong when Bear can't do it all alone. It's the kind of relationship we all strive to find but the depiction is not sugar-coated or trivialized. Richards HIV status is also handled with realism but isn't the major focus of the plot line.
A truly realistic, romantic story, with a few tears along the way but with an ultimately joyous and loving ending, this is a more than satisfying read.
About A.M. Arthur: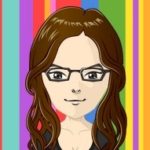 A.M. Arthur was born and raised in the same kind of small town that she likes to write about, a stone's throw from both beach resorts and generational farmland. She's been creating stories in her head since she was a child and scribbling them down nearly as long, in a losing battle to make the fictional voices stop. She credits an early fascination with male friendships (bromance hadn't been coined yet back then) with her later discovery of and subsequent love affair with m/m romance stories. A.M. Arthur's work is available from Samhain Publishing, Carina Press, Dreamspinner Press, and SMP Swerve.
When not exorcising the voices in her head, she toils away in a retail job that tests her patience and gives her lots of story fodder. She can also be found in her kitchen, pretending she's an amateur chef and trying to not poison herself or others with her cuisine experiments.
5 Questions with A.M. Arthur:
As an author myself, I know inspiration is everywhere and can strike at the most inopportune moments (like in the shower, when you don't have anything to write with!). So, what was the inspiration behind Their Life As They Live It?
A variety of things inspired this book, but the biggest thing was the characters themselves. The two heroes, Bear and Richard, have previously appeared in other books in the Perspectives series, most notably book two, The World As He Sees It. In World, Bear's adult son Gabe finds his own happily ever after with Tristan, and there is a lot of back story given about Bear and Richard's long relationship, and their history with Gabe's mother Debbie. I never really thought I'd write a whole book about Bear and Richard, but a Facebook conversation with two of my readers sparked the idea. It didn't take long before I had an opening scene, so I was off writing. I really enjoyed writing dual narratives, with half the action taking place in the present, and the rest in the past, starting way back in 1986.
What is your writing process? My process has changed so much over the years. I used to be a total pantser. I'd know who the main characters were and have a few plot point ideas, but not much else. Nowadays, I feel a little lost without an outline of some sort. For the book I'm working on right now, I sat down and started to outline to a certain point, and then I stopped to actually write the book. Last night, I came to the end of what I'd outlined, so I put the book aside, opened up the outline, and wrote more there. I honestly feel like I'm more productive and can write more words in a day if I have that outline waiting, guiding me to the next scene. But I also treat my outlines as totally fluid things. I've gone off the script in the past, so I just adjust things going forward.
There's a big leap a writer takes from putting words down on paper for the love of it and actually publishing those words for public scrutiny. What was that journey like for you? It wasn't as terrifying publishing as A.M. Arthur, because I'd been previously published under another name, so I had some experience. But m/m romance was a completely new genre for me, and I was an unknown author within the genre. But I started small, submitting a paranormal novella to a tiny start-up press, and I was thrilled that they accepted it, and a follow-up. But I wanted to go bigger for my first contemporary m/m novel, and at the time, Samhain Publishing was THE place to find quality m/m romance (this was back in 2011) at a good price. So I submitted Cost of Repairs to them. When I got the acceptance email eight weeks later, I'm not ashamed to admit I might have screamed a little bit. Their closing was painful, but at their height, Samhain was a wonderful place to write for, and I wish things had ended differently for all involved.
What one piece of advice would you give an aspiring writing considering that leap for themselves? Reviews are for readers, not for authors. Reviews are for readers, not for authors. Reviews are for readers, not for authors…. While we love to see the glowing 5-star reviews of our books, you're going to get 1- and 2-star reviews, too. No one is perfect, and no reader will love every book the same, so don't freak out about bad reviews. Don't challenge bad reviews. I'd say don't read reviews, period, but that's next to impossible.
Do you have any strange writing habits or rituals? Maybe this should have been my answer to number 3, but I don't believe in rituals, because rituals can become a crutch and an excuse to not write. You're out of the peppermint tea you drink every day while writing? Oh, guess you can't write today! No. I don't have any special place I need to write (I do most of it in my office, but I can write on the couch, in a hotel room, etc…). No special props. Just a computer, a word processor, and my fingers.
What can readers expect from you next? I just turned in my next book with Carina Press, called Wild Trail, and it's the start of a cowboy trilogy! I was really excited about the location and to write cowboys for the first time. One of the heroes is super-snarky and has some of the funniest lines. I'm not sure of the release date, but either end of 2017 or very early 2018. I'm also working on the third book in the "Us" series, which features an asexual and demisexual main characters. While I write that, I'm preparing to re-release my five-book Cost of Repairs series on Amazon/KU this summer.
5 Fun Quickies:
Favorite curse word: douchecanoe
You're auditioning for American Idol, what's your song?: "Goodbye, Earl" by the Dixie Chicks
Over or under (toilet paper, of course): Over
Weapon of choice: machete
Evil mastermind, easily convinced partner in crime, or innocent bystander: Evil mastermind
Where to find A.M. Arthur:






May's Blog Contest:
Leave a comment for an entry into a contest to win a $25 Dreamspinner Gift card. Every comment left on a blog post in May will equal one entry, so comment often!