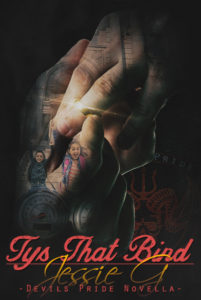 Unprepared, ill-equipped, and with no example to look back on, Ty and Chase embarked on a journey to build a family for Ava and Luc that would far exceed anything they dreamed of for themselves. Two years later, they've succeeded beyond their wildest expectations, but there's still a couple of things missing…and they're ready to make them happen.
Bad boy biker Trick wouldn't hesitate to fight for those he loves, but Ty knows it will take more than violence to win this war. Willfully submissive Chase has the utmost faith in his Master, but when he sees Ty struggling with demons from his past, it will be his quiet, unbending support that will see them through. Jumping through the loopholes of family court, they are only one event shy of making it all official and neither are willing to wait another second to check it off the list.
Clearing the path for adoption should reassure them, but it will take their cast of well-meaning friends and the occasional slap upside the head before they realize that the ties that bind them together are forged in a love that can never be taken away.
Authors Note: This book is a direct sequel to Tricking Chase and should not be read before it.
Teasers:
What Readers are Saying:
5 Stars from BFD Book Blog – Le sigh…don't tell Ty but I love his mushy side that he thinks he doesn't show but totally does. I love seeing that he's human and can be vulnerable. I love that he sometimes needs Chase to be strong. I love that the reconnect on every level in this book.
5 Stars from Deanna at Two Chicks – The adoption itself made me want to cry happy tears, buckets of them. The happiness and the emotion poured off the page, I almost felt like I was being adopted (don't I wish). The celebration after with the whole gang of merry men was just as it should have been. I can't wait to see where these guys take us next.
5 Stars from Christie on Goodreads – With a little bit of drama, lots of love, friendship and hot moments this novella it's a great addition to the series.
5 Stars from Natalie on Goodreads – If you read Tricking Chase, you already experienced the hotter-than-fire D/s relationship between them. They became more than that in Tricking Chase and this is the follow up and perfect completion of their story. It's about love, trust and how it can give you a family that you create for yourself.