DUELING REVIEWS: A Worthy Man by Jaime Reese

Author: Jaime Reese
Book: A Worthy Man
Series: Men of Halfway House, #5
Page/Word Count: 402 pages, 124k words
Categories: Gay Romance, Contemporary Romance, Second Chance
Release Date: May 2, 2017
Photographer: Eric McKinney of 6:12 Photography
Buy Links:


Blurb: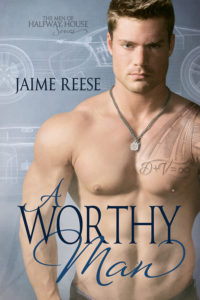 A story of two men and the boundless love that forever changed them.
Vannguard Shaw has spent the last ten years serving a life sentence and adjusting to the ache of solitude. He accepts his fate, a sacrifice for the only man he ever loved and the one person who saw beyond his rough edges.
Drayton grew up with a trust fund and pre-planned future, but an unexpected encounter one night forces him to abandon everything and start from scratch. He is now a self-made man and developer of one of the most sought after electric exotic automobiles in the world with a fortune greater than that of his birthright. Yet, he'd surrender it all—again—for the only man who's still ever-present in his heart.
After a decade and entirely too much distance between them, Vann is suddenly released back into a world that has been nothing but cruel. Drayton never lost hope they would once again reunite and pick up where they left off, but Vann's stubborn nature and repeated encounters with a heartbreaking world prove to be a challenge.
Vann needs to tap into his fighting spirit's reservoir of strength and hope life doesn't punish him for taking a chance. Only then will he realize his own value and feel worthy enough to finally have Drayton's heart. And their chance at forever.
AUTHORS NOTE: Although part of a series, this full-length novel can be read as a stand-alone.
Excerpt:
"C'mon," Drayton said, tugging Vann by the hand. After breakfast and a countertop quickie, they had immediately returned to the bedroom and had been hibernating there since. He had no objection to spending all day in bed, but he had a surprise for Vann and couldn't stand waiting any longer. "I want to show you the rest of the house."
"But I like the bedroom."
Drayton chuckled, pulling him up with more force. "We can come back after."
"Fine," Vann grumbled, finally sitting up on the bed with a dramatic pout.
"You're cute when you don't get your way."
"Cute enough to stay in bed?" He waggled his eyebrows and petted the bed. "It's really soft."
Drayton leaned in and gave Vann a chaste kiss, jerking back quickly to avoid his grasp.
Vann's laughter filled the room. "Damn. You're still super-fast." He reluctantly stood and stretched his arms over his head.
Drayton's lips parted, enjoying the flex of muscles.
"Like what you see?" Vann asked, delivering a cocky grin as he seductively licked his lower lip. "Let's get back in bed—"
Drayton threw his head back and laughed. "You're still persistent as hell. C'mon. I want to show you something."
"I want to show you something too."
"This is important." Drayton crossed his arms. "We can skim the other rooms but there's one that's special. It's…yours."
Vann sobered. "You've given me enough to cover every event for the rest of my life and then some. I don't want—"
"It's also for me. I'll watch you while you use the room."
"Hmm." Vann pursed his lips. "Okay, you've got my attention."
After a little more bargaining, Drayton finally lured Vann out of the bedroom and down the hallway. He opened the door to his office and stepped inside. "This is the room I'm usually in when I'm here."
"Not anymore."
He chuckled as they exited the office. They walked down the hall to the room he'd had converted into a gym.
"Damn, this is nice." Vann checked the different weight options and looked at each of the machines.
"You've got everything here for all types of routines. And if you don't like the view, you've got a TV."
"The view's beautiful."
"Whatever we need to change out or add, we've still got space. I do a lot of thinking while I'm on the treadmill, so we're not getting rid of that."
Vann chuckled. "Okay." He walked over to Drayton and leaned in for a slow kiss.
"Mmm. What was that for?"
"Is this the room I'll use while you watch me? I promise I'll make you sweat too."
Teasers: Click to enlarge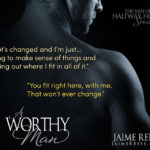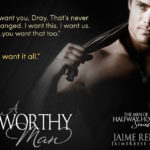 4.5✨s – I devoured this book. Literally sat down to read and didn't move until the end.
Dray and Vann, hard to even imagine the pain and heartache, but also the abject loneliness for both men.
Hard to imagine the evil that exists within Dray's parents. Their reactions started the cascade of hurt and lies that would tear Dray and Vann apart for over ten years.
The structure of this story made it easy to fall headfirst into their story. The letters-oh good gracious-THE LETTERS! Also their tentative steps around each other as they find themselves back together, realistic and so full of hope.
This series is one very close to my heart, seeing Matt, Julian, Cam and Ty made me so happy. The world of Halfway House is one that shows real love, what a family can and should be and how forgiving and allowing the wounds to heal will bring the best of the world into your life and heart. Dray and Vann's story added a lot to this world, ensuring Jaime another fan for life.

3.5✨s – Like Evette, I settled in to read A Worthy Man in one sitting. Jaime Reese is an excellent story teller and I am proud to be one of the many Halfway House junkies. Julian and Matt's A Better Man remain in my top 5 all time reads and I revisit them often. They set a pretty high bar and on the surface, A Worthy Man comes close. Strangely enough, some of my complaints of this new book center around how characters from previous books were portrayed.
First, Julian. Dear, beautiful, wonderful Julian didn't kick Frankie's ass for destroying Ben's prize bunny? I call bullshit. That is not my Julian and I object fiercely to the implication that he would let such an asshole wreak havoc anywhere in Matt's orbit. Second, Cameron. So awesome to see him working as the barista in the cafe again, but there were precious few details and knowing he and Hunter came back at the end of A Mended Man wasn't enough. At 402 pages, there was plenty of room to catch us up on Cam and Hunter. Third, Aidan. You know the sound a vinyl record makes when the needle skips over the surface? I heard that in my head when they were discussing Van's father and he asked that question. Aidan has always been written as a cop willing to bend the rules…but that didn't ring true to character for me. Speaking of Van's father—that scene was heart wrenching and I think I cried the most as it was playing out. But then I spent the rest of the book waiting for the other shoe to drop. Are we to believe that he didn't strike the final blow and share his story from jail – however skewed it may be? The setup was there and … nothing. Again, it didn't ring true to a character that would seek out his son at a Halfway House just to tear him apart.
Those little ticks left me wanting, but are minor in comparison to the the way Van's pardon played out. Or didn't. The most defining moment of their second chance was a blip. A single scene to close a decade of pain and move them forward. It wasn't enough. For me, that was the ending of the story and it needed to be beefed up. The chapters after were one long extended epilogue, an Act 2 that would have made a wonderful sequel. I would have happily bought a second book that expanded on Van finding his footing in the company and owning his position as Dray's partner, personally and professionally. Instead, it was a fragmented series of scenes that didn't do their happily ever after justice.
That said…Van and Dray together are sweet and hot and beautiful. The story…well written, but Jaime Reese is always as close to technically flawless as it gets. And the series? I'm still hooked and I can't wait to see who's next.
But I'm still all Julian 💓 Matt forever……………………………….
About Jaime Reese:
Jaime Reese is the alter ego of an artist who loves the creative process of writing, just not about herself. Fiction is far more interesting. She has a weakness for broken, misunderstood heroes and feels everyone deserves a chance at love and life. An avid fan of a happy ending, she believes those endings acquired with a little difficulty are more cherished.
Where to find Jaime Reese:







Contest:
a Rafflecopter giveaway