DUELING REVIEWS: Down by Contact by Santino Hassell
Author: Santino Hassell
Book: Down by Contact
Series: The Barons, #2
Page/Word Count: Add if you know
Categories: Gay Romance, Contemporary Romance, Sports Romance
Release Date: January 16, 2017
Publisher: Penguin
Buy Links:






Blurb:
Simeon Boudreaux, the New York Barons' golden-armed quarterback, is blessed with irresistible New Orleans charm and a face to melt your mama's heart. He's universally adored by fans and the media. Coming out as gay in solidarity with his teammate hasn't harmed his reputation in the least—except for some social media taunting from rival linebacker Adrián Bravo.

Though they were once teammates, Adrián views Simeon as a traitor and the number-one name on the New Jersey Predators' shit list. When animosity between the two NFL players reaches a boiling point on the field, culminating in a dirty fist fight, they're both benched for six games and sentenced to joint community service teaching sullen, Brooklyn teens how to play ball.

At first, they can barely stand to be in the same room, but running the camp forces them to shape up. With no choice but to work together, Simeon realizes Adrián is more than his alpha-jerk persona, and Adrián begins to question why he's always had such strong feelings for the gorgeous QB…

Look Inside


$✨s – When Simeon Boudreaux and Adrian Bravo get into a fight on the field, both are suspended and their punishment is to coach teens at a community program.
Adrian was really difficult to like. I could see through his homophobic slurs, his overconfident macho behavior and know that he was actually interested in Simeon as more than just former teammates and maybe friends, but it still made him really difficult to like.
Simeon is kind and an out football player in a league that barely supports out players. He was fortunate to be picked up by a team that has players who are respectful and supportive of him. Sure, he fought back when Adrian tackled him, but I thought the punishment for him should have been much lighter than the punishment for Adrian.
I liked the punishment storyline, but I would have liked to have seen more interaction with the kids. I understand that these men are football players and jocks, but I didn't care much for the dirty, trash talk both inside and outside of the bedroom. Both men redeem themselves and the ending was good.

5✨s – I am such a sucker for alpha types in stories and this one was everything! Equally matched enemies-to-lovers, not-too-cutesy-kids with attitude, and smokin' chemistry between the leads. Santino Hassell can be a little hit or miss for me; I liked CoS, didn't click with most of his Five Boroughs series and I'm not fond of paranormal. But Hassell is an amazing writer and the Barons has subjects and tropes I can mesh with. Simeon and Adrian's nascent friendship ended when Simeon left the Predators for the Barons. Much of Adrian's hostility stems from internalized homophobia, fostered by a toxic atmosphere in the Predators locker room. Community service, after an on-field brawl, forces a détente and begins a slow burn romance. Simeon challenges and pushes at Adrian's fears and misconceptions and when he pushes back…angry sex can be so hot!
Simeon and Adrian add ethnic diversity and realism often missing in this genre, which makes little difference in the plot, and rightly so. The narrative uses a favorite style of alternating POV's, which helped me make a strong connection with the characters. The dialogue from both MC's did seem too similar sometimes; I didn't see much influence coming through from both growing up in such different states. Maybe it's because they used a lot of contemporary slang I'm not always familiar with. The youth center work and kids didn't overwhelm the story but added enough plot device to keep things interesting. Of course the big theme was Adrian coming to terms with his bisexuality and falling in love with Simeon. He did have the requisite freak out, acted out badly and Simeon handled it perfectly. He understands but refuses to tolerate Adrian's BS.
The culmination of the story hit the right romantic chords, ending up just a little predictable, in a good way. There's a cheerful epilogue set in the near future and I appreciated the assurance of a HEA. This book does stand alone, although I'd highly recommend reading Gavin and Noah's story. I can't wait to see who comes next in the lineup since I'm all but certain I'll love it too. I do know this book is starting my best of 2018 book list!
About Santino Hassell: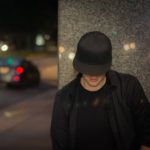 Santino Hassell was raised by a conservative family, but he was anything but traditional. He grew up to be a smart-mouthed, school cutting grunge kid, then a transient twenty-something, and eventually transformed into an unlikely romance author.
Santino writes queer romance that is heavily influenced by the gritty, urban landscape of New York City, his belief that human relationships are complex and flawed, and his own life experiences.
Where to find Santino Hassell: