DUELING REVIEWS: Insight by Santino Hassell

Author: Santino Hassell
Book: Insight
Series: The Community, Book #1
Page/Word Count: 331 pages, 88K words
Categories: Gay Romance, Fantasy/Paranormal/Sci-Fi
Release Date: March 13, 2017
Publisher: Riptide Publishing
Cover: Kanaxa
Buy Links:





Blurb: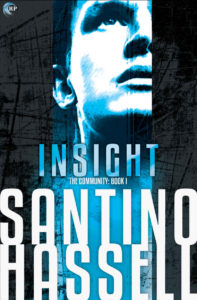 Growing up the outcast in an infamous family of psychics, Nate Black never learned how to control his empath abilities. Then after five years without contact, his estranged twin turns up dead in New York City. The claim of suicide doesn't ring true, especially when a mysterious vision tells Nate it was murder. Now his long-hated gift is his only tool to investigate.
Hitching from his tiny Texas town, Nate is picked up by Trent, a gorgeous engineer who thrives on sarcasm and skepticism. The heat that sparks between them is instant and intense, and Nate ends up trusting Trent with his secrets—something he's never done before. But once they arrive in the city, the secrets multiply when Nate discovers an underground supernatural community, more missing psychics, and frightening information about his own talent.
Nate is left questioning his connection with Trent. Are their feelings real, or are they being propelled by abilities Nate didn't realize he had? His fear of his power grows, but Nate must overcome it to find his brother's killer and trust himself with Trent's heart.

3✨s – Well, this may not have been the best first Santino book for me. By 42% I was dead, bored, not connected at all. I reached out to my Spirit Animal and was encouraged to stick with it. Now that I've finished book 3 I am happy that I did, but damn was it a struggle.
Nate just hurt my heart. From the beginning, he just couldn't catch a break! Devastation after devastation, the hits keep coming. When he finally flees from Texas to find out what happened to his brother, there seems to a bit of light. That light is Trent!
Trent is a great foil to Nate. But why don't they say what they are thinking? Why can't Nate take the help to begin with? Everything happens so fast-love, drama, bonding…and oh did I mention drama?
The whole paranormal, psychic vibe came across as happenstance. Nate knows nothing about his skill, but constantly assumes the worse. Love how Trent just accepts all the crazy-he wants to try at a life with Nate and he is all in.
Ended on an upswing, looking forward to knowing the others stories. And rooting for all the good to triumph over evil.

4.5✨s – Some might think that I enjoy disagreeing with Evette and they would be totally right. There are so many times when we love the same book for all the same reasons and those dueling reviews are BORING with a capital AF! So, in some respects, I'm thrilled to say that she's out of her mind and this book was an excellent beginning to an even better series.
Nate and his twin brother Theo are part of a truly twisted psychic family, though we don't know all the details right off the bat and neither does he. Their single mother died years before, leaving them with her brother and sister, a controlling aunt who apparently does everything to hide the Black family from the world.
Despite being twins, they are completely different and currently estranged, with Nate believing his powers are far lesser than Theo's. Through a disturbing vision, he learns that Theo is dead and despite years of animosity, he doesn't believe it was suicide. Initial attempts to get to the bottom of why Theo was in NY, the same place their mother went when she died, and possibly figure out why the aunt is so strident about protecting the Black name, Nate uncovers a twist in the family that no one saw coming…and I won't give that away. Disgusted and determined to find answers, he hits the road, determined to make it to NY to find out what happened to Theo. Enter Trent.
Heading home from college, Trent picks up hitchhiking Nate and a friendship is born. Across the miles, we see their connection growing and though Trent is a void (aka not psychic), he doesn't balk too much at the possibility. This could have come off as contrived, but they worked and flowed together well and that acceptance was more of Trent accepting Nate than anything else. Once in NY, we are introduced to a whole cast of questionable characters, all with their own agenda and more secrets than answers. I hate to say that I picked out the culprit right away, but it didn't detract from the unfolding story. Getting glimpses as the author set the stage for future books made me excited to turn the page.
Overall, solid points for the writing and the way the psychic storyline flowed in as normal in this contemporary setting. It wasn't the star, but I didn't think it was an afterthought either. It was part of who these characters were much like hair color, eye color, etc. A gift yes, a tool that some wielded better than others, but woven in instead of taking over. Like the romance between Trent and Nate which came off as gradual, even in the short span of time, and didn't overwhelm the mystery, which was my favorite part.
All I really wanted and didn't get, was something from Trent's POV. Something more than the surface of an accepting, supportive man who was protective, loving and humorous. I need to see in his head, get all his reasons, and I missed it.
CHECK BACK TOMORROW FOR OUR DUELING REVIEW OF
BOOK 2 IN THE COMMUNITY SERIES: OVERSIGHT!
About Santino Hassell:
Santino Hassell was raised by a conservative family, but he was anything but traditional. He grew up to be a smart-mouthed, school cutting grunge kid, then a transient twenty-something, and eventually transformed into an unlikely romance author.
Santino writes queer romance that is heavily influenced by the gritty, urban landscape of New York City, his belief that human relationships are complex and flawed, and his own life experiences.
Where to find Santino Hassell: