DUELING REVIEWS: Joy by C.S. Poe

Author Name: C.S. Poe
Book Name: Joy
States of Love: States of Love
Page/Word Count: 69 pages, 20K words
Categories: Gay Romance, Contemporary Romance
Release Date: April 6, 2017
Dreamspinner Press: Dreamspinner Press
Cover: Reese Dante
Buy Links:





Blurb:
Down on his luck is Gideon Joy's default state. He doesn't know why he expected anything different on his cross-country trip, but not surprisingly, the hits keep coming—literally this time. Gideon strikes a moose with his car in New Hampshire, not only totaling his own vehicle, but damaging one belonging to local construction worker Silas Bright. He has no choice but to stay in Lancaster and take a job that'll pay for the repairs. And in a town so small, Gideon's always running into Silas. What starts as annoyance between them soon blooms into something much more romantic. But when Gideon's notorious bad luck rears its head yet again, how many disastrous dates will Silas be willing to weather before realizing Gideon's not worth it?
Despite Gideon's desire to remain in the quaint community that has accepted him as one of their own, past fears of inadequacy threaten the very joy he left Los Angeles to discover. If he's to find a happily ever after with Silas, Gideon must learn that sometimes it's okay to not be the best. And true happiness might be waiting in a small town nestled among the great White Mountains.

3.5✨s – My love/hate relationship with the States of Love Series continues. Definitely more love than hate in this book.
The story jumps right in with a cute (albeit crazy) meet. Gideon runs into Silas trying to avoid a moose. Gideon's constant chatter both out loud and inside his head is cute, if a bit too self-deprecating at times.
Loads of tell, tell, tell and not a lot of show. I just kept asking myself- but whyyy? Being in Gideon's head as 1st person POV was very limiting as the world just seemed to go on around him with precious little explanation of the why.
Silas is a great guy. Sweet, quiet and did I mention sweet? Unfortunately his character was very one-dimensional.
All of the signs point to the two of them just not working, when it seems as if MCs just decide well it's better than nothing. Proximity and kindness winning out over any other connection. I guess it will just work…
Not sure there is a more inviting and accepting town in all the land. They decide to keep Gideon, and that's all she wrote.
A great start to a story, read as a slice of life and not a complete novella.

3.5✨s – Can we start out with cover love? 99% of the ARCs we receive here come without a cover, but we do get the artwork for the post itself and holy mother of cover gods…Joy's is breathtaking. I want him for my very own. I will love him and squeeze him and name….okay, never mind that.
On the very surface, this book is a funny, heartwarming tale of a man searching for himself and finding the answer in the most unlikely of places. Thanks to a runaway moose, he's stranded in a small town in New Hampshire where he must find work to pay off the repairs to his car and the guy he hit. With a cast of amusing secondary characters, we get an overly-accepting small town vibe. You know, the kind where everyone helps each other and the few voices of dissent are easily squashed. The entire book is told from Gideon's POV which is witty, snarky, self-depreciating and ultimately accepting that he could be happy in this much smaller world than the one he imagined for himself.
Unfortunately, I kept trying to scratch the surface and came up empty handed. For starters: Silas. The author presented us with a character that had all the potential to be multi-dimensional. The whole town loved him. He was painfully shy and introverted. He had the palate of a child. Who was he? I needed to know and we never, ever got to meet Silas. Only Gideon's perception of Silas. This was a major let down because I felt like he could have been the most interesting person in the book. So many quirks and questions left unanswered.
Still, it was rife with possibilities until it wasn't. The ending left me…unaccepting of the grudging acceptance of happiness. Gideon wasn't a small town boy longing for a life in the big city. He already knew what was out there—disappointment, heartache, and the overwhelming belief that he was somehow cursed or doomed or bad luck. Here in this haven, he found something so entirely different, welcoming and loving and…joyful…yet his final thoughts were so ho-hum. So "if this is as good as it gets" that I was actually angry at him and my heart hurt for Silas who deserved better.

About C.S. Poe: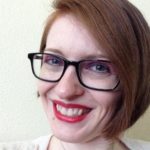 C.S. Poe is an author of gay mystery, romance, and paranormal books.
She is a reluctant mover and has called many places home in her lifetime. C.S. has lived in New York City, Key West, and Ibaraki, Japan, to name a few. She misses the cleanliness, convenience, and limited edition gachapon of Japan, but she was never very good at riding bikes to get around. She has an affinity for all things cute and colorful, and a major weakness for toys. C.S. is an avid fan of coffee, reading, and cats. She's rescued three cats, including one found in a drain pipe in Japan who flew back to the States with her. Zak, Milo, and Kasper do their best on a daily basis to sidetrack her from work. C.S. is a member of the International Thriller Writers Organization.
Where to find C.S. Poe:








Other books by C.S. Poe:
[amazon_link asins='B01HM8F0OS,B01MU85LKZ,B00YM3WHUM,B01MTTH7MS,B01GGBR5H2′ template='ProductCarousel' store='jegbo07-20′ marketplace='US' link_id='a348f6a0-1a16-11e7-ba6a-f5bd07eb70f1′]