DUELING REVIEWS: Maybe This Time by Annabelle Jacobs

Author: Annabelle Jacobs
Book: Maybe This Time
Page/Word Count: 60,000
Categories: Gay Romance, Contemporary Romance
Release Date: August 30, 2017
Cover Artist: Natasha Snow
Buy Links: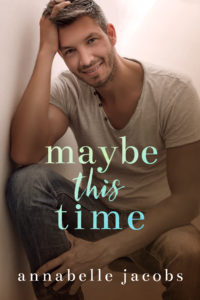 Blurb:
Moving into a new home starts with a bang when Ryan Blackwell celebrates turning thirty. Being hungover means he's bleary-eyed and clumsy the next day, but even in that state, he can appreciate how sexy and fit his neighbour is.
Matt Thomas isn't looking for anything long-term—one and done is usually his life rule. Why settle down early, like his sister, when casual relationships are so easy? With Ryan living in the same building, chance encounters are inevitable. When one night together becomes two, a friends-with-benefits deal seems a natural progression.
There's only one problem: sex with no strings relies on matching expectations, so Ryan can't help worrying. His huge heart always wants more, but Matt's been clear about his limits. As passion leads to caring, they'll have to make some tough decisions—maybe this time, breaking some rules will be worth it if that means they'll get to share a future.

4✨s – Ryan Blackwell is moving into his own apartment and turning thirty. While moving his stuff in, he and his friends cannot help but notice the gorgeous, sweaty, man running by them and then into Ryan's building. The next morning Ryan attempts to strike up a conversation and is shut down.
Matt Thomas enjoys his bachelor life. He enjoys sex with no strings and has no desire to settle down like everyone else in his life. The only problem is agreeing to be friends with benefits only with Ryan, Matt begins to question why he's so opposed to a relationship. Ryan knows that Matt doesn't want anything but casual sex and a friendship so he works hard to keep his emotions out of the picture, but it's not easy for him as he's not a casual hookup kind of man.
I liked this book. Ryan is sweet and his friends are great. Matt comes off as a pompous jerk through the first half of the book, but does redeem himself. At first I didn't like that Matt was so adamant about staying single without there being any great reason written into the book, but the more I thought about it, the more I realized that sometimes we all just get something stuck in our heads and we often don't have a great reason why except that's just how we are. I think I still would have like to have known a little more about Matt's reasons, maybe a little more depth to his personality. He really is quite a jerk for the first half or so of the book so giving him a reason for such behavior would have been good and maybe make the storyline of friends to lovers flow a little more smoothly.

4.5✨s – How many synonyms for adorable can I come up with?! This was a lovely book to read, about two ordinary men; Ryan, sort of clumsy and dorky but cute, and Matt, a little older, a bit cynical and aloof but still a nice guy. Plus, getting both their pov's is always a great bonus for me. I'd call it a meet-cute, when Ryan bumps Matt's coffee all over him when moving into their building, then meeting Matt at his mother's house when Ryan buys a washer. After a couple of alcohol fueled hookups, they attempt to stay just friends with bennies.We all know how that goes!
I enjoyed the secondary characters as well, Ryan's mother and BFF Josh, and Matt's parents and close friend Sam. The depictions for everyone were strong and complete. The scenes with their respective parents were lovely, because they felt like the parents each man would have. So well done. It's a relatively simple plot where two men navigate their way to couplehood. Of course, Matt had to be the difficult one. I liked the fact that it wasn't some great tragedy that made him resist falling for Ryan and we didn't get silly misunderstandings or secrets.
This strikes me as a comfort read, a tale that's not too complex, a little humorous, provides some warm and fuzzy, and reminds us of the ordinary yet unexpected ways that love can appear in someone's life.
About Annabelle Jacobs:
Annabelle Jacobs lives in the South West of England with her three rowdy children, and two cats.
An avid reader of fantasy herself for many years, Annabelle now spends her days writing her own stories. They're usually either fantasy or paranormal fiction, because she loves building worlds filled with magical creatures, and creating stories full of action and adventure. Her characters may have a tough time of it—fighting enemies and adversity—but they always find love in the end.
Where to find Annabelle Jacobs: