DUELING REVIEWS: Once Upon A Wolf by Rhys Ford
Author: Rhys Ford
Book: Once Upon A Wolf
Series: Wayward Wolves, Book #1
Page/Word Count: 96
Categories: Fantasy/Paranormal/Sci-Fi, Shifter Romance, Gay Romance
Release Date: February 16, 2018
Publisher: Dreamspinner Press
Cover Artist: Reece Notley
Blurb: Gibson Keller's days are fairly routine: wake up early, get some work done, drink lots of coffee, and take care of Ellis, his older brother stuck in wolf form after coming home from the war. It's a simple life made up of long runs on two legs—or four—and quiet evenings…. Until Ellis chases a handsome man off a cliff and into the frozen waters beside their cabin, changing Gibson's life forever.

For Zach Thomas, buying an old B&B is a new start. Leaving behind his city life, he longs to find peace and quiet, and hiking the trails behind his property seems safe enough—right up to the moment an enormous black wolf chases him into a lake, nearly drowning him. Discovering werewolves are real astounds him, but not as much as the man who rescues him from the icy water then walks into Zach's heart as if he owns it.

Loving a werewolf—loving Gibson with all his secrets—has its challenges but Zach believes their love is worth fighting for, especially since his heart knows the big bad wolf is really a prince in disguise.


Look Inside


5✨s – Gibson and Ellis live a quiet life on the top of a mountain. Ellis is stuck in wolf form after suffering from PTSD from the war. Gibson takes care of Ellis and keeps him safe from anyone who may be in the woods. When Ellis sends Zach down a hill and into an icy river, Gibson rescues him and takes him to the cabin he and Ellis share.
Zach is hurt from the fall, but his attraction is so intense to Gibson he cannot make himself leave…even when he sees Ellis shift from wolf to human and back to wolf.
I don't think I've read a book by Rhys Ford that I didn't love. This book is no exception. My heart broke for Ellis and his suffering. My heart burst with the love and caring that Gibson shows to Ellis. It is so apparent that Gibson and Zach are meant to be together and the fact that Ellis just knew that they were perfect for each other is even better.
I cannot wait to read Ellis's story. I suspect his story will really make my heart hurt, but I hope he gets the happily ever after that he deserves.

3.5✨s – Rhys Ford did tell her reader group that she wanted to write something sweet, and since it's her…werewolves! The story actually is pretty sweet and there's no mystery and no one dies. It doesn't mean everything is sunshine and roses. Zach and Gibson, and Ellis, were engaging characters, as was the mutual hurt/comfort storyline. A fair amount of world building is fit into novella form, grounded in the present, where people think lycanthropes are not real. I didn't find the explanation given for their existence entirely logical here or understand how they could remain so secret. I rarely read shifter stories for this reason; I want too much logic around paranormal characters and occurrences!
Zach and Gibson do feel an instant connection and fall into insta-love, which fits with this genre but I still thought Zach accepted the existence of werewolves too easily. The other problem I had was getting too little about Zach and Gibson's relationship building. The story seemed more about Ellis than Zach and Gibson. Intimacy, even kissing, happens late in the story, that too ending up timed around Ellis's condition and actions. That sounds negative, but I still liked the whole story quite a bit. All were solid, intriguing characters, including the ladies running Zach's B & B. It seems obvious that characters are being introduced for future storylines and I do want to know what happens to Ellis. This novella contains all the elements Rhys excels at in her narrative and prose. I admit to my bias against paranormal but I can't miss a Rhys Ford story, so readers who enjoy shifters, including her fans, will like this even more, I'm sure.

About Rhys Ford: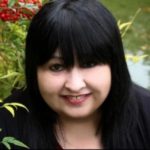 Rhys Ford is an award-winning author with several long-running LGBT+ mystery, thriller, paranormal, and urban fantasy series and was a 2016 LAMBDA finalist with her novel, Murder and Mayhem. She is published by Dreamspinner Press and DSP Publications.
She's also quite skeptical about bios without a dash of something personal and really, who doesn't mention their cats, dog and cars in a bio? She shares the house with Yoshi, a grumpy tuxedo cat and Tam, a diabetic black pygmy panther, as well as a ginger cairn terrorist named Gus. Rhys is also enslaved to the upkeep a 1979 Pontiac Firebird and enjoys murdering make-believe people.
Where to find Rhys Ford: