Author: Santino Hassell
Book: Oversight
Series: The Community, Book #2
Page/Word Count: 245 pages, 64K words
Categories: Gay Romance, Fantasy/Paranormal/Sci-Fi
Release Date: June 26, 2017
Publisher: Riptide Publishing
Cover:
Buy Links:





Spoiler Alert! The following blurb contains spoilers for Insight, book one of The Community.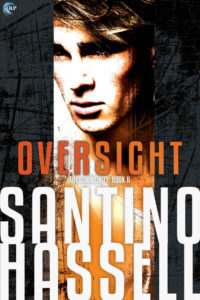 Blurb:
Holden Payne has it all . . . or so he thinks. As heir to the founder of the Community—an organization that finds, protects, and manages psychics—he's rich, powerful, and treated like royalty. But after a series of disappearances and murders rock the Community, he's branded the fall guy for the scandal and saddled with a babysitter.
Sixtus Rossi is a broad-shouldered, tattooed lumbersexual with a man bun and a steely gaze. He's also an invulnerable—supposedly impervious to both psychic abilities and Holden's charms. It's a claim Holden takes as a challenge. Especially if sleeping with Six may help him learn whether the Community had more to do with the disappearances than they claimed.
As Holden uncovers the truth, he also finds himself getting in deep with the man sent to watch him. His plan to seduce Six for information leads to a connection so intense that some of Six's shields come crashing down. And with that comes a frightening realization: Holden has to either stand by the Community that has given him everything, or abandon his old life to protect the people he loves.


3✨s – As with the first book a lot happens off page. The psychic world feels again as an afterthought. Six's ability to keep everyone out, of his mind and heart, is impressive. But when you have all of the charm and swag that is Holden, how can he not accept the challenge.
Holden and Six change tremendously all the while keeping what makes them unique. Just not as weapons anymore.
The writing is superb, I just wanted and needed more. More story, but not length. More character development, much more focused storytelling. I couldn't tell if the romance or the mystery would persevere, they walked alongside each other without truly melding. Not to mention there are no surprises. I saw every twist and turn miles ahead.
The story has kept me hooked, my expectations are high as we move into Chase's story.

4.5✨s – In our establishment of Evette is wrong and Jessie is right, we reach this conundrum where we sort of agree on this book but with wildly different reactions! Isn't it amazing how two people could read and even enjoy the same book and still walk away feeling as if they had different experiences? I love books. Anyway, I could off on that tangent but that I wouldn't have time to tell you all about Holden and Sixtus.
Holden is not quite the prodigal son or the would-be heir, but something in between. His father is the head psychic-psycho who allows Holden his delusion of independence with his nightclub but installs his own personnel to keep tabs. Considering how well that worked out in book 1, Holden is understandable leery when he's informed that Sixtus will be joining the staff. Add in that his half-brother is missing, the brother's part-time lover is in trouble, and everything Holden thought he knew about himself, his family, and the Community is falling down around him—it's a dramatic recipe broken up by Sixtus.
As an invulnerable, Sixtus can keep everyone out (including us) and he's been raised at The Farm (think cult). His lines seem very defined, he's exceedingly blunt (which offers surprising comic relief), and he's not at all what we or Holden think. When he and Holden finally connect on a personal level, it's more than either of them anticipated…but I won't give that way either.
Once again the writing is solid and no one thing overshadowed the other. The psychic elements were woven naturally into the story, the romance evolved organically (in a short time) and provided huge character growth for both Holden and Sixtus, and the series plot continued to grow exponentially, revealing more and more and more at an almost overwhelming rate. With much of the groundwork set in book one, this started off strong and had more action than the first, and left us with the promise of an action-packed finale. (I've already read it, trust me on this!)
Loved it entirely with the same qualification as book 1. I needed in that steel trap that was Sixtus. He was an intriguing character from the second he hit the page, more so than affable Trent who I loved, and not being granted a peek behind the iron wall left me wanting.
CHECK BACK TOMORROW FOR OUR DUELING REVIEW OF
BOOK 3 IN THE COMMUNITY SERIES: SIGHTLINES!
About Santino Hassell:
Santino Hassell was raised by a conservative family, but he was anything but traditional. He grew up to be a smart-mouthed, school cutting grunge kid, then a transient twenty-something, and eventually transformed into an unlikely romance author.
Santino writes queer romance that is heavily influenced by the gritty, urban landscape of New York City, his belief that human relationships are complex and flawed, and his own life experiences.
Where to find Santino Hassell: