DUELING REVIEWS: Permanent Ink by Avon Gale & Piper Vaughn
Author: Avon Gale & Piper Vaughn
Book: Permanent Ink
Series: Art and Soul
Page/Word Count: 249 pages, 67K words
Categories: Gay Romance, Contemporary Romance
Release Date: August 7, 2017
Publisher: Riptide Publishing
Cover: Natasha Snow
Buy Links:




Blurb: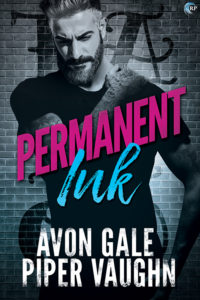 At twenty-three, Poe Montgomery is going nowhere. He still lives in his father's basement and spends most of his time tagging with his friends. When an arrest lands him in debt, Poe accepts the front desk job at Permanent Ink, the tattoo shop owned by his father's best friend, Jericho McAslan. Jericho is nearly twice Poe's age, but with his ink and prematurely graying hair, he quickly takes the starring role in Poe's hottest fantasies.
Jericho is known for his ability to transform poorly designed tattoos into works of art, but he was once as aimless and misdirected as Poe. Wanting to pay it forward the way someone once did for him, Jericho makes Poe his apprentice and is determined to keep things strictly professional. Easier said than done when Poe makes his interest—and his daddy kink—abundantly clear.
Jericho can't resist Poe or their intense chemistry for long. But between the age gap, tension with Poe's father, and Poe's best friend calling him a sellout, they'll need to ensure they're both on the same page before they can rewrite their rocky start into something permanent.

3.5✨s – When Poe gets arrested for vandalism, we are introduced to a sullen twenty-three-year-old who doesn't understand that he's an adult that should be responsible for his own actions. He's content to live in his father's (Landon) basement and mooch off his generosity and unwavering support. Enter Jericho, Landon's best friend whose tattoo shop is right next to Landon's garage. One night while Jericho is working on his sleeve, Landon laments Poe's latest mishap. This leads to Jericho offering Poe a job as a way to pay forward the good deed his own mentor did for him when he was a rebellious teen.
Great setup, but unfortunately the execution was hit and miss for me. Told in alternating first person POV, we do get into the heads of our main characters, but I felt that Jericho was more fleshed-out —his thoughts were more pronounced, he had more rapport with the secondary characters, and this left Poe as the nuisance emo child of the group. Nearly all the interaction we see between Jericho and Poe happens within the tattoo shop, only to find out through their thoughts that they are having a whole relationship off-page that would have done wonders in making them believable. As it was, the growth Poe shows in maturity comes off as big leaps instead of organic and natural. Without it, I never felt them go from mentor-with-benefits to happily ever after and the telling left me doubtful.
There was also a big quirk for me in the sexual component of this book. Through Poe's thoughts, we learn that he wants to be used and through Jericho's thoughts, we know that this is a common ground. However, they never discussed it and that bothered me. I wanted all the kink, more than we got, and I needed it to be part of the relationship building, which was lacking.
The Blue factor was…eh. A good setup for a future book, but otherwise he was such a non-character for me in contrast to Callum's over the top characterization. That will be interesting if the authors can find a character balance and give us more show than tell. Overall, I would continue the series, but mostly because Callum had a presence and I'm curious about Landon and his new mechanic.


3.5✨s – There are elements in this story that appealed to me strongly; tattoos, a May/December romance and the promise of a little kink. Poe and Jericho tell their tale in first person, trading POV's, which offered insight to the characters emotions and motivations, up to a point. As the story opens, Poe resembles a sullen teen, rather than an adult of 23, but he developed more maturity over time spent learning from Jericho, becoming more focused, self-reflective and mature. I can't say I ever reached a real connection with him though. His dialogue didn't reveal much self-reflection about how he behaved, and dialogue with secondary characters like Landon, his dad, and his friend Blue, were too infrequent. Jericho was a more consistent character and I could relate to him better through his introspective conversations with his friend Callum and with Landon.
My disappointment arose when the relationship between the two never delivered any spark. There was a period where I should have felt the slow burn and UST but it never came through. I couldn't shake the view of Jericho as a mentor, rather than a lover. Even the anticipated daddy kink never amounted to much. The sex scenes weren't too frequent but there was little shown of the two of them together, building their relationship, outside of the sex or the shop. An extra scene or two did add to the latter part of the book, which improved my enjoyment. However, the conflict between Blue and Poe was too thinly developed, again with more telling than showing. Ultimately, it was a story with good style and not quite enough substance.
Callum and Landon were good secondary characters, mostly because there was more history with Jericho. Poe did have a few special moments with Landon, too. It's an enjoyable read, with little angst and does become a tale of redemption for Poe, and eventually Blue. I'm fairly certain the next book will be about Callum and Blue.