DUELING REVIEWS: The Little Library by Kim Fielding
Author: Kim Fielding
Book: The Little Library
Page/Word Count: 290 pages
Categories: Gay Romance, Contemporary Romance
Release Date: March 26, 2018
Cover Artist: L.C. Chase
Buy Links:


Blurb:
Elliott Thompson was once a historian with a promising academic future, but his involvement in a scandal meant a lost job, public shame, and a ruined love life. He took shelter in his rural California hometown, where he teaches online classes, hoards books, and despairs of his future.

Simon Odisho has lost a job as well—to a bullet that sidelined his career in law enforcement. While his shattered knee recovers, he rethinks his job prospects and searches for the courage to come out to his close-knit but conservative extended family.

In an attempt to manage his overflowing book collection, Elliott builds a miniature neighborhood library in his front yard. The project puts him in touch with his neighbors—for better and worse—and introduces him to handsome, charming Simon. While romance blooms quickly between them, Elliott's not willing to live in the closet, and his best career prospects might take him far away. His books have plenty to tell him about history, but they give him no clues about a future with Simon.

Look Inside

Guest Post:
Hi! I'm Kim Fielding and I'm very excited to announce the release of my newest novel, The Little Library! Set in California's Central Valley, this story stars a guy with a slightly obsession with books. What's not love about that, right?
As the book opens, Elliott Thompson is in the middle of a Skyped job interview. Bad decisions, scandal, and a terrible ex-lover led Elliott to lose his tenure-track position at a prestigious university. Now he's teaching a few online courses and trying to get his life back on track.
Unfortunately for Elliott, this job interview doesn't go well. I've been in academia for a long time—and I've been on many, many hiring committees—so I guarantee that these interviews can often be harrowing experiences, either for the applicant or for the members of the committee.
I've had some interesting experiences over the years. Several applicants have droned on so endlessly and pointlessly when we've asked simple questions that I shudder to think what they must be like in the classroom. One guy invited to campus for an interview ordered a very expensive steak when we took him to lunch at an Italian place. Another guy changed outfits in the middle of a busy restaurant parking lot (not in his car!) right before dinner. One guy, we discovered, had lied extensively. Turns out he'd never actually earned that PhD or published those articles, and his previous employer had canned him when they found out. But no problem for him! He just forged his letters of recommendation. One guy, who'd clearly failed to do any research on us at all prior to the interview, informed us that he has a phobia about driving and asked how long it would take to get to our satellite campus via public transportation. We're in a fairly rural area, and if you don't drive, you're pretty much stuck. There is no public transport to our satellite location. We ask candidates who come to campus to teach a class—subject matter of their choice. One candidate made homophobic slurs during his presentation. Another proved unable to answer even the simplest questions about her dissertation.
The process can also be grueling for the candidate. I interviewed for one position that involved four full days of interviewing; they had me scheduled to meet people every day beginning with breakfast at 7 a.m. and running all the way through a late dinner, with no breaks. A friend once flew across the country for a several-day job interview. Ten minutes after she arrived, a committee member informed her confidentially that there was no way she would get the position. She still had to go through the motions for two days. Another friend did a presentation and was grilled mercilessly on esoteric points by one member of the faculty.
Maybe it's just as well that Elliott's interview goes poorly, because he ends up meeting Simon, a sexy ex-cop, and…. Well, you'll have to read the book to find out.
Do you have a job interview disaster? Please share in the comments!

4✨s – The little library movement is fascinating to me since I can't imagine giving up a single book, some of which I've been moving from apartment to apartment, state to state, for over twenty years. In the ratio of book boxes to everything else I own, it's no contest. When this one came across, it looked super cute and the little library angle sealed the deal.
Elliott is paying for a mistake that wasn't really his own. His only culpability is falling for someone he shouldn't have. When the enormity of his lover/mentor's crimes is uncovered, Elliott is blackballed by association. His career dreams crushed, he retreats to California where he laments his mistakes, teaches online classes, and reads.
1-click is an addiction we all know and love, right? Well, Elliott's books are piling up around him and his brother fears he'll get crushed and not be found for days. Enter the idea of the little library. Despite the neighborhood busybody, Elliott and his brother build one and he fills it with an eclectic selection of reading material. Soon enough, people are taking a book and leaving one behind. I loved that and so did Elliott.
On his daily runs, he meets Simon. A former cop injured in the line of duty, the two strike up a conversation and though Elliott's attracted, he can't get a read on Simon. With good reason. Simon's not just in the closet, he isn't certain where his attractions lie. Again, the little library plays a role here and what turns into soul-searching on both parts blooms into a cute romance.
Still, there's a lot of angst from both Elliott and Simon's backstory, their self-discoveries, and Simon's eventual coming out. With Elliott entertaining a job far from California, Simon's daring turns into regret when he realizes he may have just lost his family for a man who isn't staying. I want to say his anger was justified, but man, I really wish they had talked it out like adults. This made the busybody-turned-threat that had been building throughout the story into a plot device toward reconciliation, and that left me a little wanting.
Overall, a cute story and I was happy to see them get a bigger little library.

4✨s – I've only read a few Kim Fielding stories but each one has been a delight to read. The same feeling applies here, because once again, I felt an emotional attachment to the characters. Elliott is pretty much in hiding from the world after one of the worst breakups one can imagine. He's presented as a guy who was too easily led and influenced in the past but who also has a hard time changing his own narrow vision of the future. Seeing many of his LGBTQ books being read from the little library, he's surprised to find it's Simon, a guy he'd met when out running. Simon is at a crossroads in life, on medical leave and reconsidering his career and with time to assess the late blooming acceptance of his sexuality. Cultural pressure, his job as a cop and fear of losing family has kept him in the closet.
Elliott and Simon are shown as realistic, humanly flawed beings, having difficult discussions and honest dialogue. They also have an epically awkward first date, which is also the first real date either man has ever had. So funny. They fit together well, except Simon isn't sure when, or if, he'll come out to his family and Elliott is still looking for a professorship somewhere, most being out of state. Naturally, this leads to a shakeup in their relationship. I was pretty irritated with Elliott not seeing the obvious choices he had and hurting Simon. Yet it ended up as largely angst-free, the only added conflict coming from a nasty neighbor.
The last chapter is charming, heart-warming and uplifting and I'd have been happy if it ended there. Unfortunately the epilogue was not what I wanted but was afraid of. There was a solid HFN and the beginning of their HEA but the scenario felt abrupt, contrived and far too soon, not fitting all that well with the preceding narrative. My opinion of course! I'm sure many will be quite satisfied with the situation. I'd recommend this for the fine writing, men being real-life adults and a very moderate steam level. Good read!
About Kim Fielding: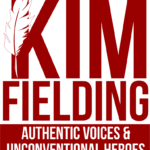 Kim Fielding is the bestselling author of numerous m/m romance novels, novellas, and short stories. Like Kim herself, her work is eclectic, spanning genres such as contemporary, fantasy, paranormal, and historical. Her stories are set in alternate worlds, in 15th century Bosnia, in modern-day Oregon. Her heroes are hipster architect werewolves, housekeepers, maimed giants, and conflicted graduate students. They're usually flawed, they often encounter terrible obstacles, but they always find love.
After having migrated back and forth across the western two-thirds of the United States, Kim calls the boring part of California home. She lives there with her husband, her two daughters, and her day job as a university professor, but escapes as often as possible via car, train, plane, or boat. This may explain why her characters often seem to be in transit as well. She dreams of traveling and writing full-time.
Where to find Kim Fielding: