DUELING REVIEWS: The Virgin Manny by Amy Lane

Author Name: Amy Lane
Book Name: The Virgin Manny
Series: The Mannies, Book #1
Page/Word Count: 228 pages, 56K words
Categories: Contemporary, MM Romance, Dreamspun Desires
Release Date: January 1, 2017
Publisher: Dreamspinner Press
Buy Links: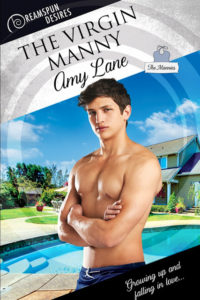 Blurb:
Growing up and falling in love…
Sometimes family is a blessing and a curse. When Tino Robbins is roped into helping his sister deliver premade dinners when he should be studying for finals, he's pretty sure it's the latter! But one delivery might change everything.
Channing Lowell's charmed life changes when his sister dies and leaves him her seven-year-old son. He's committed to doing what's best for Sammy… but he's going to need a lot of help. When Tino lands on his porch, Channing is determined to recruit him to Team Sammy.
Tino plans to make his education count—even if that means avoiding a relationship—but as he falls harder and harder for his boss, he starts to wonder: Does he have to leave his newly forged family behind in order to live his promising tomorrow?

5✨s – After reading The Locker Room a couple years ago; I haven't found one Amy Lane story that I didn't adore and this one was no different. Here, we have Tino; recent college graduate with no clue what to do with his new degree, especially because his younger sister had had her life figured out and her tuition paid for by the time she'd started college, by running her own catering business. She was great at it too, except extremely busy one afternoon she didn't have the time to do her own deliveries in a little suburb almost an hour away. So, somehow, she gets her brother Tino to do it for her….
That's where Tino meets Channing and his nephew Sammy. I absolutely loved Channing. Tino had a little chip on his shoulder in the beginning; he was the rich guy that was like the people his mom used to housekeep for… except he wasn't. He was sweet and sad, because he'd just lost his sister; Sammy's mom and gained a nephew to raise fulltime.
Tino couldn't help himself. Channing had a terrible housekeeper/nanny already that was seriously, awful in so many ways and you get to see them all play out, to which a little bit I was like….. WHY ARE YOU NOT CONFRONTING HER OR CALLING THE POLICE OR SOMETHING?? Jeeeeezzzz….but, they got rid of her eventually and they get their karmatic justice that they deserve. Anyone who reads any of my reviews, knows that, I don't feel vindicated if my peeps don't get their karmatic justice on the bad guys. I hate when bad guys get away with being bad guys!! This one didn't though and I was happy about that.
I loved all the extended family and close friends. I loved how Tino took care of Artie; how good to him he was, that made me love him just a little bit more. I loved his relationship with Jacob and how supportive he was when that relationship changed, even though he was a little sour about it because it involved his little sister lol he was still supportive and I loved just how he was as a person; always putting other people before himself and wanting to help and fix everything. It's just who he was.
Also, if you hadn't gathered by now by my rant from earlier or the blurb or cover. Tino helps an overwhelmed Channing out and becomes Sammy's live in manny! Now, I'm a sucker for Manny stories because I love seeing hot guys with kids, be awesome parents or guardians… Good daddies or uncles or mannies such as it is in this case, are hot, in my opinion.
Channing and Tino's relationship is so genuine from the very beginning. They have chemistry from the beginning and they start a kind of friendship first; I could see them being good friends that just turn into more because they were so good for each other and so alike, yet so different in all the ways that they needed to be. Tino was a little uncomfortable with Channing's generosity and wealth and it at times put doubts in his head, but Channing was understanding and patient and just an all-around perfect, person lol, I reeeeeally liked him.
This story was low angst (other than the housekeeper, but…meh, she's not around long) and I liked that as well, I'm not an angsty reader. Overall, it was a great story and I wouldn't object to reading more about this little family in the future; it felt like they were getting started and I love that it left room for more, but still gave you enough that if it were to end now and have no sequels, I'd still be happy because they all ended up happy and healthy and together.

4✨s – Tino has worked hard to graduate from college and is determined to make something of his life. Focused on finals and a future career, he avoids relationships at all costs—until he meets Channing while delivering prepared meals for his sister's business. Wealthy and successful, Tino immediately sees Channing as out of his league, but the man just lost his sister and has become guardian to his devastated nephew. Their pain and grief call out to Tino, so even though a part of him wants to run in the other direction, he gets drawn into their lives anyway.
There was a lot to like about this book. Sammy was a handful, Channing worked ridiculous hours, and Tino was overwhelmed. They were flawed, but they were making it work and getting closer to becoming the family Tino wasn't sure he was ready to be part of. The addition of side characters like Artie, Jacob, and Tino's two sisters provided poignant moments, laugh aloud moments, and just rounded out the story nicely.
Where this book fell apart for me was in the housekeeper story line. From her first appearance on the page, she's a hateful woman who treats Sammy like shit. Why keep her for even a second? Well, obviously, to carry out the evil plot twist that provided absolutely nothing of value to the book. I was over it before it happened and skimmed the big climax in the hopes of seeing more of this lovely growing family.
A solid four stars that could have easily been five if that side story had been scraped and filled in with more of Channing and Tino's relationship.
Author Bio:
Amy Lane has two kids in college, two gradeschoolers in soccer, two cats, and two Chi-who-whats at large. She lives in a crumbling crapmansion with most of the children and a bemused spouse. She also has too damned much yarn, a penchant for action adventure movies, and a need to know that somewhere in all the pain is a story of Wuv, Twu Wuv, which she continues to believe in to this day! She writes fantasy, urban fantasy, and m/m romance–and if you accidentally make eye contact, she'll bore you to tears with why those three genres go together. She'll also tell you that sacrifices, large and small, are worth the urge to write.
Where to find the author: