DUELING REVIEWS: The Wounded Warrior by BA Tortuga

Author: BA Tortuga
Book: The Wounded Warrior
Series: Rocking W, Book #1
Page/Word Count: 217 pages, 64K words
Categories: Gay Romance, Cowboys & Westerns, Characters with Disabilities,
Release Date: June 6, 2017
Publisher: Pride Publishing
Buy Links: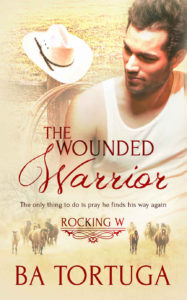 Blurb:
When Luke's lost everything, the only thing to do is head back home to the ranch and pray that he finds his way again.
When Navy SEAL Luke Blanchard comes back to Northeast Texas after a devastating injury, he feels like the whole world has gone dark. In a wheelchair and feeling worthless, Luke has no idea what to do, even as his twin brother Matt is determined to lift him up and help him heal.
Rory McConnell is a local prodigy, a real estate lawyer with a plan to buy up land before his bitter rival can collect it. When the Blanchard ranch goes into the red, he offers to buy out the debt. Luke backs his brother instead, but he doesn't believe for a minute that Rory is a bad guy. No one that sexy and fun can be, right?
As Luke claws his way out of depression with a crazy idea to run a therapy ranch, he and Rory start to explore the need growing between them. Will Rory's need for revenge against a man who damaged him forever come between them, or will it be the force which brings these two wounded men together for good?
Reader Advisory: This book contains fragmented recollection of gang-rape which happened off-screen several years earlier.

3✨s – I am still not sure what I expected with this book.
The entire PTSD storyline fell flat for me, even with the incredible therapy ranch that comes out of Luke's experience.
I would have liked more from Rory's character. So much potential, but there are so many holes in his personality that just don't make sense to me. Why is he so out, but still terrified of the good old boys? His parents are incredible yet he runs away. It is too easy to forget that he is YOUNG. I know his history, yet it still made little sense.
Matt and Luke are incredible. Exactly what I expect from twins.
There seemed to a few too many obstacles, as well as the whole whodunit….yet I did adore Luke and Rory together, so much sweet and support. Their relationship saved the story for me.

4✨s – Wounded and in a wheelchair, Navy SEAL, Luke Blanchard is back home on his brother Matt's ranch. He wouldn't admit it at first, but being with those horses was the only bit of peace he'd found since returning home. Unfortunately, a local developer was trying to get the Blanchard's to sell their land… and so was local real estate attorney, Rory McConnell…only Rory was doing it for the greater good, to keep condo's and developments off of good ranching land. It also turned out, he was trying to get the slimey development guy to sink low… He deserved it… trust me on that.
Rory got caught up in a scandal some years back and Harris was the culprit. Now, he was going head to head with Rory and he was holding nothing back. When Rory started seeing Luke, it put everyone in danger because Harris was coming after anybody and everybody.
I DID NOT like that we didn't get to see the karmic justice with the bad guy …. I would have loved to see him suffer some…. He deserved the worst, for real. If you read it, be prepared for that. You'll want to kill him yourself.
The story though, I really enjoyed it. The dialogue was a little meh for me, because "Rock on" was used in abundance and I haven't said that since like… 6th grade lol but the rest of it was cute. I also loved Rory AND Luke and Matt's parents. Their mom's were somethin' else and I love how southern boys are with their Mama's. Very cute! I also loved how Luke used his disability and other rescourses to do something amazing and I'm so glad it worked out for him. I loved that too!
Overall though, everything works out in the end and of course Rory and Luke end up together! There's no drama between them other than the one guy who's trying to take everyone's land… No cheating, low angst, I like that. I'm really looking forward to reading more of this series and hope to see more from Luke and Rory, but really want Matt to get him some happy. <3
About BA Tortuga: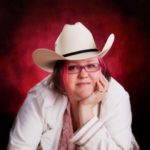 Texan to the bone and an unrepentant Daddy's Girl, BA spends her days with her basset hounds, getting tattooed, texting her sisters, and eating Mexican food. When she's not doing that, she's writing. She spends her days off watching rodeo, knitting and surfing Pinterest in the name of research. BA's personal saviors include her wife, Julia, her best friend, Sean, and coffee. Lots of good coffee. Y'all know that song, The Happiest Girl in the Whole USA? That's me, down to the bone.
Having written everything from fist-fighting rednecks to hard-core cowboys to werewolves, BA does her damnedest to tell the stories of her heart, which was raised in Northeast Texas, but has heard the call of the high desert and now lives the good life in the Sandias. With books ranging from hard-hitting GLBT romance, to fiery menages, to the most traditional of love stories, BA refuses to be pigeon-holed by anyone but the voices in her head.
Where to find BA Tortuga:







June's Blog Contest:
Leave a comment for an entry into a contest to win a $25 Dreamspinner Gift card. Every comment left on a blog post in June will equal one entry, so comment often!