Interview with K.L. White, author of Dark Water
Author: K.L. White
Book: Dark Water
Page/Word Count: 98 pages
Categories: Fantasy/Paranormal/Sci-Fi, Gay Romance, Shifter Romance
Release Date: May 15, 2017
Publisher: Carina Press
Buy Links:





Blurb: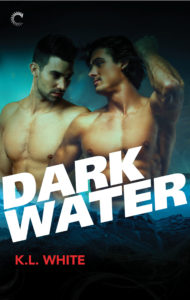 The magnificent Kelpies who haunt the waters, shape-shifting from horse to human, are disappearing into legend. Their numbers are dwindling, and they must take a human sacrifice twice a year to survive. So when Rez, a Kelpie stallion and former navy officer, spots a desperate man about to offer himself to the waves, Rez marks him for sacrifice.
The most talented diver the navy had ever seen, Benjamin D'Arcy has always lived on the edge of death; he's a crazy kind of brave. But now he's blind and broken, his last sight that of his best friend, Rez, blown apart by shrapnel. All Benjamin wants is to join him in death.
Too late, Rez discovers that the man he so hastily marked is Benjamin—the man he loves, the man he's crossed oceans to find. Overwhelming joy is tempered by the knowledge that their reunion must be short—the mark of sacrifice has set Benjamin's path. Facing a near-impossible obstacle, Rez must find a way to overcome the mark's power and prove to Benjamin that theirs is a love worth fighting—and living—for.
Excerpt:
The tangled shipwreck ropes of Rez's emotions prevented him from taking his prey. Instinct told him to end Benjamin's suffering while he was below the surface. Never allow him another breath, but grab him and push against the current until they were out of the shallows. Then dive, dive, dive, forcing the remaining air from Benjamin's body. The man would fall into unconsciousness almost instantly.
Instead, Rez jumped into the water and sought beneath the tide for him. Benjamin's body rolled with the current, and his eyes were closed and resigned. The water had accepted him as a sacrifice and wouldn't part with him lightly. For kelpies were the guardians of the surf, the rocks, the coast and all the places where the One Water touched the land. Rez defied thousands of years of tradition when he caught Benjamin, dragged him into his arms and raced back toward the shore.
About K.L. White:
K.L. White writes. If not paranormal stories, then computer code or technical documentation. She studied creative writing, journalism, and computer science at five different universities in Texas before taking a job in Information Technology. When she's not writing, she's reading. Often that's in the form of audiobooks playing in the cab of her big ol' pickup truck. She lives on a small ranch in the Texas Hill Country and breeds and raises fine Norwegian Fjord horses, works to improve her riding through dressage, and is part of a local mounted archery group.
Interview with K.L. White:
As an author myself, I know inspiration is everywhere and can strike at the most inopportune moments (like in the shower, when you don't have anything to write with!). So, what was the inspiration behind Dark Water? Dark Water started off with a request for novellas from Carina Press. I'd been working on a big novel that felt like I'd never finish, so this was a great opportunity to write something brand new and short. I could prove to myself that I could finish a story and get it out into the world. One of the things they wanted were shifter stories – and I wanted to write a male/male relationship. Wolves, bears, and big cats are common, and I don't know much about those animals – but I do raise and breed horses. So I took a horse from folklore – the kelpie – and began building a story around these magical creatures.
What is your writing process? (i.e. plotter or panster, explain) I want to be a plotter, and I can do some plotting ahead of writing, but I have to do some writing before I get a feel for the story and the characters.
What is the hardest part of that process for you? I know plotting in advance helps ensure the story stays true to the vision and prevents unnecessary wandering, but I struggle with having the answers ahead of time.
There's a big leap a writer takes from putting words down on paper for the love of it and actually publishing those words for public scrutiny. What was that journey like for you? I started writing stories as a little kid. Really bad stories. I studied creative writing in college and wrote some fanfiction for a while. I wanted to do original fiction, but aside from some short stories, didn't have any ideas I thought were unique or interesting enough. I found ideas finally, joined a local writers' group to learn more and get some critiques, and my writing improved. As it did, I kept trying to critique with writers who would challenge me to either write more often or write better. When I couldn't seem to stop working on the ten-year novel, I started a new novella and submitted it for publication. Now that I know I can finish something, my other projects look less daunting. It's a process.
What one piece of advice would you give an aspiring writing considering that leap for themselves? Writing is a solitary endeavor, but the process of publishing (self-publishing or seeking an agent/publisher to go the traditional route) requires assistance – it's a team thing. Get a good editor, find some other writers who know your genre to get good, honest feedback. Keep learning more about writing craft so that each story will get better.
What do you think makes a good story? I'm a big believer in writing what you want to read. What you'd pick up off the shelf at a bookstore or download to your favorite device. I read a lot, and I think most authors do – so I don't want to run out of options in my favorite genres. You can write for the market, but I'm not sure how much fun that would be.
Do you have any strange writing habits or rituals? Quirky is one of the kindest words that could be used to describe my habits and rituals – and it's not constrained to my writing. I write best alone with ear buds and loud music. That may be the most normal thing about me.
What can readers expect from you next? The second Kelpie book is in progress. Kjell gets his own full-length book, and I can't wait for y'all to see it. I'm also working on two other exciting projects. The first is my rural fantasy angels and demons novel, which is the one I started first almost ten years ago and didn't have the skills to tell that story the way I wanted to at that point. The other one is a collaboration with two other talented authors incorporating paranormal, folklore, and time travel with an ensemble cast. That one has been super fun to write.
Fun Quickies:
Favorite curse word: It appears about 60 times in my novella as just about every part of speech.
You're auditioning for American Idol, what's your song?: I've never had any ambition to audition for a singing competition. I had to do karaoke once as a requirement for a college class and thought I'd die of embarrassment. I'm a horse crazy girl, so I used to dream of doing a freestyle dressage performance to "Hell" by the Squirrel Nut Zippers with my big Percheron, Lestat.
Weapon of choice: Simple recurve bow – I've been learning mounted archery.
Evil mastermind, easily convinced partner in crime, or innocent bystander: Definitely the evil mastermind.
Where to find K.L. White: