NEW RELEASE: Aftercare by Tanya Chris

Author: Tanya Chris
Book: Aftercare
Page/Word Count: 184 pages, 64K words
Categories: Gay Romance, BDSM & Erotic Romance, Contemporary Romance
Release Date: May 17, 2017
Publisher: PUBLISHER NAME
Buy Links: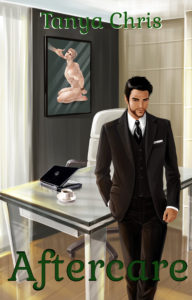 Blurb:
Aayan Denir knows Garrett Hillier was once a high-powered defense attorney, and—thanks to a leaked photograph—he knows Garrett is sexually submissive, which makes him ideally qualified to defend Aayan's brother from the charge of murdering his sub. Aayan would do anything to protect Syed, even if he doesn't understand how Syed could hurt someone he loves. He could never hurt Garrett. He only wants to take care of him—love him, serve him, cherish him. And maybe torture him. Just a little.
Garrett probably shouldn't be dating his client's brother. Right? And what's the use in a confirmed sub dating a guy who doesn't want to be a Dom anyway? The important thing is to get Syed cleared of the discriminatory murder charge he's facing. Aayan is a distraction. But for the first time in the three lonely years since Garrett's husband died, he's feeling hope, ambition, and desire. Can he give up the pain he craves to find the love he needs?
As Syed's trial date looms, Aayan and Garrett explore what a BDSM relationship means for them, and what they mean to each other.
Aftercare is a M/M BDSM contemporary romance about Aayan, a Muslim immigrant who's not sure he can play the Dom role, and Garrett, a submissive attorney who walked away from his life when his husband died.
Excerpt:
He was prepared to exit the dark interior of Aayan's very comfortable car with a handshake and a quick goodbye, but Aayan trapped him with no more than a look. He held his breath as Aayan slid closer across the leather seat.
"Your gaydar must be pretty dysfunctional if it didn't pick up on how attracted I am to you. I knew you were attracted to me. Your reaction was immediate."
"Yeah, I, uh …" God, articulate much, Garrett? "It would be a bad idea to get involved though. Conflict of interest, and, um …"
Aayan's hand curling around the back of his neck temporarily cleared his mind.
"So I shouldn't," he concluded, as if he'd presented a coherent argument.
"Shouldn't or won't?"
"Shouldn't. I can't say won't."
"Good."
Aayan didn't close the distance between them himself; he didn't even meet Garrett in the middle. He stayed rock still and drew Garrett to him with a force that was irresistible but unhurried, perhaps giving Garrett a chance to say no but only proving that he didn't want to. Aayan's lips closed over his firmly, parting and opening them so that their tongues met in a wet tangle.
Garrett inhaled around Aayan's kiss. His hands clawed blindly forward, seeking Aayan's shoulders to steady him as his head swam. The wool of Aayan's sweater was like moss beneath his fingers—too soft and slick to save him. He groped higher until he found the coarser texture of Aayan's hair. He clung there, inching forward, pressing harder into the kiss, choked whimpers rising up to fill Aayan's mouth with his need.
Three years. Three years since he'd been so hard, so hungry, since someone had held him so commandingly. Just that single hand to the back of his neck coaxed him to fall deeper into the rich darkness of desire.
The panic came as quickly as the desire had. What was he doing? He hadn't even known this man twenty-four hours ago. Russell's picture lay at his feet, and he was shamelessly trying to crawl across the center console and into Aayan's lap.
He pulled back as far as Aayan's hand would allow him. "I can't— I'm not ready for—"
The pressure on the back of his neck eased. He could move away now. If he wanted to.
"OK." Aayan's lips teased his. "I understand." Another kiss, like morphine to his jangled nerves.
God, his head was so fuzzy, his resolve so hazy. "You say that, but you keep kissing me."
Aayan chuckled and released him. He resettled himself into the center of his seat and held both hands up. "OK?"
Right. It was on him now. Garrett sat up and slid back into his own seat. Right. It would be better if he could breathe, but Aayan wasn't touching him, so …
"I'll see you," he said, putting his hand on the door handle.
"Don't forget the photograph."
Right.
About Tanya Chris:
Tanya writes in a variety of romantic and erotic genres, being an avid follower of many of these genres herself. Some of her favorites are M/M romance, MFM threesomes, and BDSM with male submissives.
Tanya lives in New England with her boyfriend and her cat and has participated in many of the activities about which she writes, but not all of them. It's left to the reader to decide which are which.
Where to find Tanya Chris:





May's Blog Contest:
Leave a comment for an entry into a contest to win a $25 Dreamspinner Gift card. Every comment left on a blog post in May will equal one entry, so comment often!