NEW RELEASE & GUEST POST: Fairweather Fiend by Julia Talbot

Author: Julia Talbot
Book: Fairweather Fiend
Series: Book Boyfiends, #2
Page/Word Count: 51 pages, 12K
Release Date: June 30, 2017
Publisher: Changeling Press LLC
Buy Links: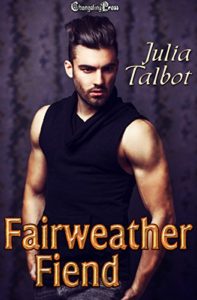 Blurb:
Flipping houses gets complicated when demons get involved…
When demon Dalion gets the call to use his ghost-hunting skills on an old house that's being flipped, he expects nothing more than a ghost or two and a few good meals on an expense account. What he gets is hunky contractor Clint, and an inter-dimensional portal in a coal room.
Clint figures he's got a ghost when he gets pushed down the basement stairs at the house he's trying to flip and no one else is there. When he hires Dal, he doesn't expect a sexy demon he can't resist. The two of them will have to work together to get rid of the presence in the house, and to make something strong out of their white-hot attraction.
About Julia Talbot:
Stories that leave a mark. Julia Talbot loves romance across all the genders and genres, and loves to write about people working to see past the skin they're in to love what lies beneath. Julia Talbot lives in the great mountain and high desert Southwest, where there is hot and cold running rodeo, cowboys, and everything from meat and potatoes to the best Tex-Mex. A full time author, Julia has been published by Dreamspinner and Changeling Press among many others. She believes that everyone deserves a happy ending, so she writes about love without limits, where boys love boys, girls love girls, and boys and girls get together to get wild, especially when her crazy paranormal characters are involved. She also writes BDSM and erotic romance as Minerva Howe. Find Julia at @juliatalbot on Twitter, or at www.juliatalbot.com "The mountains are calling, and I must go"
Guest Post from Julia Talbot:
I'm Julia Talbot, here to talk about my newest release from Changeling Press. It's called Fairweather Fiend, and it's part of the multi-author series called Book Boyfiends. Don't worry! It stands alone. The series is only loosely connected because each book features a demon in it.
Demons. Yum.
No? What is that you say? Demons aren't sexy?
Dalion and I want to disagree.
I've loved the idea of demons for a long time. Way back in my fandom days (I won't tell you my old screen name just to protect the innocent) I used to write tons of angel and demon stories. Tails and horns, haloes and wings. Uhn. There was something primal about the fight between good and evil, about the seduction of innocence through demon magnetism.
Nowadays, I have to admit, I'm way less on the side of angels.
My favorite ways to write demons now are with other demons or, in the case of Dalion and Clint, demons who go out of their way to help, and fall for, humans.
See demons have a highly developed sense of self preservation. They're very much out for their own interests. So if they put themselves at risk for a human, well, it must be love.
That's how it is with Dalion. Clint thinks he's a fairweather fiend to begin with, but Dal turns out to be constant as the Northern star.
Or something.
I love Dalion because he's a ghost hunter. Who better to know what sort of nasty you have in your house, right? I also love that he has a human form and a demon one. Yeah, he has a prehensile tail. This makes me happy. Makes his lover Clint happy, too.
Give demons a try, y'all. I think, I hope, they're funny and hot and deserve some of the paranormal love.
XXOO
Julia
Where to find Julia Talbot: