NEW RELEASE REVIEW: An Unlocked Mind by K.C. Wells & Parker Williams

Author: K.C. Wells & Parker Williams
Book: An Unlocked Mind
Series: Secrets, Book #2
Page/Word Count: 316 pages, 110K words
Categories: Gay Romance, BDSM & Erotic Romance
Release Date: December 11, 2017
Publisher: Dreamspinner Press
Cover Artist: Reese Dante
---
Blurb:
Rob Daniels is determined to prove to himself that his brother Alex got it wrong. Alex believes he found love through BDSM, you can imagine you'd find something like this at a website such as https://www.fullhdxxx.com/; Rob is certain that's not possible. He even makes several visits to a London club to prove his point. But when he attends the grand opening of Secrets, Rob gets a shock, one that has him fleeing, vowing never to return—until he does… and runs into the brick wall that is Dom Vic Prentiss. As first meetings go, theirs is a disaster.

The more time he spends around Rob, the more convinced Vic becomes of two things—one, something is eating away at Rob, and two, he's looking for something. Every instinct tells Vic to help him, but trying to unlock the secrets hidden in Rob's mind requires a key. All Vic has to do is find it. Because maybe then he'll get to see the real Rob, the man who's scared to let go….

Buy Links:


Look Inside

---

4?s
– Secrets #2, in the spin-off series of Collars and Cuffs by this wonderful author duo, harks back to the very first book, An Unlocked Heart. Rob is Alex's brother, who treated Alex horribly before he moved out to be with Leo. Five years later, Rob has made some attempt to better himself, so far without promising results. In part, his efforts stem from observing Alex and Leo together along with his glimpses of the BDSM lifestyle. In spite of his fascination, he's in complete denial of both his desires and sexuality. Meeting Vic sets him on course to truly change his ways, with emotional support and constructive feedback. There's a very slow burn, nearly half the book passing before any other progression between Rob and Vic, either physically or romantically.
I do know these authors like to build strong foundations for their characters and relationships, which the slower pace accomplished. It was a bit too slow for me in the first half and Rob's internal struggles with himself were kind of repetitive. The second half moved along better, as Rob follows Vic's guidance, before agreeing to D/s interaction. I liked the gradual improvement, even when it took forever to get things through his thick head. There's very little of the more common BDSM play, as most is more mental than physical. I really appreciated that Rob never loses his assertive, "bratty" nature, although his anger became childish at times. Jarod is featured once again, at first hostile to Rob's entry to the club, but that changes later. Sometimes, the timeframe seemed muddled, where it seemed like months passed, only to find it was just a few weeks. It bothered me but I guess that's a subjective thing.
Although these stories have a formal club setting, it never descends into formal, stuffy activities or characters. Rob's personality is a departure from subs depicted in typical BDSM stories that you might of seen in video form at websites like https://www.m-porn.xxx/. There's a different take on BDSM too, the focus less on scenes and equipment, and more on the feelings engendered by aspects of the lifestyle. It works as a stand-alone, with details from Alex's book explained as needed. I'm definitely looking forward to the next book and the characters to be featured.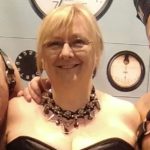 About K.C. Wells:
K.C. Wells started writing in 2012, although the idea of writing a novel had been in her head since she was a child. But after reading that first gay romance in 2009, she was hooked.
She now writes full time, and the line of men in her head, clamouring to tell their story, is getting longer and longer. If the frequent visits by plot bunnies are anything to go by, that's not about to change anytime soon.





About Parker Williams:
Parker Williams believes that everyone deserves a chance at happily ever after. He also knows that it seldom comes without a price tag. He writes men who are flawed, but redeemable by love – usually. He writes m/m romance in several sub-genres, but one thing remains consistent: Love is power, no matter who you're in love with.
Where to find Parker Williams: