NEW RELEASE REVIEW: Color Me In by Riley Hart
Author: Riley Hart
Book: Color Me In
Series: Last Chance, Book #2
Page/Word Count: 240 pages
Categories: Gay Romance, Contemporary Romance
Release Date: January 30, 2018
Cover Artist: X-Potion Designs

Blurb: Caleb White has been a lot of places and made a lot of decisions he isn't proud of. He's ready to settle down and figure out who he really is. Where better to do that than Last Chance, the home he was ripped away from at sixteen? A fresh start is in order, but he has no idea how to do that when he's not even sure what he wants in the first place.

Ryan Daily is a pro at hiding his insecurities. He's never fit in and has spent most of his life knowing there's something missing. Just when he thought he'd found it, his whole world fell apart and he lost everything.

Then comes a sleepless night in a twenty-four-hour café, where Caleb and Ryan forge a connection full of laughs, junk food, and whispered secrets. In the middle of their budding friendship, desire blooms unexpectedly. Ryan has kept his heart protected after having it shattered, and Caleb—no stranger to attraction—finds that what he has with Ryan is on a whole new level from anything he's experienced before. In a world of black and white, they bring each other color.

But life is never simple. When the past comes knocking, Ryan and Caleb will have to reach through the darkness to find the light they see in each other…or risk slipping into the shadows for good.

Look Inside

Excerpt:
At eleven forty-five, he made his way downstairs to see that Ryan was already there waiting for him. They were supposed to be at Shane's around noon. "We taking my car? I'm not sure I can be seen in yours. I have a reputation to uphold." Caleb watched, waiting for Ryan to react to his ribbing.
He did, looking up at Caleb through a fan of his dark lashes as Caleb stood on the stairs. Jesus, he was sexy as hell. His hair was messy, which Caleb fucking loved. He wore jeans—not the ones Caleb said he liked—and a button-up black shirt with long sleeves.
He looked so damn innocent, unsure, as he gave Caleb a playful grin and rolled his eyes. "Not flashy enough for ya, huh? The car doesn't make the man, Salt Fiend."
The silly nickname sat warm in his chest. "Oh, fuck you." Caleb reached the bottom step. "I know what kind of man I am, thank you very much. Grab your keys. You can drive. I didn't want to anyway. Might even take a short nap on the way home—my belly will be so full and all."
"Well, shit." Ryan followed behind him. "I didn't think this through. Do I get a take-back?"
"Nope." Caleb grabbed his jacket from the chair, then reached for Ryan's, handing it over.
"Thanks." His eyes darted away, looking almost bashful. "We need a coatrack."
They'd managed to break through the first layer of tension; Caleb could feel it. Unfortunately, the bastard seemed fucking thick, and he thought they still had a way to go. "We do."
Ryan felt his pockets, Caleb assumed, for his keys. His guess was confirmed when he pulled them out and said, "We should be on our way."
They made it almost to the door before his stupid fucking mouth got in the way. "You look good, by the way."
Ryan stumbled. Caleb reached out and wrapped his hand around Ryan's bicep. "No need to get all flustered, Sweet Tooth."
"I'm not flustered."
"Not even a little?" Caleb asked.
"Maybe a little."
He had a feeling that was the case. "I'll give you space. We're good, though? You and me? I didn't fuck up?"
"No." Ryan reached out then and fixed Caleb's hood, which had accidentally gotten tucked into the back of his jacket. "You didn't fuck up. We're good."
Caleb nodded. That was exactly what he needed to hear.
---

5✨s – Loved this book!!! This is the second book in the Last Chance series and is Caleb and Ryan's story. Caleb we know of from the first book and because he was Shane's first kiss. Ryan is Shane's friend and works for him.
When the two insomniacs meet at an all-night diner, there is definitely chemistry though initially it presents itself as friendship. When Ryan needs a place to stay, Caleb offers to rent a room to him. As their friendship grows, so does their connection to each other.
Ryan has spent his whole life thinking he was broken because he has only had a sexual attraction to one person, his ex-wife. One night when they are both very relaxed, Ryan admits this to Caleb and Caleb tells him he is demisexual. It was like something finally clicked for Ryan. Ryan does his research and finds that the term fits him perfectly and slowly begins to feel more normal. Actually both men accept each other in such a way that they both begin to heal, they both feel less lost, less broken.
I am absolutely thrilled that the subject of demisexuality was tackled in a book – at least this is the first book I've read that addressed it. It was written beautifully too. The author really expressed how much Ryan's sexual attraction was based on a connection to a person and with Caleb was largely expressed through touch. This book was written so well that I swear there were times throughout the book that I could feel Caleb's touches.
This is a wonderful second addition to the Last Chance series and I hope it is not the last.
Teasers: Click to enlarge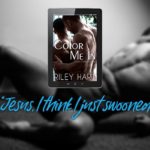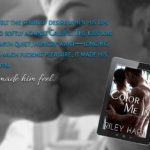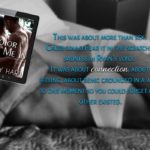 About Riley Hart: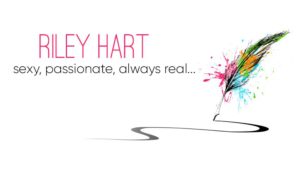 Riley Hart is the girl who wears her heart on her sleeve. She's a hopeless romantic, a lover of sexy stories, passionate men, and writing about all the trouble they can get into together.
She loves reading, flawed characters, and hanging out with her husband and children, who she adores. She and her family live in Southern California, soaking up the sunshine while also missing seasons. Not a day goes by that she isn't thankful she gets to wake up and do what she loves.
Life is good. Riley also writes young adult and new adult under the name Nyrae Dawn.
Where to find Riley Hart: