NEW RELEASE REVIEW: Fight For It by A.D. Ellis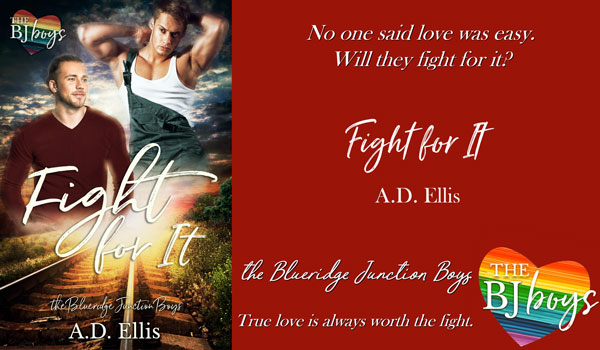 Author: A.D. Ellis
Book: Fight For It
Series: The Blueridge Junction Boys, Book #1
Page/Word Count: 369 pages
Categories: Gay Romance
Release Date: October 3, 2017
Buy Links:


Blurb: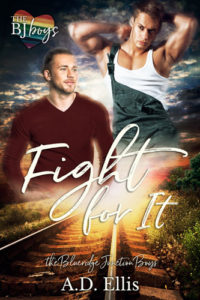 Micah is a small-town mechanic with a big-time dream. He's found his soulmate in high school social studies teacher Coleman Pierce, but while Micah's out and proud of it, Coleman's closet door is closed, locked, and welded shut. Stolen nights are all they'll ever have, unless Micah can find some way to convince Cole that coming out won't be the end of his dreams.
Cole moved to Blueridge Junction to escape his past. He planned to make himself a new life, far from home and the betrayal he'd suffered there. He wasn't going to make the same mistakes again, but he didn't count on meeting Micah, or the intensity of the feelings the man arouses in him.
But Micah is out and Cole… isn't. And while Micah definitely revs his engines, Cole isn't going to risk his job or his newly minted future on a relationship that might not work out. When outside forces bear upon the couple, Cole is faced with a decision. Will he keep his secret and risk losing everything, including the man he loves? Or will he stand with Micah and fight for their future?
*Fight for It is a male/male romance meant for ages 18+ due to language, themes, and adult scenes.*
Excerpt:
"Well, hello there, Mr. Pierce." Jay Owen's perched next to me at the bar where I was waiting on my to-go order.
I'd met Jay through Cody, the owner of BJ's Burgers & Beer where I got seventy-five percent of my meals. A lot of people in town were friendly, welcoming, and perfectly nice. But, somehow, I had managed to land mostly gay men in the majority of my new friends. Birds of a feather, I guess.
"Hi, Jay. And call me Cole. Mr. Pierce seems sort of creepy the way you say it." I was only slightly joking.
"It's supposed to," Jay drawled and winked. "No, but seriously, where's your car? I've seen you walking lately."
"It's in the shop. Broke down on the last trip back from my old place." I checked the time. I had nowhere to be, but chit-chat with Jay rarely stayed neutral.
"Micah's working on your car?" Jay's eyes bugged out.
"Yeah, why?"
"Just, if Micah was working on my car, I'd be over there from open until close watching." Jay bit his lip.
"You don't have a car, Jay." I rolled my eyes and tried to change the subject.
"Elementary, my dear. You totally know what I mean." Jay fanned himself. "Mmm, just think of Micah all sweaty. Pulling those coveralls down to his waist. Bending over that car just like he'd bend over you."
"Whoa, okay. Calm down there before you work yourself into a froth."
Cody came over and plopped down my to-go bag. He handed Jay a bag as well. "Here, made too many fries. You can take them."
Jay smiled and grabbed the bag. "Thanks, Papa Bear."
"Call me that again and I'll take them back." Cody flipped/flicked? a towel at Jay.
Out on the sidewalk, Jay and I sauntered toward the park.
"You've got to know that Micah is like majorly hot for you, right?" Jay asked around a mouthful of fries.
"No. He's not. And, even if he was, it wouldn't matter. I'm not looking." The lies rolled from my tongue easier each time I said them.
"Girl, you keep telling yourself that all you want, but I'm telling you. Micah Edwards is totally hot for Cole Pierce." Jay teased. "It's like fate. You end up teaching here. Your car breaks down. Hot-as-sin Micah Edwards comes to rescue you in his big truck. Mmm, I'd let him hoist me up and tow me anywhere he wants."
"Dude, chill out. Micah doesn't like me. I don't like Micah. I'm not looking for anything in the romance department. My job is what's important to me." We had almost reached the park. I'd go one way and Jay would, hopefully, go his own way.
"Only having your job to fulfill you is a sad and lonely way to live. You need friends and love. And sex. Lots of sex." Jay gave a dramatic sigh.
"I'm making friends. I love my job. And sex is overrated." Lies, lies, lies.
"Then you're not having it right," Jay quipped.
"Yeah? Who are you having sex with?" I challenged in hopes of changing the subject.
"Me?" Jay put a hand to his chest. "Ladies don't kiss and tell, but I'll have you know I'm saving myself for the right person."
I couldn't help the look of shock on my face. Glancing around, I whispered, "You're a virgin?"
Jay sobered quickly. "Yeah, but can you keep that quiet? I have a reputation to uphold."
Teaser:
4✨s – What starts as an anonymous Tinder hookup, starts to mean more to Micah, the mechanic from a little town called Blueridge Junction… Sounds like a hicktown, but like the author, I too was born and raised in small town, Indiana. It's about as backwards as it gets, so I wasn't surprised by the open hostility of a gay person in their town….but it still irked me all the same, considering the golden boys of town were also gay. I don't understand why people can't just be left be. How, in this day and age does the goings on in one's bedroom affect anyone but the people behind those closed doors? I hate that homophobia and bigotry and hatred like that still exists and I really felt for Cole… .I could understand his hesitance, but it also wanted to smack some sense into him a time or two, too. Cole also had feelings for Micah, but speaking from experience, he felt like being "out" just wasn't an option for him. Being a school teacher in a backwards town wouldn't do anyone any good. Then, the town went and proved him right by all the ridicule and whispers and eventually violence. I knew exactly who was behind it, everyone did… and I really wish we'd have gotten more karmic justice for all Cole suffered through, but sadly, that didn't happen. I was alright with the ending but only because the fictional world had one less terrible person in it and I wanted that for Micah and Cole. What I loved… was Micha's unwavering love for Cole, even when Cole was constantly not fighting for Micah like Micah was, him. He didn't let his pride get in the way and give up like so many would've because things were hard and not going his way. I almost expected that, but was pleasantly surprised when he stuck it out and fought like he did. I loved Micah! I also, LOVED LOVED LOVED Jay and Levi and Cody and Kennedy… even though I wanted to smack them all too. Everyone else could see they were perfect for each other, but they fight it so hard. I have a feeling and I hope they're next, but I just know Jay's story is going to be a heartbreaking one and he's going to need Levi. I want that so bad for him….and plus, I have a thing for tattoo artists AND lost boys… sigh… this was an awesome start to what I know will be an awesome series… I can't wait for the next one and I loved that Micah and Cole ended up happy and together and in love! Love me some happy endings! 4 stars for me, only because I hated that so many people just got away with being terrible people. I hate that. Otherwise… awesome story!
About A.D. Ellis: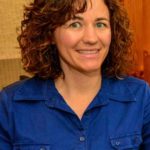 A.D. Ellis spends the majority of her days loving and wrangling two school-aged children and a husband before heading to the inner city of Indiana to teach a challenging group of alternative education students in grades third through sixth. Most days she hits the gym after school in hopes of running and lifting away the stress and headaches of the day before picking up her children and squeezing a whole day's worth of loving and living into the too-short hours before bed. It's no wonder Ms. Ellis lives for the slower, easier days she gets to enjoy on breaks from school.
Growing up in a small farming town in southern Indiana, A.D. is grateful to her mother for passing along the love of reading. With her nose constantly stuck in a book, Ms. Ellis became accustomed to friends and acquaintances snickering and shaking their heads at her love of reading.
A.D. never dreamed of being anything but a teacher, although there are certain times of the year when she laments her career choice. Ms. Ellis had a story idea floating in her head for about a year. After persistent prodding from a friend, A.D. put pen to paper and began writing her first story in October 2013. From that moment on, she was hooked. Taking the people and stories from her head and sharing them with readers is a scary, exhausting, rewarding, and fulfilling experience which A.D. plans to continue until there are no more stories banging around in her mind.
A.D. Ellis' work can be found on both iBooks and Amazon. Please contact her on Facebook, Twitter, or her website.
Where to find A.D. Ellis:




Contest:
a Rafflecopter giveaway