NEW RELEASE REVIEW: Fire and Flint by Andrew Grey

Author: Andrew Grey
Book: Fire and Flint
Series: Carlisle Deputies, Book #1
Page/Word Count: 200 pages, 63K words
Categories: Gay Romance, Mystery & Suspense
Release Date: December 8, 2017
Publisher: Dreamspinner Press
Cover Artist: L.C. Chase
---
Blurb:
Jordan Erichsohn suspects something is rotten about his boss, Judge Crawford. Unfortunately he has nowhere to turn and doubts anyone will believe his claims—least of all the handsome deputy, Pierre Ravelle, who has been assigned to protect the judge after he received threatening letters. The judge has a long reach, and if he finds out Jordan's turned on him, he might impede Jordan adopting his son, Jeremiah.

When Jordan can no longer stay silent, he gathers his courage and tells Pierre what he knows. To his surprise and relief, Pierre believes him, and Jordan finds an ally… and maybe more. Pierre vows to do what it takes to protect Jordan and Jeremiah and see justice done. He's willing to fight for the man he's growing to love and the family he's starting to think of as his own. But Crawford is a powerful and dangerous enemy, and he's not above ripping apart everything Jordan and Pierre are trying to build in order to save himself….

Buy Links:


Look Inside

---

4✨s
– Pierre is a sheriff's deputy asked to guard a Judge who'd been getting threatening letters. The job is boring, just watching the Judge and keeping his eye out for something suspicious; but what really catches his eye is the Judge's paralegal, Jordan.
Jordan's noticed some off things since working in Judge Crawford's office, but knowing what could happen if he told the truth about the judge, especially since he's about to finalize the adoption on his four-year-old son, Jeremiah. The judge has a long reach and it's hard telling what could happen if the wrong person found out or started looking into things because of him. Pierre knows something's wrong and the more time he spends with Jordan, the harder it is for him to hide it. Breaking down, Jordan finally tells Pierre what he suspects and Pierre wants to do everything he can to look into it but keep Jordan and his son safe. He's falling for them quick and how can he not, they're both adorable and both of them had already had a rough road, with Jeremiah being sick when Jordan first started the adoption.
Jordan has extremely low self-esteem and it was a problem for a while, not for Pierre, he did everything he could to assure him but it really bugged me. I guess he had his reason's for it, but still… Pierre was open and honest and extremely patient and understanding, so I'm glad Jordan trusted him enough to open up to him. Because the judge had burnt a lot of people and wasn't liked by many, it didn't take long to find people to fight in their corner if needed…even though Jordan and his son was at risk. I was glad that the judge had to account for his actions, but I really wish we'd have gotten to see more about what happened to him and how he reacted. I felt like I needed the karmic justice. I'm just petty that way.
But overall, it was an awesome addition to an already awesome series and we all know how I feel about hot guys with kids. Throw in a hot cop and come on…. Was it going to be anything other than great?

About Andrew Grey: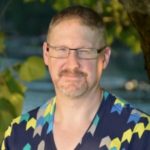 Andrew Grey is the author of nearly 100 works of Contemporary Gay Romantic fiction. After 27 years in corporate America, he has now settled down in Central Pennsylvania with his husband Dominic and his laptop. An interesting ménage. Andrew grew up in western Michigan with a father who loved to tell stories and a mother who loved to read them. Since then he has lived throughout the country and traveled throughout the world. He has a master's degree from the University of Wisconsin-Milwaukee and now writes full time. Andrew's hobbies include collecting antiques, gardening, and leaving his dirty dishes anywhere but in the sink (particularly when writing) He considers himself blessed with an accepting family, fantastic friends, and the world's most supportive and loving partner. Andrew currently lives in beautiful, historic Carlisle, Pennsylvania.
Where to find Andrew Grey: