NEW RELEASE REVIEW: Going Overboard by L.A. Witt
Author: L.A. Witt
Book: Going Overboard
Series: Anchor Pont #5
Page/Word Count: 286 pages, 76K words
Categories: Gay Romance, Military Romance
Release Date: February 5, 2018
Publisher: Riptide Publishing
Cover Artist: L.C. Chase
Buy Links:


Blurb:
Second-class petty officers Dalton Taylor and Chris Ingram have been best friends since coxswain's school. Now they're stationed together in the harbor patrol unit of NAS Adams. They're content as friends, but secretly, they both ache for more. Neither makes a move, though; while Dalton is out and proud, Chris is closeted—even from his best friend.

Then another coxswain's negligence nearly drowns Dalton. After a taste of how easily they could lose each other, neither man can keep his feelings hidden anymore, and it turns out love and sex come easy when you're falling for your best friend.

Things aren't just heating up between the friends-turned-lovers, though. The Navy is investigating the accident, and the harbor patrol chief isn't going to let his star coxswain go down for dereliction of duty, even if saving him means throwing Dalton under the bus.

As the threats and gaslighting pile up, Chris and Dalton need each other more than ever—as shipmates, friends, and lovers. But if their chief prevails, the only way they can save their careers is to let each other go.

Look Inside

About Anchor Point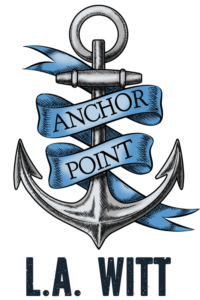 Welcome to Anchor Point!
Nestled on the northern coast of Oregon, this small town is home to Naval Air Station Adams. On base, you'll find freshly minted Sailors who've just graduated boot camp, salty officers counting down till retirement, grounded pilots who've landed behind desks, and everyone in between—and they're all looking for love. Well, not all of them, but that won't stop love from finding them.
So pull up a barstool, grab a beer, and get ready for some sea stories as these men in uniform—or not—navigate the waters of love and life in the military.
Anchor Point stories can be enjoyed in any order. Hop in wherever you'd like!
---

4✨s – The plot of this book felt more serious than previous stories have, adding more layers to the complex Navy politics the author weaves into these romances. Dalton, an out gay man and Chris, who's black, have had a harder time gaining promotions and rank than most of their peers, for some valid reasons but also subtle bigotry. It's made them distrustful of fair treatment by higher-ups. After the terrifying incident that hurts Dalton, he and the woman who saved him are being pressured about the investigation and their testimony. Their chief is twisting details about their actions during the accident caused by the bad decision of the other coxswain, the Chief's golden boy. It was very interesting to learn various ins and outs of Naval procedure, the sharp divides between enlisted and officers and lack of trust in the chain of command.
Romance did seem to get overwhelmed by the focus on Dalton's problems though, so when Chris and Dalton finally got together, I didn't get much sense of the UST they should have been drowning in (pun not intended!). There's no drama when Chris finally comes out to Dalton, and I liked their little beach retreats but wanted more togetherness outside of their jobs and bedroom. The dialogue revolved almost entirely around Dalton, his stress over his difficult recovery which could hurt his career, the pressure of exams and the uncertainty about the investigation. Chris was so resigned to worrying, without much effort in finding constructive solutions, he was hard to like much at some points. The sex scenes were still pretty hot but didn't add a lot of romantic elements. However, I was fully invested in how Dalton would save himself and his career, and how he and Chris could be together.
The epilogue provides satisfying closure for all the characters, as well as the reader. I also liked the way Chiefs Jackson and Curtis, from the last two books, were drawn into the narrative. I read any and every book L.A. Witt writes about the military, as well as the majority of her other works in MM romance. She's a skilled, prolific writer of well-researched tales but her personal experience as a Navy spouse lifts these books above the norm. I'm very much looking forward to the next book and Diego's story!
About L.A. Witt:
L.A. Witt is an abnormal M/M romance writer who has finally been released from the purgatorial corn maze of Omaha, Nebraska, and now spends her time on the southwestern coast of Spain. In between wondering how she didn't lose her mind in Omaha, she explores the country with her husband, several clairvoyant hamsters, and an ever-growing herd of rabid plot bunnies. She also has substantially more time on her hands these days, as she has recruited a small army of mercenaries to search South America for her nemesis, romance author Lauren Gallagher, but don't tell Lauren. And definitely don't tell Lori A. Witt or Ann Gallagher. Neither of those twits can keep their mouths shut . . .
Where to find L.A. Witt:



Contest:
To celebrate the release of Going Overboard, one lucky winner will receive their choice of two eBooks off L. A. Witt's backlist (excluding Going Overboard) and a $10 Riptide Publishing store credit! Leave a comment with your contact info to enter the contest. Entries close at midnight, Eastern time, on February 10, 2017. Contest is NOT restricted to U.S. entries. Thanks for following
the tour
, and don't forget to leave your contact info!