NEW RELEASE REVIEW: Rank & File by L.A. Witt

Author: L.A. Witt
Book: Rank & File
Series: Anchor Point, #4
Page/Word Count: 269 pages, 71K words
Categories: Gay Romance, Contemporary Romance
Release Date: September 25, 2017
Publisher: Riptide Publishing
Cover Artist: L.C. Chase
Buy Links:





Blurb: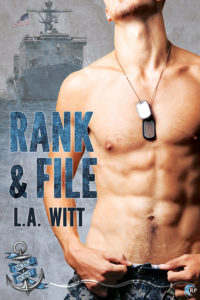 Senior Chief Will Curtis is as straitlaced as they come. While his fellow Sailors have partied their way through their enlistments, he's had his eye on the prize—making master chief and retiring after thirty years of service.
Lieutenant Brent Jameson is a Navy brat turned Annapolis grad. He's lived and breathed the military his whole life, and he knows he's destined for great things—once he's done paying his dues at the bottom of the ladder.
When their paths cross, both men know better than to give in to temptation, but that doesn't stop them. It also doesn't keep them from coming back for more, even though being discovered would sink their careers. Something has to give—Will can retire, Brent can resign, or they'll both face court-martial.
But there's also the option neither wants to acknowledge: jump ship and walk away from each other instead of ending their careers over a fledgling relationship. And they should probably decide before they fall in love.
Except—too late.
Excerpt:
Author L.A. Witt provided us a sneak peek at Once Burned, Anchor Point #6
This is an unedited excerpt and may differ from the final version.


5✨s – Submarines aren't the only things full of seamen; so is this great series! L.A. Witt's real life on Navy bases around the world, gives her first-hand insight that she shares in her stories. This one could be my favorite so far. Will and Brent are almost doomed from the start, since they both know their careers are at risk by becoming involved with each other. They simply can't resist that first encounter, because just once will be enough, right? Famous last words, as they gravitate to each other again and again. The risk contributes to the intensity of their physical relationship, which is off the charts for hotness factor! Wall sex, window sex, lots of sex with these two. But the author is skilled at not letting it overwhelm the story and it fits into this particular storyline well.
More than that, she crafts steadily growing feelings and emotions, shown through dialogue and settings. No insta-love here and it's shown, not just told. There's so much communicated between these two, that makes this the best kind of love story. It's about real-life problems being dealt with in the way mature, real people would face them. You don't need to be knowledgeable about the Navy, or military, as necessary detail is smoothly explained in the narrative. It could be harder for some people to understand the pressures of legacy on military children but it's portrayed perfectly, even if it's a more extreme example. Will and Brent also face the added pressure many LGBT+ get from their families. They aren't heavy themes, just part of the myriad problems that contribute to the emotional conflict within the story.
Secondary characters from the two prior books are emotional support: Travis, Brent's Commander, and Noah, Will's friend and subordinate. I just love seeing what's happening with previous characters. I'd absolutely recommend this book and the whole series. It's not filled with angst or excitement but many moments had me both fearful and tearful. Delightful delivery of the strong "feels" we all want from our romances.
About L.A. Witt:
L.A. Witt is an abnormal M/M romance writer who has finally been released from the purgatorial corn maze of Omaha, Nebraska, and now spends her time on the southwestern coast of Spain. In between wondering how she didn't lose her mind in Omaha, she explores the country with her husband, several clairvoyant hamsters, and an ever-growing herd of rabid plot bunnies. She also has substantially more time on her hands these days, as she has recruited a small army of mercenaries to search South America for her nemesis, romance author Lauren Gallagher, but don't tell Lauren. And definitely don't tell Lori A. Witt or Ann Gallagher. Neither of those twits can keep their mouths shut . . .
Where to find L.A. Witt:



Contest:

To celebrate the release of
Rank & File,
one lucky winner will receive
their choice of two eBooks off L. A. Witt's backlist (excluding
Rank & File
) and a $10 Riptide Publishing store credit!
Leave a comment with your contact info to enter the contest. Entries close at midnight, Eastern time, on September 30, 2017. Contest is NOT restricted to U.S. entries. Thanks
for following
the tour
, and don't forget to leave your contact info!