NEW RELEASE REVIEW: Roped In by A.M. Arthur
Author: A.M. Arthur
Book: Roped In
Series: Clean Slate Ranch #2
Page/Word Count: 352
Categories: Gay Romance, BDSM & Erotic Romance
Release Date: May 22, 2018
Publisher: Carina Press
Buy Links:






Blurb:
At Clean Slate Ranch, the men are rugged, the trails are rocky and lassos aren't only used for roping horses
For Colt Woods, Clean Slate Ranch is home. The dude ranch in Northern California helped him heal from a devastating breakup. So when his ex-Dom, the man who broke his heart, waltzes onto the ranch, Colt doesn't know how to deal.
A research job at a nearby ghost town brings history PhD Avery Hendrix to Clean Slate. He's not in town forever, but it doesn't take long for him to feel the familiar draw to Colt. When they find out they'll be sharing a cabin on the ranch, it's all Avery can do to stop himself from bending Colt over a saddle right then and there.
In such close proximity, Colt's and Avery's old feelings come galloping back. Soon Colt is doing his master's bidding again and loving every moment of it. And the pair may be in for the ride of their lives—if the dedicated professor and his rugged cowboy can learn to trust again.
---

4✨s – When I saw the title of this second Clean Slate Ranch story, I figured it referred to horses or something. Boy was I wrong, surprised but also pleased to find out it meant kink! This is one of the less angst filled, more drama free of all the author's books I've read, I think. It stands alone quite well but hints of Avery and Colt's past as a couple were in book one, along with the circumstances of Colt's injury and estrangement from his best friend Mack. This story encompasses Colt's attempts to resolve his issues but mostly focuses on rekindling the relationship with Avery, including the BDSM. A few flashbacks fill in the background for the couple, limited scenes that were placed well. Avery's character was refreshingly atypical in regard to the BDSM, which he treated as a completely non-sexual activity before he met Colt, no clubs or public scenes plus he also seems to be demisexual. The BDSM play was hot and sexy, not super intense but passionate and just dirty enough!
There was repetition sometimes like Avery demanding complete honesty but not opening up over concerns that Colt wanted kink more than Avery. Calling Avery "Sir" in his own head all the time and Avery referring to himself in third person as "Sir" wasn't a favorite. Not fond of the term "pet" either. Avery's aunt/adoptive mother acting homophobic was kind of weird for being part of a D/s couple and I expected it to become a big deal but that kind of fizzled out. Colt's visit with his family felt like it should have been a bigger deal and didn't provide his parents and siblings much depth. I wish it had been fleshed out more and maybe happened earlier in the story. It was nice that it wasn't a troubling event and it did add to developing Colt's character. Seeing Mack and Colt finding their footing as friends again felt realistic and made me happy.
I really liked it overall and the pacing of progress between Colt and Avery, showing them spending time together outside of the ranch and bedroom as a couple. I enjoyed seeing Mack and Wes from book one and having new faces, like Miles and Derrick, as part of the storyline. I'm guessing Reyes story is next but I'm not positive. I'll be reading it anyway! I always like, if not love Ms. Arthur's books, always getting a quality story with an absorbing plot, populated with interesting people. I would recommend this, along with any other novel in any of the series.
About A.M. Arthur: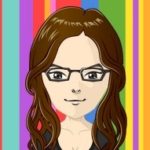 A.M. Arthur was born and raised in the same kind of small town that she likes to write about, a stone's throw from both beach resorts and generational farmland. She's been creating stories in her head since she was a child and scribbling them down nearly as long, in a losing battle to make the fictional voices stop. She credits an early fascination with male friendships (bromance hadn't been coined yet back then) with her later discovery of and subsequent love affair with m/m romance stories. A.M. Arthur's work is available from Samhain Publishing, Carina Press, Dreamspinner Press, and SMP Swerve.
When not exorcising the voices in her head, she toils away in a retail job that tests her patience and gives her lots of story fodder. She can also be found in her kitchen, pretending she's an amateur chef and trying to not poison herself or others with her cuisine experiments.
Where to find A.M. Arthur: