NEW RELEASE REVIEW: Something About You by Riley Hart
Author: Riley Hart
Book: Something About You
Page/Word Count: Add if you know
Categories: Contemporary Romance, Gay Romance
Release Date: June 21, 2018
Cover Artist: X-Potion Designs, Wilson Models
Buy Links:



Blurb:
Lucky Tyler Holloway has never felt particularly lucky. Frankly, he's about as regular as can be. He works construction with his brothers, loves his small-town life, and shares a close bond with his family—especially his grandmother. Okay, so maybe he has a few secrets in his closet, like his bisexuality…and that other thing he doesn't talk about… Maybe that's why he's always felt a little like an outsider.
Grayson St. Claire has it all: a dream job in LA, money, freedom. Saint has no attachments, which is just the way he likes it. Still, he'd be lying if he didn't admit he missed his deceased parents who were the only family he had… Until he gets an e-mail from some guy named Tyler revealing the existence of a grandmother he's never met, and prompting Saint to drop everything to drive across the country.
Saint and Tyler couldn't be more different. Tyler hates the guy on sight, but there's something about Tyler that gets under Saint's skin. It's not until they get to know one another that everything begins to change. But the Holloways and St. Claire's have secrets, and their pasts are tied together in tragic ways they don't know about. The odds are stacked against them and between their distance and their differences, Lucky and Saint have to admit that love alone might not be enough.
---
Excerpt:
Fuck. He really hated Sienna right now. But the truth was, Tyler was attracted to Saint, and he sort of hated himself for it. Saint represented everything that annoyed the shit out of Tyler. He was arrogant and full of himself. He had money, and he wanted everyone to know it. He obviously had a grudge against or didn't understand small-town life. They were too different, so the attraction didn't make much sense. You don't have to know or like someone to think they're sexy. Ugh. Truth.
He shifted uncomfortably. "You're crazy. I don't even like the guy."
"And?" Sienna asked. "Since when do we have to like someone to be attracted to them? I know you're Mr. Nice Guy, but hate sex is some of the best sex you can have. Billy and I—"
"Can you not?" Tyler cut her off. "I don't want to hear any more about your sex life with Billy, and there's no chance I'd have sex with Saint—hate sex or not." Jesus, were they really going to do this? "Plus…even if I wanted to have sex with him—which again, I don't—I'm not into fucking someone I don't like, especially the first time I'm with a man, and I'm sure he's straight anyway." Just like everyone assumed Tyler was straight…and he had himself until he'd admitted the attractions he'd felt.
He couldn't believe he was having this conversation. He wanted to go back to before he'd admitted to Sienna he thought he might be bi. Well, he was pretty sure he was obviously bi. But it just felt…strange to have this conversation with her. To discuss his sexuality, which he was still working through himself, a sexuality he hadn't yet explored outside of a kiss. How in the world did someone know if another man was gay or bi anyway? Hell, the man who kissed him had done it without any confirmation from Tyler. How had he known it wasn't a quick way to get his ass beat—or worse?
Sienna reached over and patted his thigh. "Oh, my dear, sweet friend. You are so innocent sometimes. He was totally checking you out."
"He was?" slipped out before Tyler could hold it back. "I mean, I don't care if he was. I'm not interested. This isn't a game to me, Si."
She sighed, and he could see the guilt in her eyes. "You think I don't know that? I want you to have every experience, though." She moved the bowl from between them and leaned against his side. Tyler wrapped his arm around her, Sienna's head in the crook. "I'm sorry. I know I'm a little much sometimes. I definitely don't want to push away the one person who always stays. I don't know what I'd ever do without you."
"Hey." He tilted her head toward him. "I'm not the only one who stays, and I'd never leave you. I hope you're not talking about Billy either. You walked away from him, and you should have. That's nothing on you."
"I know. I don't know what's wrong with me." She snuggled into him again, and he thought, not for the first time, how much easier life would be if he were in love with Sienna. Not just because she was a woman. There were other single women in town, and if he were interested, he could date them. He had dated some of them, but he and Sienna had always gotten each other on a different level. They understood each other and cared about each other. They had fun together, but anything other than friendship wasn't there between them. Not on Tyler's side, nor hers.
"I don't ever want anything to hold you back. You're the best person I know. Why shouldn't you have every experience possible? Why shouldn't you know what it's like to be with a man? And he's sort of the perfect person because he's leaving and he wants to jump your bones. I could see it."
Teasers Click to enlarge



3.5✨s – This is a slightly different sort of storytelling than I recall from Riley Hart although I haven't read some of her more recent offerings. It's a good different though, an easygoing, slowly unfolding City Boy/Country Boy romance. Tyler dislikes his first name, Lucky, bestowed on him for his "oops baby" status, youngest of five siblings. He's been sheltered and protected by his family and chafes under their well-intentioned care, trying to forge his own independence. He adores his grandmother and her best friend Alice, so when Nana asks for a favor, he searches for Grayson "Saint" St. Clair, Alice's long-lost grandson in LA. Saint is blindsided by the news but having lost his parents at 18, he eventually decides to meet Alice, showing up in town one day.
Saint and Tyler immediately start walking a fine line between love and hate, from jealousy over their importance in Alice's life and conflict over their attraction to each other. Tyler has never disclosed his bisexuality to anyone except his best friend Sienna. But Saint is the perfect man to help Tyler explore male sex and other secret desires. Saint makes it clear he only does casual, his life is in LA and he'll be leaving soon. That allowed both the characters and their relationship to develop slowly, the way they come together feeling quite organic, as did Saint's growing closeness with his grandmother. I didn't care so much for Sienna's role near the end, nor did I completely grasp the need for Saint's behavior at the crisis point of the story but those are my personal reactions.
I want to mention how Saint and Tyler being a biracial couple was presented. The fact of race is integral to the narrative, not used to simply give a character black skin in order to seem relevant (as I've occasionally found). There are racial influences touched on in scenes from the past but there aren't racist overtones or negative impacts on the couple. I would have preferred a little more of Tyler and Saint together before the epilogue, or included in it, rather than a somewhat less than solid HFN. I'd recommend this book as a potential comfort read with an excellent character-driven, angst-free plot from a talented author.
About Riley Hart: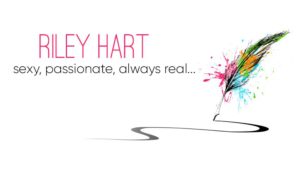 Riley Hart is the girl who wears her heart on her sleeve. She's a hopeless romantic, a lover of sexy stories, passionate men, and writing about all the trouble they can get into together. She loves reading, flawed characters, and hanging out with her husband and children, who she adores. She and her family live in Southern California, soaking up the sunshine while also missing seasons. Not a day goes by that she isn't thankful she gets to wake up and do what she loves. Life is good. Riley also writes young adult and new adult under the name Nyrae Dawn.
Where to find Riley Hart:







Contest:
This contest is hosted by the author and/or promotional company, and Jessie G Books does not have access to any data collected as a result.