NEW RELEASE REVIEW: Tops Down Bottoms Up by Jay Northcote

Author: Jay Northcote
Book: Tops Down Bottoms Up
Page/Word Count: 91, 23K words
Categories: Gay Romance, Contemporary Romance
Release Date: August 14, 2017
Cover Artist: Garrett Leigh
Buy Links:


Blurb:
Will Rowan's festival fling with sexy dancer Seth lead to something more permanent?
Rowan is stuck at a folk festival helping out a mate, and it really isn't his scene. The yoga and singing workshops are bad enough, but morris dancing is the final straw. Bearded men with beer guts prancing around wearing bells—who wants to watch that?
All Rowan's preconceptions are shattered when he meets Seth—a morris dancer, and the stuff Rowan's fantasies are made of. Seth persuades Rowan to come to a dancing workshop, and Rowan's willing to do whatever it takes to get to know Seth better. The attraction is mutual, and a lesson filled with innuendo and flirting leads to an incredible night together.
When Rowan arrives home, he's gutted to find that Seth has given him the wrong phone number. Assuming Seth did it on purpose, Rowan resolves to forget about him. But fate—and friends—conspire to get them back together. Will they manage to stay in step this time around?

5✨s – This was sweet, hot, book candy made from quality ingredients! I had a vague idea of what Morris dancing was and I've completed my education in a delightfully naughty way! Rowan is derisively offering his opinion on Morris dancing, when he's challenged to learn by one of the dancers, Seth. Rowan crumbles fast when the tall, long haired, handsome Seth teaches him the proper way to hold a stick. Not only for an audience, and apparently there's plenty of room for *ahem* "dancing", in a camper van. After wrong numbers, misunderstandings and helpful interference from friends, they meet again.
Few authors can do as much with characters and settings as Jay Northcote can, in a novella. I've never been anywhere in England but he makes it feel familiar and comfortable. Rowan and Seth are just ordinary guys and evoke similar feelings, making them and the situation easy to relate to. Light and angst free, with a couple of hot scenes and quick, romantic plot, I'd recommend this to anyone looking for an uplifting, happy book.

About Jay Northcote: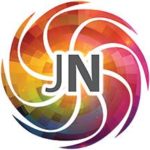 Jay lives just outside Bristol in the West of England. He comes from a family of writers, but always used to believe that the gene for fiction writing had passed him by. He spent years only ever writing emails, articles, or website content.
One day, Jay decided to try and write a short story—just to see if he could—and found it rather addictive. He hasn't stopped writing since.
Jay writes contemporary romance about men who fall in love with other men. He has five books published by Dreamspinner Press, and also self-publishes under the imprint Jaybird Press. Many of his books are now available as audiobooks.
Jay is transgender and was formerly known as she/her.
Where to find Jay Northcote: