NEW RELEASE REVIEW: Trusting Him by Laura N. Andrews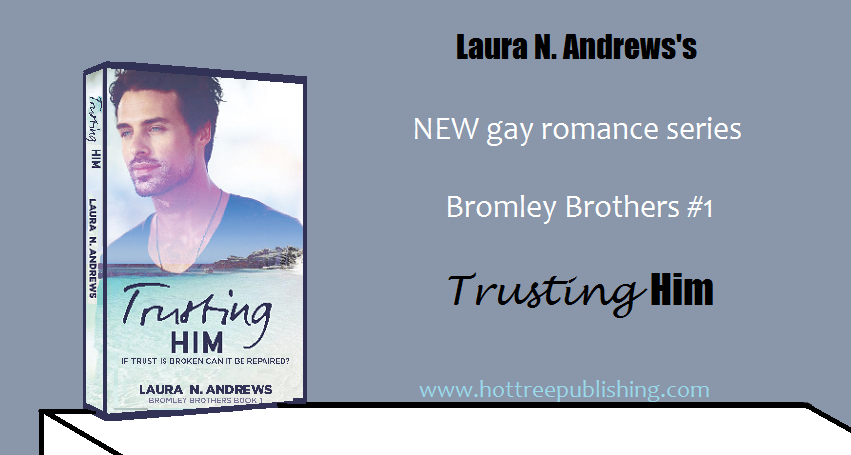 Author: Laura N. Andrews
Book: Trusting Him
Series: Bromley Brothers, Book #1
Page/Word Count: 221 pages
Categories: Gay Romance, Contemporary Romance
Release Date: October 28, 2017 (Pre-order available)
Buy Links:





Blurb: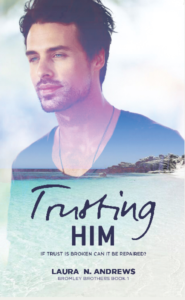 This out and proud event coordinator is about to pursue a man he knows could break his heart. But David Rossi isn't a man he can stay away from.
Event coordinator Trey Bromley is the youngest of three brothers and is out and proud. The last thing he's looking for is a man who doesn't know what he wants.
After a chance meeting with David Rossi, a security guard who has recently discovered his bisexuality, Trey begins to question exactly what he wants and how much he's prepared to bend his own rules.
Jen:

4✨s – This story is told from Trey's POV…Trey, I thought was a little rude in the beginning and way over the top. So, you see a guy at a club and he doesn't talk to you and you flip out? Yeah, he's the rude one. He seemed to fly off the handle at the silliest things and it took me awhile to get over the immaturity of it. I mean, I get it, the reasons why he'd be hesitant to trust….but I dunno, he acted a little psycho… So, after a silly, over reaction at the club that ended with a kiss… Trey is surprised to see the man again when he hired him for security for an engagement party he was planning. He acted a little uppity then too and I really wanted to be like….dude, he's not the one with the problem! Take down the tude, dude!
Now, David… I loved David…he was a little hot and then cold in the beginning, but considering he was trying to figure everything out for himself, I could understand that too. He seemed to be patient and understanding, because after that call and text from Trey over Trey's brother Henry's birthday party? I'd have ghosted his crazy behind.
But…. The causal relationship they found themselves in had already been not so casual and neither of them wanted to let the other go…. It was a bit of a rocky few days, that seemed like it went on for months instead of only days…. But, I was glad when they finally worked everything out. Trey grew on me and I liked that David, even though he was unsure in the beginning, he didn't hide his attraction or later on his relationship… that couldn't have been easy.
I loved Trey's brothers, they seemed more down to earth and not as high strung as Trey… I have a feeling their books are going to be fun ones, but I'm not sure if I'll jump into them as I'm pretty sure Henry's going to be a little D/s trope and that just isn't my thing. The dirty talk though? David was very good at it, I can imagine his friend Ryan and Henry will be just the same. We shall see…maybe I'll give it a go… I am a big sucker for a HEA… Overall though, it was a very sweet story and I'm glad I gave it a go!
Teasers: Click to enlarge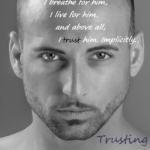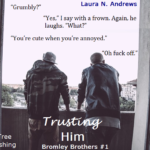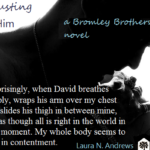 About Laura N. Andrews:
Canadian born Laura N. Andrews moved to Australia when she was three years old. When she finished high school, she successfully completed her studies in law enforcement. Since then, she's been working for over five years as a pharmacy assistant. When she's not working or spending time with family and friends, you can find her either curled up with a book or writing one of her own.
Interview with Laura N. Andrews:
As an author myself, I know inspiration is everywhere and can strike at the most inopportune moments (like in the shower, when you don't have anything to write with!). So, what was the inspiration behind Trusting Him? Honestly, I think I was driving home from work and the name "Bromley" popped into my head, shortly followed by an image of three guys. So as I'm driving I'm thinking okay…Bromley…Bromley brothers. It was so sudden and surreal with these three men and their stories. As soon as I got home I just started writing in detail what they looked like, their likes and dislikes, and pretty quickly they became real people to me.
What is your writing process? (i.e. plotter or panster, explain) For all of my books so far, I've just written. As it comes, and usually start to finish with the odd chapter from the future or past. In the case of Trusting Him, I really got to know the characters before I began writing which I found brilliant because even though I learnt more as I wrote, I had a better grasp of them and their personalities.
There's a big leap a writer takes from putting words down on paper for the love of it and actually publishing those words for public scrutiny. What was that journey like for you? I've only just started the journey as an author, but already I've received negative comments for my books. At the end of the day, I'm learning how much to let them affect me. I LOVE to write so, no matter what, I won't stop. I also LOVE constructive criticism. As a human and as an author I always want to improve, to better myself, so if someone has suggestions as to how I can become a better writer, I will definitely take it on board. However now, I've learnt that a simple comment like, "I didn't like it", is both unavoidable and easier to brush off. Everybody has the right to their opinion and you'll never please everyone. Although it tests your self-confidence, facing public scrutiny while doing something you love, is character building.
What one piece of advice would you give an aspiring writing considering that leap for themselves? Just keep writing. If writing is what you love doing, keep doing it. Keep at it until you have something you need to share. Once you have that, find the right publishing process for YOU. Whether it's joining a publishing company (or like in my case, a family ☺ ) or going the self-publishing route.
What can readers expect from you next?> My next release is at the end of November. It's a gay romance novella called Hard Fightand its part of my publisher's, Hot Tree Publishing, Game On collection. Next year I hope to submit a few other romances including Bromley Brothers #2 called Healing Him.
5 Fun Quickies:
Favorite curse word: Fuck
You're auditioning for American Idol, what's your song?: Killing me Softly, Fugees.
Over or under (toilet paper, of course): Over, of course.
Weapon of choice: Sword
Evil mastermind, easily convinced partner in crime, or innocent bystander: Innocent bystander haha.
Where to find Laura N. Andrews: