NEW RELEASE REVIEW: Wild by Adrienne Wilder

Author: Adrienne Wilder
Book: Wild
Page/Word Count: 326 pages
Categories: Gay Romance, Contemporary Romance
Release Date: September 1, 2017
Buy Links:

Blurb: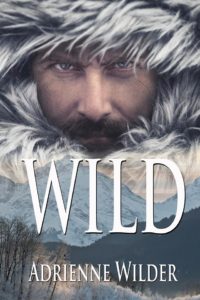 August Vallory had it all. A modeling career, a man he loved, and the extended family he'd acquired in the business. Then the world he knew was torn away when the plane he was on crashed en route to a photo shoot.
Lost in the Alaskan wilderness, August doesn't stand a chance.
No sane man would choose to live in the Alaskan bush unless he had something to hide. And Keegan Brooks has secrets darker than night, more dangerous than wolves, more brutal than an Alaskan winter. Every day was a fight for his life until he stumbled upon a downed plane with a lone survivor. Now it's no longer just Keegan's life teetering on the edge of survival.
It's his heart.

5✨s – What an incredible story this was! I was gripped from the first paragraphs and then completely riveted, reading until the wee hours to finish it. In its simplest terms, it's a story of survival and love but it takes surviving the environment of a northern Alaska winter, against predators of all kinds and surviving the fall into hopeless love. Keegan was living as a survivalist, in near-isolation for years, when he finds August. Initially, August would appear the least likely person to survive a paper cut, much less everything he does go through. A few flashback scenes of memories from each character, provide the backdrop for the plot. Not too many and no confusion as the POV switches throughout the narrative.
Keegan and August were marvelous together as their characters morphed and bloomed under each other's influence. Was there sex at some unlikely points in the story? Yes, but it fit into the narrative anyway, even the Crisco! (No, there's no kink.) There was snow, ice, hypothermia, illness, injury, bears, a wolf named Daisy, and then throw in some poachers and a cartel. It just works, meshing together as the scenes unfold, paced perfectly from chilling start to pulse-pounding finish. There were well-timed lulls in the excitement, as Keegan and August developed their romance, since the story has a time frame of several months.
It's rather scary in places and I was occasionally squeamish over details of various injuries but I'm a big wuss about that kind of stuff. It certainly wasn't anything that stopped me from devouring every word. I highly, highly recommend this to anyone wanting an unusual romance pairing, an exciting, suspenseful plot that's a little edgy but not too dark. This book will be one of my favorites for this year!
About Adrienne Wilder:
Georgia born and bred, I am an artist, a writer, and a general pain in the ass.
I spend most of my days working on my next book or designing cover art for other writers. For stress relief I do Olympic lifting and occasionally run (but hate it). I have been in love with writing since I was very young but it wasn't until recently that I decided to pursue it as a profession.
I have experimented in several genres and found that since I identify as male, male romance has been the most comfortable for me to write. I don't discriminate in my books. All characters are fair game. I do however, prefer a happy ending at some level.
I don't write the standard romance book. Some might even argue that what I write isn't romance at all. Personally, I think of them as love stories, where even in a fantastical world, there are realistic outcomes to the obstacles the characters face.
Many of my books have dark turns and twists where the characters fight for the light at the end of the tunnel. I write action, fist fights, gun fights, downright dirty evil people who have to be stopped, things catch fire, blow up, and fall in. My characters come in a unique range. They are not all good guys, but the majority of them have very good hearts. Many of them have been through hell in their lives, and many of them have a laundry list of faults. But hopefully they manage to surprise you with their tenacity and loyalty.
If all goes well, there will be a myriad of different kinds of books available this year. If I am really lucky, you will enjoy them.
Where to find Adrienne Wilder: