RELEASE DAY REVIEW: A Taste of Honey by Ari McKay

Author: Ari McKay
Book: A Taste of Honey
Page/Word Count: 88 pages, 32K words
Categories: Gay Romance, Contemporary Romance
Release Date: May 17, 2017
Publisher: Dreamspinner Press
Cover: Reese Dante
Buy Links:





Blurb: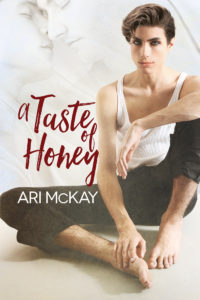 2nd Edition
Boone Phillips needs a girlfriend—now! If he shows up to the family reunion alone, his mother will throw every woman in sight at him. But the only "woman" Boone trusts enough to ask is Honey, the drag queen alter ego of his best friend, Rob. It's a crazy idea, but Boone is desperate.
Boone wins Rob over to the idea after first going on a "date" with him as Honey, but everything feels different once the plan is set in motion. Between nosy relatives, illegal moonshine, and the sight of Rob in white lace panties, Boone starts to wonder if he's as straight as he thought. When an earth-shattering kiss sends Rob running, however, Boone learns some surprising things about both his family and himself. Now he needs to convince Rob to give him another chance, or his first taste of Honey might also be his last.
First Edition published by Torquere Press, 2016.

3.5✨s – The fake date, friends-to-lovers trope is usually good for a cute read and while I enjoyed A Taste of Honey, I had one issue that stuck with me throughout the book.
Boone and Rob are best friends, if polar opposites. Boone is described as muscular, athletic, straight, and from a big southern family. Rob is his slender, gay, crossing-dressing best friend whose family disowned him. They value each other's friendship and trust each other implicitly, so when Boone gets a hint that his mother's preparing to line up all the eligible ladies when he returns home for the family reunions, he panics.
Rob is fascinated by Boone's stories of the big family he has back home in S. Carolina, offers a sympathetic ear and suggests that Boone take one of his many female friends. Only…Boone doesn't think they can handle his aggressive mother. Then inspiration strikes in the form of Honey, Rob's alter ego. She's beautiful, fierce, and can totally handle herself. Rob is doubtful, not because he doesn't want to help Boone, but because he's had a secret crush on his best friend since they met and knows this scenario can only end in heartbreak for him.
What happens after is alternately sweet and funny, filled with atypical southern-isms, over-the-top relatives, a moonshine inspired kiss…and heartbreak. Through it all, Boone comes to some startling realizations about himself that were aided along by a mother who saw through the ruse from the very beginning – thus providing an HEA that tied things up neatly.
So what bothered me? I couldn't shake the feeling that Boone only found his attraction acceptable because of Rob's effeminate characteristics and that didn't give me faith in their happily ever after.
About Ari McKay:
Ari McKay is the professional pseudonym for Arionrhod and McKay, who have been writing together for over a decade. Their collaborations encompass a wide variety of romance genres, including contemporary, fantasy, science fiction, gothic, and action/adventure. Their work includes the Blood Bathory series of paranormal novels, the Herc's Mercs series, as well as two historical Westerns: Heart of Stone and Finding Forgiveness. When not writing, they can often be found scheming over costume designs or binge watching TV shows together.
Arionrhod is a systems engineer by day who is eagerly looking forward to (hopefully) becoming a full time writer in the not-too-distant future. Now that she is an empty-nester, she has turned her attentions to finding the perfect piece of land to build a fortress in preparation for the zombie apocalypse, and baking (and eating) far too many cakes.
McKay is an English teacher who has been writing for one reason or another most of her life. She also enjoys knitting, reading, cooking, and playing video games. She has been known to knit in public. Given she has the survival skills of a gnat, she's relying on Arionrhod to help her survive the zombie apocalypse.
Where to find Ari McKay:

Ari McKay's Amazon Author Page






May's Blog Contest:
Leave a comment for an entry into a contest to win a $25 Dreamspinner Gift card. Every comment left on a blog post in May will equal one entry, so comment often!