RELEASE DAY REVIEW: Accidental Fall by Shae Connor

Author Name: Shae Connor
Book Name: Accidental Fall
Page/Word Count: 57 pages, 19K words
Categories: MM Romance, Contemporary, New Adult
Release Date: September 21, 2016
Publisher: Dreamspinner Press
Cover Artist: Paul Richmond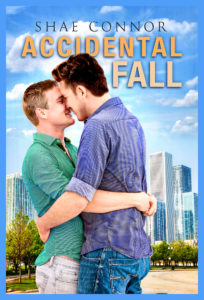 Blurb:
When it comes to relationships, college roommates Greg and Keith are polar opposites. A recovering addict, Greg avoids sex because it's too closely tied in his mind with the alcohol and drugs he gave up. In contrast, Keith protects his heart by limiting sex to one-night stands and weekend flings.
As the two get to know each other better, they feel drawn together, and slowly they take tentative steps toward something real. Their attraction soon flares hot, but Greg's fears overwhelm him, sending him running. It's up to Keith to help Greg learn to trust in himself—and in the way they feel about each other.
First Edition published as Accidental Love by Amber Quill Press, LLC/Amber Allure, 2012.

3.5✨s – Ok, so… this is the first book I've read by this author and it took me a little bit to get into it at first; dunno if it was my mood or what but it just didn't grab me. I'm glad I stuck it out though, if you like college age romances, then you'll like this one!
See, Greg and Keith are college roommates and about as opposite as two people can get; they didn't know each other well in the beginning. Greg had come away to college to straighten up. His mom had told him she loved him too much to see him throw his life away and that's what he was doing.
Keith was at college since his step-mom moved them to Chicago after his father died. He was pretty straight laced during the week but the weekends he let go. His stepmom didn't seem to concerned as long as he stayed out of her way and gave him an allowance for whatever he needed; so, he stuck around and had his fun on the weekends. Where Greg was done with the party life lifestyle, not drugs or anything but sleeping around for sport and fun. Keith made that his job on the weekends. I didn't like him much at first. I don't like the term "seduce"…. He wanted to seduce Greg, get him to hook up… I knew that end badly, they live together already!!! What is that about not s**ting where you eat?…. I mean seriously…..That had bad idea written all over it….. and you could see they were attracted to each other. Both of them were hot in their own ways according to the other one.
It really bothered me that in one sentence Keith would say how cool Greg was, how he liked his personality and spending time with him but then would be like…. My plan is to seduce him. That's just such a douche thing to do in my opinion lol Somehow in all that though and the boys spending more time together talking and getting to know each other little bits by little bits, Keith started wanting to take Greg out and getting to know him instead of jumping in bed with him; even though the douche part of himself still claimed he just wanted to sleep with him. …. I think Greg was so relatable to me because I've been down the road that leads nowhere and pulling myself back from it and cutting myself off from temptations of my 20's was a lot harder than expected. I respected him that he done it and continued to even though the guy he liked was a good time kinda guy.
Theeeen, Greg did what he said he wouldn't do and Keith turned into the guy that he didn't want to and after a really hot night together, some confessions and a few tears; we get our HFN.
I can't say I was rootin for this couple; it is very much a college romance and romances rarely last that young. But it was a cute short story of these two guys maybe falling for each other.
Author Bio:
Writer of romance, believer in love. Part Jersey, part Irish, and all Southern, which means I talk a LOT. Shae Connor lives in Atlanta, where she's a lackadaisical government worker for a living and writes sweet-hot romance under the cover of night. She's been making things up for as long as she can remember, but it took her a long time to figure out that maybe she should try writing them down. She's conned several companies into publishing her work and adds a new notch on her bedpost each time another story is unleashed onto an unsuspecting universe. A member of the Romance Writers of America and the Rainbow Writers chapter, Shae was first published in 2010 and has a lineup of short stories, novellas, and novels available. When she's not chained to her laptop, she enjoys cooking, traveling, watching baseball, and reading voraciously. She's also an unapologetic geek girl and an annual volunteer for the Dragon Con on-site publication, the Daily Dragon.