RELEASE DAY REVIEW: Coasting by Yvonne Trent

Author: Yvonne Trent
Book: Coasting
Series: States of Love: Mississippi
Page/Word Count: 112 pages, 41K words
Categories: Gay Romance, Contemporary Romance
Release Date: August 23, 2017
Publisher: Dreamspinner Press
Cover: Brooke Albrecht
Buy Links:





Blurb: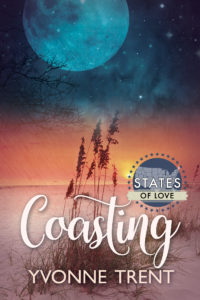 What happens when you need something but don't know what it is? Why not look in a place you never heard of?
Out and proud elementary school teacher Cal Hamilton thought he was happy in Philadelphia, but after a breakup, he steps back to reassess his life and discovers something is missing. He gets in his car and drives south with no idea what he hopes to find. The flip of a coin leads him to a small town in Mississippi—practically a different world from the city where he grew up.
Police officer Billy Labarre keeps his sexuality mostly to himself, but he knows just what he needs to fill the hole in his quiet small-town life: the right man. Unfortunately attitudes toward gay men still leave a lot to be desired in the rural South, and it's hard to meet someone. It's not likely his perfect match is just going to show up out of the blue….
States of Love: Stories of romance that span every corner of the United States.

3.5✨s – The States of Love books strike again! In Coasting we meet Cal and Billy. Some super sweet insta-love ensues. Low angst.
The beautiful state of Mississippi shines in this novella. As Billy shows Cal all of his beloved places in his home state the reader goes along for the ride. The heat level is low, lots of fade to black. Yet the connection is there and I spent most of the book rooting for these two.
So why not higher rated? One of the things, being from the South, that I can't stand is the broken country English twang that is affected in the stories. Why make the townspeople sound less intelligent? Billy sounded off at times as well. The storyline was also glossed over at times. Chunks of time explained with a sentence. Quite a few repetitive phrases and situations.
Overall a very sweet story that has restored my love of the series.

About Yvonne Trent:
Yvonne Trent is a retired RN whose career was spent mainly in VA or military hospitals. She has been writing for most of her adult life and has a small collection of poems, some of which were written for her two daughters when they were young. She likes animals but is not too fond of pets, saying that there are some days she doesn't even want to take care of herself. Despite this, she was Mom to a crazy yellow lab, a beagle with seizures, and a deaf cat. When she discovered M/M fanfiction, she was hooked and wrote her first story in that genre in 2001.
Born and raised in New Jersey, she married a career soldier and moved frequently, living in five different states and Germany over the next seventeen years. In 1977, she settled in Central Texas where she worked at the Army Hospital until her retirement. After her first winter in the South, and Christmas shopping in jeans and a T-shirt, she vowed never to live up north again. She now calls San Antonio home and belongs to a writer's group there. An avid reader all her life, she gave almost 300 books to the library before moving into a small apartment. She likes crime and suspense stories and mysteries, especially those set in the medical field. She is a proud Trekker (STOS) and an avid fan of the black-and-white 1930-1960 genre of sci-fi films about alien invaders, monsters, and giant creatures born of early nuclear testing. She considers her greatest achievement to be her two lovely daughters and four grandkids, of whom she is very proud.