RELEASE DAY REVIEW: Dim Sum Asylum by Rhys Ford

Author: Rhys Ford
Book: Dim Sum Asylum
Page/Word Count:
Categories: Gay Romance, Mystery & Suspense, Urban Fantasy
Release Date: June 9, 2017
Publisher: Dreamspinner Press
Cover: Anne Cain
Buy Links: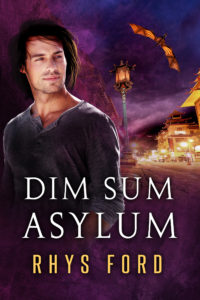 Blurb:
Welcome to Dim Sum Asylum: a San Francisco where it's a ho-hum kind of case when a cop has to chase down an enchanted two-foot-tall shrine god statue with an impressive Fu Manchu mustache that's running around Chinatown, trolling sex magic and chaos in its wake.
Senior Inspector Roku MacCormick of the Chinatown Arcane Crimes Division faces a pile of challenges far beyond his human-faerie heritage, snarling dragons guarding C-Town's multiple gates, and exploding noodle factories. After a case goes sideways, Roku is saddled with Trent Leonard, a new partner he can't trust, to add to the crime syndicate family he doesn't want and a spell-casting serial killer he desperately needs to find.
While Roku would rather stay home with Bob the Cat and whiskey himself to sleep, he puts on his badge and gun every day, determined to serve and protect the city he loves. When Chinatown's dark mystical underworld makes his life hell and the case turns deadly, Trent guards Roku's back and, if Trent can be believed, his heart… even if from what Roku can see, Trent is as dangerous as the monsters and criminals they're sworn to bring down.

5✨s – I usually don't read paranormal, but I'd never turn down the opportunity to read an ARC by Ms. Ford. I don't think I've read a Rhys Ford book that I didn't like and Dim Sum Asylum was definitely no different. I loved this book!
Detective Roku MacCormick works for the San Francisco arcane division. He hunts down things that go bump in the night. After he shot his last partner, he gets paired up with Trent Leonard. Roku doesn't trust Trent and yet not long after their partnership begins, he knows Trent will have his back no matter what happens which is a very good thing when someone or something starts practicing some very dark magic and tries to kill Roku.
I don't want to give too much of this story away, but I have to say that this book will take you on a fun adventure that's full of family drama, amazing paranormal and some great chemistry between Roku and Trent that definitely left me hoping this book will turn into a series.

About Rhys Ford: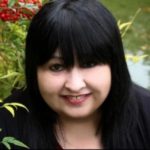 Rhys Ford is an award-winning author with several long-running LGBT+ mystery, thriller, paranormal, and urban fantasy series and was a 2016 LAMBDA finalist with her novel, Murder and Mayhem. She is published by Dreamspinner Press and DSP Publications.
She's also quite skeptical about bios without a dash of something personal and really, who doesn't mention their cats, dog and cars in a bio? She shares the house with Yoshi, a grumpy tuxedo cat and Tam, a diabetic black pygmy panther, as well as a ginger cairn terrorist named Gus. Rhys is also enslaved to the upkeep a 1979 Pontiac Firebird and enjoys murdering make-believe people.
Where to find Rhys Ford:





June's Blog Contest:
Leave a comment for an entry into a contest to win a $25 Dreamspinner Gift card. Every comment left on a blog post in June will equal one entry, so comment often!