RELEASE DAY REVIEW: Getting His Man by B.G. Thomas

Author: B.G. Thomas
Book: Getting His Man
Series: Getting His Man, Book #1
House Line: Dreamspun Desires
Page/Word Count: 238 pages, 56K words
Categories: Gay Romance, Mystery & Suspense
Release Date: December 15, 2017
Publisher: Dreamspinner Press
Cover Artist: Bree Archer
Buy Links:






Blurb: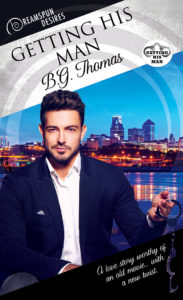 A love story worthy of an old movie… with a new twist.
Artie needs a hero, a man like those he's always revered in Golden Age films. His drug-dealing jerk of a roommate got him arrested, and since his savior isn't likely to sweep in and save the day, Artie calls a bail bondsman.
August has always imagined himself a hero from a black-and-white movie, but he's never found a man willing to let him play that role—at least not until he gets the call from Artie.
Both of their dreams might come true, but not before August must use his skills as a bounty hunter as well as a bondsman. Artie is on the run for his life, and August must protect him and help him clear his name. Only then can they both finally get their man.

4✨s – I've only read a few stories by B.G. Thomas so far, but most have a main character offering a sense of innocence and naïveté in a sometimes harsh world. Artie is that character here, fresh-faced, young, getting out on his own at last, and into trouble caused by his shady roommate. August is his perfect counterpart, older and worldly, drawn to Artie's ingenuous nature, a shared interest in old movies and a sudden desire to be his protector. When Artie's case becomes more serious than either imagined, the protective instincts they both harbor put them at odds.
The author made deliberate, but subtle, effort to give a suspenseful plot the romanticized atmosphere of classic films, which was fun. Artie did strike me as a grownup Opie Taylor, using "gosh" as his favorite expression, but he never sounded too hokey or outdated. August was a nice mix of gentleman and tough-guy, a Sam Spade type, adding a sharper edge to balance Artie's unsophisticated qualities. There are a few villains and other secondary characters, including Artie's best friend, his mom, and a visit with some figures I recognized from "Trust Me". It isn't necessary to read that though.
The plot moved right along, with a touch of danger, some decent action scenes and avoided being over-dramatic. The dialogue was smooth, the scenes and premise realistic and reasonable. Honestly, I found the story refreshing and August and Artie adorable, even pretty hot at one point. I'm more than happy to be able to recommend this one.

About B.G.Thomas:

B.G. Thomas lives in Kansas City with his husband of more than a decade and half, and that marriage has been legal since 2014! They share their home with their fabulous dogs, Sarah Jane and Oliver. He is lucky enough to have a lovely daughter as well as many extraordinary friends.
B.G. loves romance, comedies, fantasy, science fiction and even horror—as far as he is concerned, as long as the stories are character driven and entertaining, it doesn't matter the genre. Since he's gone conventions since he was fourteen years old, he's been lucky enough to meet many of his favorite writers, many of whom inspired him to pursue his own writing dreams.
Excited about the growing male/male romance market, he decided to begin writing for the first time in years. Gay men are what he knows best, after all. He submitted his first story in years and was thrilled when it was accepted in only four days, and since then has had over thirty short stories, novellas and novels published.
"Leap, and the net will appear" is his personal philosophy and his message to all. "It is never too late," he states. "Pursue your dreams. They will come true!"
Where to find B.G.Thomas: