RELEASE DAY REVIEW: Hearts in Ireland by J.C. Long

Author: J.C. Long
Book: Hearts in Ireland
Series: World of Love | Ireland
Page/Word Count: 119 pages, 41K words
Categories: Gay Romance, Contemporary Romance
Release Date: May 10, 2017
Publisher: Dreamspinner Press
Cover: Valerie Tibbs of Tibbs Design
Buy Links:





Blurb: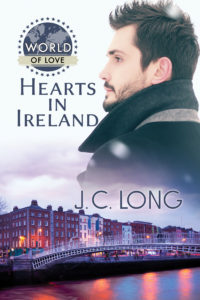 When the future is shrouded and it's hard to find direction, maybe it's time to let the heart lead the way….
Ronan Walker stands at a crossroads, unsure how to pursue his education… unsure if he even wants to. Now that his mother is gone, all he has left are the wonderful stories of her youth in Ireland, and he's drawn to the land of his ancestors. There, he seeks out his mother's family and meets Fergal Walsh, who works at Ronan's aunt's bookstore. A love of literature facilitates a fast friendship between the two men, and even though Ronan cannot deny the potential—and his desire—for more, he cannot see a future for the two of them when he leaves Ireland. Fergal must persuade Ronan to give school in Dublin a chance—and convince Ronan that his heart has already found its home.
World of Love: Stories of romance that span every corner of the globe.

5✨s – I effing loved this story! Lemme tell ya why… Ronan lost his mother, it was heartbreaking, as it would be. He kind of got lost in himself for a while. Not knowing how to move on and heal. How does one go on after such a loss? I don't know and dread the day I ever have to find out. His mom was born and raised in Ireland and forever talked of her life there. She'd moved to the states to marry his father many years ago, but her heart never left Ireland. She'd always wanted to take Ronan, to show him the land she loved; unfortunately, they never made it there together. It seemed like the perfect place for Ronan to go find himself…..He felt closer to her there.
Ronan's family is amazing. Being taken in my an aunt and cousin, they love having Ronan there and want him to be happy… Even if they are a little meddlesome, it's in the very best way. He was lucky to have them. His first day out and about, he meets Fergal. You'll love Fergal. So incredibly Irish, that accent lol shew! I wanted to wish him real a couple times, just to hear him talk.
Fergal is smitten with Ronan right away and although their getting to know each other is spanned out over several times hanging out, you could tell that they were attracted to each other from the beginning. Of course, something goes wrong after a weekend of camping between the two, because Ronan, although knowing what he wanted and where he wanted his life to go and who he wanted in it; was just scared to take the leap. I mean, he had a job back in the states that he hated, he'd had plans to go back to school but was stuck in a rut and….really…. Ireland….and Fergal changed all that.
And then the ending…. Sigh…. I'm such a sucker for sweet, happy endings. I'd love to read more about these two; I felt like Ronan's life was just starting, as well as their life together. I'm really crossing my fingers for more, but even if not… it didn't end on a cliffy. I can be happy with the way things left off. It was sweet.
Overall, a very cute read. I really really enjoyed it. Low angst, amazing accents and a happy ending. What more could you need??

About J.C. Long:
J. C. Long is an American expat living in Japan, though he's also lived stints in Seoul, South Korea—no, he's not an Army brat; he's an English teacher. He is also quite passionate about Welsh corgis and is convinced that anyone who does not like them is evil incarnate. His dramatic streak comes from his lifelong involvement in theater. After living in several countries aside from the United States, J. C. is convinced that love is love, no matter where you are, and is determined to write stories that demonstrate exactly that.
His favorite things in the world are pictures of corgis, writing, and Korean food (not in that order… okay, in that order). J. C. spends his time not writing thinking about writing, coming up with new characters, attending Big Bang concerts, and wishing he were writing. The best way to get him to write faster is to motivate him with corgi pictures. Yes, that is a veiled hint.
Where to find J.C. Long:





May's Blog Contest:
Leave a comment for an entry into a contest to win a $25 Dreamspinner Gift card. Every comment left on a blog post in May will equal one entry, so comment often!