RELEASE DAY REVIEW: Hiding from Two by Morticia Knight
Author: Morticia Knight
Book: Hiding from Two
Series: Soul Match, Book #3
Page/Word Count: 143 pages, 52K words
Categories: Gay Romance, Ménage/Poly Romance, Fantasy/Paranormal/Sci-Fi
Release Date: August 29, 2017
Publisher: Pride Publishing
Buy Links: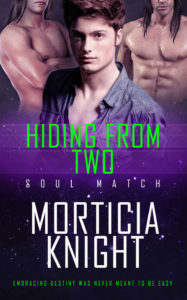 Blurb:
Morgan can't figure out where he belongs anymore now that a new world has emerged in the aftermath of the Alasharian invasion of Earth. Everything is too strange and frightening and all he wants to do is hide from it all. It doesn't help to ease his confusion when he finds himself being drawn to not one but two aliens. He thought his cousin Chris was insane to fall in love with the muscled warriors who bonded with him as his mates, but his own heart might be in danger when it comes to the warrior Rama, and Hallosh, an advisor to the Alasharian's Supreme Commander, the Nall.
Chris experiences a terrifying vision from the Soul Healer and it becomes clear that both Alasharian and humans are running out of time to save the Earth from the insidious spread of the Void. A battle is imminent and it becomes imperative to protect those who are allied against the evil that has corrupted the Nall.
Everything on Earth is about to change once again and Morgan finds himself at the brink of discovering his own destiny—and how the two aliens he can't get out of his mind will be a part of it. A disturbing event triggers the beginning of the fight against the Void. Chris and Morgan must separate for the first time since the invasion, with each of them leaving with their own soul matches. For Morgan, he hopes the goodbye he says to Chris won't be forever.

4✨s – This is not a standalone story and the first two books need to be read first, so anything I say here might spoil those books. In this third installment in the Soul Match series, we get Morgan's story. As Chris's cousin, we've seen him on the sidelines watching in terror as his cousin becomes matched to Lasar and Nary. He doesn't know what's going on and while he's grateful for the protection he's currently enjoying, it's tenuous at best and he wants no part of the solution
Knowing that he risks being sent back to the cages, Lasar makes arrangements for Morgan with someone who 1) isn't looking for a sexual relationship and 2) isn't going to treat him badly. That's the best case scenario in this invasion and Morgan knows this. Doesn't stop him from being terrified. Also, there's the case of the spark of something between him and Hallosh in the previous book.
Enter Rama. He's tired of fighting, but he'll do what's necessary. He's longed for a match, but believes he's long past the age when that will happen. He envies the triad, but he's not really considering that a possibility for himself. He joins the cause against Nall & the Void without blinking and accepts the role of Morgan's protector. The resulting relationship was so abrupt and opposite of everything Morgan has consistently stood on that I had to read it twice. When reassurance turns to the realization that they are soul matched, Morgan flips on a dime and goes all in with Rama. Not just all in, but they need a third and he knows exactly who that is.
What I missed was actual relationship building. The beginning picked up where book 2 left off—with Chris having another vision, Lasar & Nary helping him though the subsequent meltdown, and then planning based on the cryptic message from the Supreme Soul Healer. All necessary and exciting to the series. Then the ending was horrifying and set the stage for another character's book. Sandwiching this new romance in between made it secondary to the series plot.
And yet, I'm hooked. I'm in it for the Void mystery and what I hope is going to be an epic takedown of the Nall. I would love more out of the relationships than just insta-match/hot sex, but if Nall gets his ass handed to him in slow and painful detail, that may be enough.
About Morticia Knight:
Author Morticia Knight spends most of her nights writing about men loving men forever after. If there happens to be some friendly bondage or floggings involved, she doesn't begrudge her characters whatever their filthy little heart's desire. Even though she's been crafting her naughty tales for more years than she'd like to share – her adventures as a published author began in 2011. Since then, she's been fortunate enough to have several books on bestseller lists along with three series' titles receiving recognition in the Rainbow Book Awards. Once upon a time she was the lead singer in an indie rock band that toured the West Coast and charted on U.S. college radio. She currently resides on the northern Oregon coast and when she's not fantasizing about hot men she takes walks along the ocean and annoys the local Karaoke bar patrons.
Where to find Morticia Knight: