RELEASE DAY REVIEW: It Could Happen by Mia Kerick

Author: Mia Kerick
Book: It Could Happen
Page/Word Count: 200 pages, 55K words
Categories: Contemporary Romance, Ménage/Poly Romance, New Adult
Release Date: June 5, 2017
Publisher: Dreamspinner Press
Cover: Aaron Anderson
Buy Links: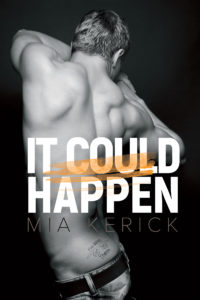 Blurb:
Three misfits, mismatched in every way—Henry Perkins, Brody Decker, and Danny Denisco—have been friends throughout high school. Now in their senior year, the boys realize their relationship is changing, that they're falling in love. But they face opposition at every turn—from outside and from within themselves. Moving to the next level will take all the courage, understanding, and commitment they can muster. But it could happen.
Henry is a star athlete and the son of religious parents who have little concern for the future he wants. Brody is a quirky dreamer and adrenaline junkie, and Danny is an emo artist and the target of bullies. Despite their differences, they've always had each other's backs, and with each of them facing a new and unique set of challenges, that support is more important than ever. Is it worth risking the friendship they all depend on for the physical and romantic relationship they all desire?
In this unconventional new adult romance, three gay teens brave societal backlash—as well as the chance that they might lose their treasured friendship—to embark on a committed polyamorous relationship.

4✨s – Henry Perkins, Brody Decker and Danny Denisco have been friends throughout high school. They're now seniors and they're changing. They're thinking about college and how to stay together.
The three boys have very different lives. Henry is a star athlete who is being raised by religious fanatics. His parents don't care what Henry wants from life. They only care that he lives is life in a Godly way and does exactly what they want and plan for him. Brody's parents are wealthy and retired. They do what they want, go where they want and give Brody anything he wants. No one expects anything from Brody. Brody is also an adrenaline junkie. He loves doing anything that could potentially put his life at risk. Danny is one of just a couple of openly gay students at their high school and as such is often the target of bullying. He's an artist and goth and lives with his mother who is more often than not drunk or stoned. Danny expects to get a job after high school and that's it.
The three confront their feelings and decide to embark on a relationship. They know that it will take all three of them to make it work. They know that without all three they'll have nothing. Danny is the only one of three that is out at school. Brody comes out and it's wonderful and I love the dynamic between Brody and Danny at school and around town, but at the same time Henry feels like the outsider because he isn't out. Henry's story is painful, but far to true even in this day and age. I wish that I could take in every single teen that isn't accepted at home for being gay or different.
I have made no secret in my past reviews how much I love Mia's work. I think I've given every book I've read of hers a 5 star rating. Honestly? This book just didn't do it for me. It's a good story. I love reading stories of polyamorous relationships. I think that all of the obstacles these three boys faced in this book are very true to what teens go through every day in real life. But still, I just couldn't connect with the characters like I usually do with Mia's books. That's okay though. This is a good story and worth reading.

Author Mia Kerick: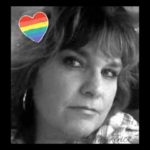 Mia Kerick is the mother of four exceptional children—one in law school, another in dance school, a third at school at Mia's alma mater, Boston College, and her lone son still in high school. She has published 20 books of LGBTQ romance when not editing National Honor Society essays, offering opinions on college and law school applications, helping to create dance bios, and reviewing English papers.
Her husband of twenty-three years has been told by many that he has the patience of Job, but don't ask Mia about this, as it is a sensitive subject.
Mia focuses her stories on the emotional growth of troubled young people and their relationships. She has a great affinity for the tortured hero. There is, at a minimum, one in each book. As a teen, Mia filled spiral-bound notebooks with tales of said tortured heroes (most of whom happened to strongly resemble lead vocalists of 1980s big-hair bands) and stuffed them under her mattress for safekeeping. She is thankful to CoolDudes Publishing, Dreamspinner Press, Harmony Ink Press, and Evernight Publishing for providing her with alternate places to stash her stories.
Mia is a social liberal and cheers for each and every victory made in the name of human rights. Her only major regret: never having taken typing or computer class in school, destining her to a life consumed with two-fingered pecking and constant prayer to the Gods of Technology.
Where to find Mia Kerick:




June's Blog Contest:
Leave a comment for an entry into a contest to win a $25 Dreamspinner Gift card. Every comment left on a blog post in June will equal one entry, so comment often!