RELEASE DAY REVIEW: Jerricho's Freedom by Jake C. Wallace

Author Name: Jake C. Wallace
Book Name: Jerricho's Freedom
Page/Word Count: 334 pages, 106K words
Categories: Fantasy/Paranormal/Sci-Fi, MPREG, Gay Romance
Release Date: February 13, 2017
Cover: AngstyG
Publisher: Dreamspinner Press
Buy Links:





Blurb: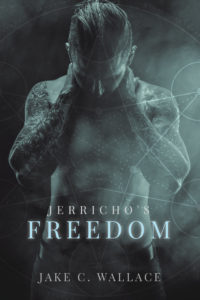 As prince of the Anzuni demon clan, Jerricho's entire life has been planned for him. At twenty-five, he will become the crown prince of the Anzuni, marry a man chosen by his parents, and bear his husband's children all without choice. If that wasn't enough, he must remain a virgin until his wedding night. To do otherwise would spark an unimaginable scandal.
With only ten months until his twenty-fifth birthday, the walls close in on Jerry, and the realization that he will lose his small apartment, his job at the library, and his freedom hits hard. But that's nothing compared to losing the man he loves. Rex is a smart and sexy construction foreman with a keen interest in demon "mythology." When Jerry and Rex give in to spending one night together, their indiscretion can't be kept secret for long. But that's only the beginning of their problems.
Someone wants to harness the power of Jerry's bloodline and his ability to conceive—someone with designs on horrifying experiments, sex slavery, and murder. Jerry and Rex are at the mercy of power-hungry sadists. With no one left to trust, they must fight for each other, their freedom—and their unborn child.
Second edition. Jerricho's Freedom was first published by Amber Quill Press/Amber Allure, 2015.

4✨s – This book surprised me! I jokingly told my friend that I expected the predictable mpreg storyline. I was right in some ways, but oh so wrong in others.
Jerry and Rex just can't catch a break! Time is running out on Jerry's freedom, he is a Prince mind you, and will soon be required to step into that role. Which includes marrying and bedding a complete a$$. Fortunately Rex isn't one to completely give up and when Jerry comes calling he is there with open arms and heart.
Rex completely stole the story for me, with Keith coming in a very close second.
So many crazy twists and turns in the story, which is a very long read. Good thing I love a big book.
While there were many times I screamed at my Kindle, saying 'NOT AGAIN!", I couldn't put it down. While it is not the dark read I was expecting I enjoyed the book and recommend it for the unusual read it turned out to be,
Author Bio:
Jake C. Wallace started writing from a young age, but took a break for marriage, kids, and college (in that order). A few years ago, he rediscovered his passion for writing stories and ventured out into the brave new world of publishing. He has published several novels and short stories. Recently, his novel Jerricho's Freedom was a finalist in the Rainbow Book Awards.
At night and on the weekends, Jake writes about all things men, believing there is nothing hotter than two men finding and loving one another, whether for a night or forever. An avid reader of M/M romance, Jake loves a good twist of a plot, HEA, HFN, or tragic ending, and has over two thousand books in his library. He also writes what his best friend calls HUNKs (Happy Until the Next Kidnapping). In his daytime hours, Jake works with individuals with autism and behavior issues.
He is owned by a beautiful partner, three kids, and two grandchildren. He lives in the Northern Vermont.
Where to find Jake C. Wallace:






Other books by Jake C. Wallace:
[amazon_link asins='B01LW2KGXF,B01M9EQ1DF,B01GJ1YOHS,B00LZ1LPC0′ template='ProductCarousel' store='jegbo07-20′ marketplace='US' link_id='34046c58-f1f7-11e6-809a-3dccaf0ac73c']