RELEASE DAY REVIEW: Liar, Liar by TA Moore

Author: TA Moore
Book: Liar, Liar
Page/Word Count: 216 pages, 75K words
Categories: Gay Romance, Mystery & Suspense
Release Date: May 12, 2017
Publisher: Dreamspinner Press
Cover: Anne Cain
Buy Links:





Blurb: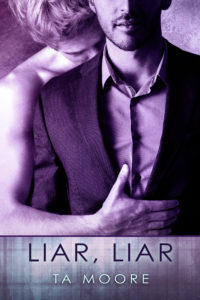 Just another day at the office.
For some people that means spreadsheets, and for others it's stitching endless hems. For Jacob Archer a day at the office is stealing proprietary information from a bioengineering firm for a paranoid software billionaire. He's a liar and a thief, parlaying a glib tongue and a facile conscience into a lucrative career. He just has one rule—never get involved with a mark.
Well, had one rule. To be fair, though, Simon Ramsey is dark, dangerous, and has shoulders like a Greek statue. Besides, it's not as though Jacob's even really stealing from Simon… just his boss and his brother-in-law. Simon didn't buy that excuse either after he caught Jacob breaking into the company's computer network.
That would have been that—one messy breakup, one ticket to Bali booked—but it turns out that the stolen information is worth more than Jacob thought. With his life—and his ribs—threatened, Jacob needs Simon to help him out. Or maybe he just needs Simon.

3.5✨s – Jacob is a liar and a thief. He has a set of rules that he lives by and he never gets involved. The only family he has is his sister and her kids and she's not a very nice person so Jacob is basically alone.
Simon is an ex marine and now head of security for his brother-in-law's company. Simon is also good with not getting involved.
When Jacob spends a great deal of time getting the information needed to complete a job, he doesn't have any problem seeing Simon on the side. He's confident that when the job is done he'll be able to walk away like he always does. Unfortunately, walking away is not as easy as he thinks and Simon struggles with letting Jacob go. The job goes horribly wrong and both men are caught up in a game of "who did it" and running for their lives.
I think I had an equal amount of things that I liked about this book and things I disliked about the book. There were just too many characters for me to keep track of and honestly in the end, I couldn't remember who the bad guy was in the story. That being said, I liked that the book kept me guessing as to who the bad guys were. It was obvious to me as a reader that Jacob and Simon really liked each other, but there was no romance – at all. There was some great sex and while it was apparent that they wanted one another, it would have been nice to have it written that they at the very least liked each other. I was fairly certain I knew who the bad guy was through most of the book and was wrong which left me feeling like the person I thought was the bad guy was actually just a real jerk and I didn't like that. This book is definitely not a romance so if that's what you're looking for you're going to be disappointed. If you like to read action packed novels, you will probably enjoy this book. I liked the story, but I didn't love it.

About TA Moore: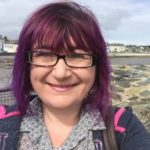 TA Moore genuinely believed that she was a Cabbage Patch Kid when she was a small child. This was the start of a lifelong attachment to the weird and fantastic. These days she lives in a market town on the Northern Irish coast and her friends have a rule that she can only send them three weird and disturbing links a month (although she still holds that a DIY penis bifurcation guide is interesting, not disturbing). She believes that adding 'in space!' to anything makes it at least 40% cooler, will try to pet pretty much any animal she meets (this includes snakes, excludes bugs), and once lied to her friend that she had climbed all the way up to Tintagel Castle in Cornwall, when actually she'd only gotten to the beach, realized it was really high, and chickened out.
She aspires to being a cynical misanthrope, but is unfortunately held back by a sunny disposition and an inability to be mean to strangers. If TA Moore is mean to you, that means you're friends now.
Where to find TA Moore:





May's Blog Contest:
Leave a comment for an entry into a contest to win a $25 Dreamspinner Gift card. Every comment left on a blog post in May will equal one entry, so comment often!